Rajee Narinesingh Shows Her Cement-Injected Face From Fake Doc Operation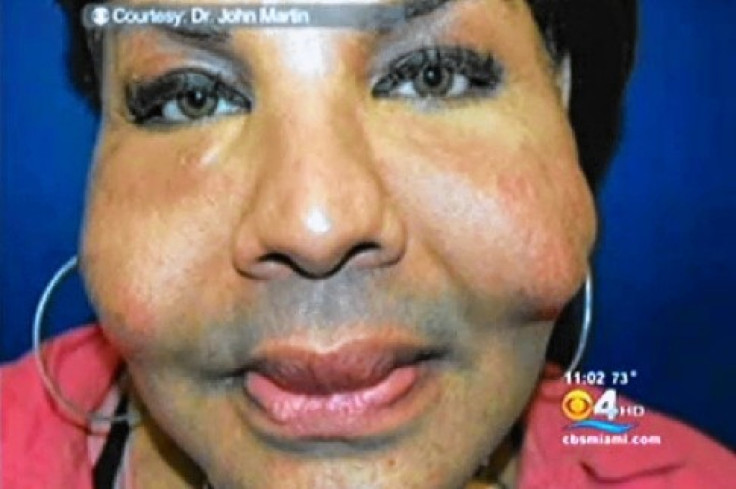 A transgendered woman from Florida is claiming that fake doctor Oneal Ron Morris injected cement and tire sealant into her face. She is the third victim to come forward against the phony plastic surgeon.
Rajee Narinesingh said she was referred to Morris through the transgender circuit, as Morris is a transgender woman herself, and decided to see her for a procedure, reports RadarOnline.com. Narinesingh said she did not have enough money to visit a licensed doctor and desperately wanted some alterations to her appearance, so she took a chance on the 30-year-old phony doctor.
It becomes so dire that you want to match your outside with your inside that you're willing to roll the dice and take your chances, Narinesingh, 48, told CBS Miami. As a transgender person, you're thinking, 'Oh, my God, I can start to look like I want to look like and I don't have to spend a lot of money.'
After the procedure, Narinesingh noticed lumpy cheeks, a deformed chin and a bloated upper lip, according to RadarOnline. Immediately, she knew something was wrong.
I have learned my lesson -- I could have died -- I know that now, Narinesingh said.
Her doctor, Coral Gables plastic surgeon Dr. John Martin, said he hopes surgery and therapeutic injections could help undo the damage done.
She's got a long road, thousands and thousands of dollars to correct what was probably two or three hundred dollars to get the injection, Martin told CBS.
Morris was arrested in early November on charges of practicing medicine without a license. And since then, multiple other victims have come forward.
The first victim to go to authorities was an unidentified woman who received a series of injections by Morris, consisting of a mixture of cement, flat-tire sealant and mineral oil to boost her buttocks. The procedure occurred in May 2010 and the woman paid $700 to Morris for it.
The woman was extremely embarrassed by her condition and, due to pain, has had to undergo several surgeries along with 24-hour care.
A second woman then came forward claiming Morris injected her leg and buttocks with the toxic substance, according to NBC Miami. She has also been subsequently ill.
State health officials said Tuesday that several more possible victims have since come forward alleging bizarre and dangerous experiences with Morris.
Morris injects herself with the concoction and has suffered life-threatening injuries as well revealed Jennifer Hirst, a spokesperson for the Florida Department of Health.
I've never heard of anyone using something like this, but I guess you can go to any hardware store and inject something into someone, Long Beach, California-based Dr. Marcel Daniels told RadarOnline. It's a horrible idea.
This is a totally unlicensed, untrained individual, he revealed. She could inject it into the wrong blood vessel and cause an embolism, which can kill.
There is a high risk of tissues death or multiple abscesses forming, explained the surgeon, who went on to add, Such toxins can cause an inflammatory response that creates incredibly painful nodules that can burst through the skin, cause open wounds and lead to even more scaring and disfigurement.
Authorities have claimed that Morris may be a member of an underground plastic surgery ring in South Florida. Last Thursday, a judge set a $15,000 bond for Morris. If she is convicted of practicing medicine or attempting to practice medicine without a license under Florida law, she could face up to five years in prison and be fined up to $5,000 per count.
Related article: Oneal Ron Morris' Alleged Accomplice Corey Eubank Attacked by Victim's Mother on TV [VIDEO]
© Copyright IBTimes 2023. All rights reserved.