Rand Paul's Unexplainable Media Hype Couldn't Save His Presidential Campaign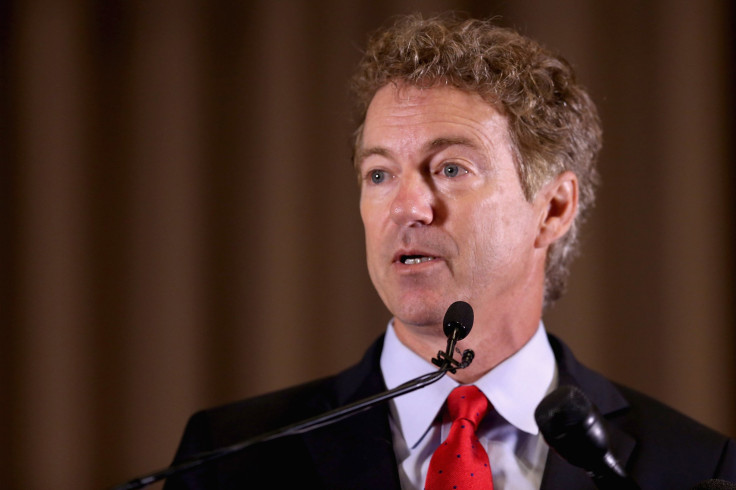 Sen. Rand Paul dropped out of the GOP presidential contest Wednesday with a final and typical flourish of libertarian rhetoric: "Brushfires of liberty were ignited, and those will carry on, as will I," the Kentucky lawmaker said in a statement. It was a deflated conclusion to what was once a vibrant campaign. Paul had arrived on the scene as a potential contender as far back as 2013 and rode a wave of bullish media hype up until the moment he actually began running.
From that point on, things went south very quickly.
Paul's volatile media narrative is one of the more interesting sideshows eclipsed by the much larger phenomenon of Donald Trump. For a long time, Paul was touted by pundits as not only a strong contender for 2016 but, as MSNBC's Chris Matthews prophesied in 2013, a guarantee for the nomination.
"The nomination is going to Rand Paul," Matthews said into the camera. "You watch — this is what I do for a living."
Matthews was not alone: Over many months, Time magazine, the New Republic, Politico and others forecasted Paul would be uniquely positioned to dominate in 2016.
The first layer of fascination with Paul was that he was just so "interesting." Citing his anti-neocon, small-government, anti-authoritarian identity, Time dubbed him "The Most Interesting Man in Politics." The New York Times credited him with igniting a "libertarian moment," and The New Republic wrote that he had managed to concoct a unique identity in the GOP despite his father's baggage: "Paul has managed to take the essence of his father's radical ideology — more radical than that of any modern presidential candidate — and turn it into a plausible campaign for the Republican nomination."
The second layer was that Paul supposedly held cross-ideological appeal. Several writers anointed him the GOP's ambassador to the coveted millennial demographic, what with that generation's live-and-let-live approach toward social issues like gay marriage, their distrust of government and their enthusiasm for criminal justice reform. This was never based on much evidence, but it did enrich Rand's image as not only a libertarian maverick but one who was down with the kids.
Finally, Paul was seen as a potential savior for a Republican Party deeply alienated from black voters, as his meticulously cataloged trip to Howard University in 2013 suggested. Much ink was spilled over Paul's rants against the drug war and its disproportionate effect on African-Americans, as well as his attempts to invoke the messages of black icons like Toni Morrison and Martin Luther King Jr. (even when criticizing a black president).
Then Paul announced his candidacy and rapidly subverted every single one of these selling points the media had laid out for him.
He began to speak with less nuance about things like LGBT rights and gay marriage, reiterating that he personally did not support the latter. At the height of the national debate about police brutality against black Americans, he cracked jokes about racial unrest in places like Baltimore, telling right-wing radio host Laura Ingraham with a laugh, "I came through the train on Baltimore (sic) last night ... I'm glad the train didn't stop." (This required a damage control operation from one of his advisers focused on outreach to minorities.) Paul also blamed the plight of blacks in the inner city on a "lack of fathers" and morals rather than leading with his old bromides about the drug war.
His forays into social media, that den of hipness, also went awry. He once retweeted a photo-edited image of mass shooter James Holmes holding up a #StandWithRand sign and also stumbled into a mini-PR disaster by offering supporters a customized "JEW for Rand" avatar for Twitter and Facebook.
Perhaps most significant, Paul totally alienated the press as soon as he began running. The first week of his campaign was one long gaffe as he snapped at reporters — most of them women, one of whom he literally "shushed" on-air during an interview — and capped off that media cycle by walking out on an interviewer, leaving his interlocutor alone in a dark room. Aside from a strong showing at CPAC, referred to by one jokester as the "Conservative Paul Actuarial Contest," his profile and poll numbers remained anemic and his support in the party tepid, leading all the way up to his dud performance in Iowa, where he scored a fourth of the votes his father earned in 2012.
And so in the media's grand narrative of 2016, Paul went from maverick to crank, charmer to creep, and underdog to punch line, all at once. Running for president appears to be the worst thing ever to have happened to his image as a presidential hopeful.
FOR FREE to continue reading
✔️ Unlock the full content of International Business Times UK for free
offer available for a limited time only
✔️ Easily manage your Newsletters subscriptions and save your favourite articles
✔️ No payment method required
Already have an account?
Log in
© Copyright IBTimes 2023. All rights reserved.