Raven-Symoné, Belinda Had A 'Cheetah Girls 2' Reunion, Sang 'Amigas Cheetahs'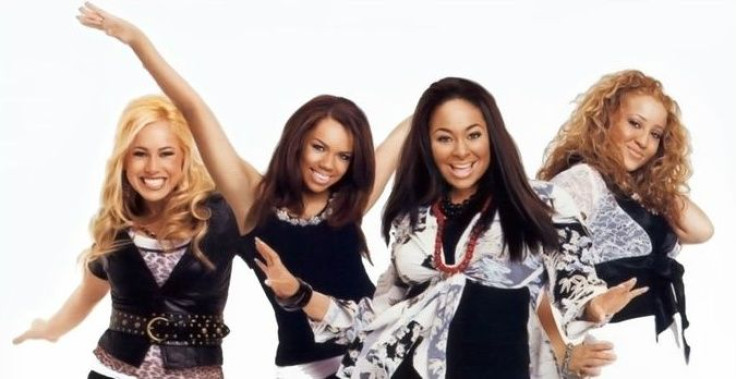 Raven-Symoné, current star of "Raven's Home," and Belinda, who is not only an actress, but a real-life pop star born in Spain and living in Mexico, had a cheetah-licious reunion on Tuesday, and streamed it all for fans to see.
While Belinda was not in the original "Cheetah Girls" movie with Symoné, which came out in 2003, she was in its sequel, "The Cheetah Girls 2." The Disney Channel Original Movie premiered on Aug. 25, 2006, as part of the network's So Hot Summer programming event.
The film brought The Cheetah Girls – Galleria (Symoné), Chanel (Adrienne Bailon), Dorinda (Sabrina Bryan) and Aqua (Kiely Williams) – to Spain to audition and take part in a music festival and get their names not just known, but known internationally.
Along the way, they had some internal group troubles, as usual, as well as troubles with another festival participant, Marisol, played by Belinda. She acted like their friend, while her mother stabbed them in the back. In the end, it all worked out and The Cheetah Girls welcome her back as a friend and they all even sang "Amigas Cheetahs" together at the end of the festival.
It's now 11 years later, and Symoné and Belinda are still great friends, or "besties," like they said multiple times during their multiple Instagram Live videos on Tuesday.
When the broadcast first started, Symoné shared that she doesn't do these videos often but said, "today is a bomb moment because my bestest friend from years ago is chilling with me today….her name is Belinda."
Though fans of the franchise likely noticed her immediately, it was still nice to hear Symoné say her name and make the official introduction at the start of the video, which was streaming live while the current Disney star drove and Belinda sat in the passenger seat.
The two revealed they were just leaving a table read of an upcoming "black-ish" episode, though Belinda's never seen the show. As if the sight of this reunion wasn't enough, fans were also being treated to the knowledge that Symoné will likely be on "black-ish" very shortly.
Once the video really got going, it didn't take long until The Cheetah Girls was mentioned, of course.
"Out of all The Cheetah Girls, we survived," Symoné said, meaning interestingly enough that she doesn't really keep in touch with the others. "Together as friends."
The Cheetah Girls lyrics " Amigas cheetahs, friends for life" has never been more true and false at the same time.
However, the love for "The Cheetah Girls" the movie continued as the two blessed their live audience with short snippets of them singing two songs from the sequel, "Amigas Cheetahs" and "A La Nanita Nana."
I CAN'T BELIEVE RAVEN AND BELINDA SINGING AMIGAS CHEETAHS AND A LA NANITA NANA JUST SAVED MY DAY I'M pic.twitter.com/ADW78EeUMg

— tish (@pietersbuttah) October 17, 2017
While the two were having a bit of trouble remembering the words, it was nostalgic and wonderful, nonetheless, and will likely have everyone wanting a Galleria and Marisol "Cheetah Girls" spinoff movie just to hear more.
Fans were treated to a little more singing as the two began to talk about Disney princess movies and then sang a song from "The Little Mermaid," both in English and Spanish.
Shortly after the duo stopped broadcasting on Symoné's account, they picked it back up again on Belinda's Instagram Live where she began to give Symoné some Spanish lessons. Once the teachings were over, the duo took a break before going again, this time inside of a restaurant and on Symoné's account.
It was during this broadcast that a commenter wrote about a "Cheetah Girl 2," most likely asking for another sequel, but Symoné responded that there was a "Cheetah Girls 2" and "a three, but we weren't invited."
Belinda was taken aback by that comment, as much as those watching probably were, but then Symoné corrected herself and clarified. "I was, I wasn't available, I was just being facetious," she said.
Once the food came, the friends signed off, leaving fans wanting another not just another movie sequel featuring these two, but also more Instagram Lives from them, too.
© Copyright IBTimes 2022. All rights reserved.
FOLLOW MORE IBT NEWS ON THE BELOW CHANNELS