'Raven's Home' Season 2: 7 Things That We Want To Happen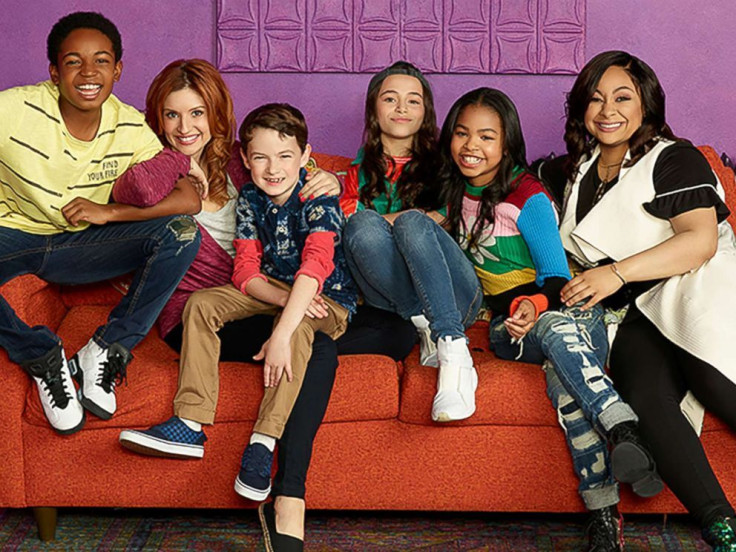 Now that Raven's home, she plans on staying there!
Disney Channel has renewed "Raven's Home," the spinoff to "That's So Raven," for a second season. The show follows Raven-Symoné and Anneliese van der Pol as they reprise their roles as Raven and Chelesa, respectively, as adults now with children, all living under the same roof.
Production on the new season will begin in Hollywood in November, leaving fans plenty of time to watch the final two episodes of Season 1, one on Friday and one on Oct. 20, and then think about all of the things they'd like to see happen in Season 2.
With the announcement of a Season 2 being so exciting, we've already gotten a head start on what we'd like to see when the show returns for round two.
We want to:
1. Meet Tess' (Sky Katz) Mom
Tess is such an outgoing and interesting character, to say the least, and she's always mentioned her mom in passing, but we've never met her. It'd be interesting to see how much alike or different the two are from each other. Plus, it will be exciting to see who they cast in the role. Katz has an idea on that, though.
"The mom from '2 Broke Girls,' the blonde one," Katz told International Business Times in September. "Not the blonde friend, but the older, loud, blonde mom [actress, Jennifer Coolidge]. Not very Disney Channel, though."
2. More Original Characters
It's great seeing Raven and Chelsea each episode, and Devon (Jonathan McDaniel) once in a while, but there are so many characters it would be amazing to see in Season 2.
With so much having changed for the original characters we've already seen, one can only imagine how much has changed for Raven's brother, Cory (Kyle Massey), Raven's mom and dad, Eddie, her old neighbor Stanley ( Bobb'e J. Thompson) or her mini-me Sydney (Sydney Park). Not to mention the past bullies of hers, like Alana (Adrienne Bailon).
Here's hoping some of them show up in the new season so we can see what they're up to now.
3. See Raven And Her Son Have The Same Vision
Though it makes sense that the showrunners continue to have the mother and son keep their visions secret from each other, as it keeps the mystery and fun alive, it would be cool to see the two of them have the same vision and watch how they handle it differently.
4. Meet Chelsea's Ex-Husband
We've heard a lot about Chelsea's ex-husband, but have yet to meet the convict. Chelsea and Raven always talk about how bad of a husband he was and that he's in jail, but who is he? What actor will play him? Have we met him before? How much longer does he have left in jail?
5. See Boyz N Motion Return For A Reunion Tour
The Boyz N Motion were in multiple episodes of "That's So Raven" and were always made an episode even better than it already was. It was great to hear Raven name-drop the band in one of the "Raven's Home" episodes, but it would be even better to see them appear in person. Though the actors who played the boyband members – Ryan Hansen, Michael Copon and Columbus Short – are pretty busy now, this is a very important gig.
Apparently we're not the only ones who want to see the boys reunite, as singer Mahogany Lox tweeted about them recently.
"So when is Boys N Motion releasing their tour dates," Lox posted on Oct. 1. "I've been waiting YEARS."
One of the actors who played a member of the fictional boyband, Michael Copon, even responded to her, jokingly saying that they were working on it.
While it would be amazing to see Boyz N Motion go on a real-life tour, we'd definitely settle for them to go on a reunion tour within "Raven's Home" with a definite stop in Chicago where they'd be welcomed by forever-fans Raven and Chelsea.
6. A Musical Episode
The original series had a musical episode, "The Road to Audition," during its second season, so it's only fair that this spinoff has one as well. Not only were the songs incredibly catchy and fun, but also "American Idol" judge at the time, Paula Abdul, guest-starred in the episode. Perhaps in this version, it would be new "American Idol" judge Katy Perry who guest stars.
It seems like one of the show's stars, Sky Katz, is on board with the idea of a musical episode.
"That would be so cool," Katz previously told IBT. "I would so want to try that out. That would be awesome because we could all show other talents that we have, while acting. We'd all love that."
7. See Raven's Son Booker (Issac Ryan Brown) Wear Undercover Costumes Like Raven Used To, And Still Does
Since Booker is the one with visions, it only seems fair that he also inherits his mom's love of wearing costumes to go undercover in certain situations that usually have to do with a vision. It's so great to see that Raven still does this in the spinoff, as it was a big part of her character in the original, but it would be fun to see Booker try it out for an episode or two.
"Raven's Home" airs episode 12 of Season 1 on Disney Channel on Friday at 8 p.m. EDT.
FOR FREE to continue reading
✔️ Unlock the full content of International Business Times UK for free
offer available for a limited time only
✔️ Easily manage your Newsletters subscriptions and save your favourite articles
✔️ No payment method required
Already have an account?
Log in
© Copyright IBTimes 2023. All rights reserved.