Red Wings News: Henrik Zetterberg An Unsung Hero For Detriot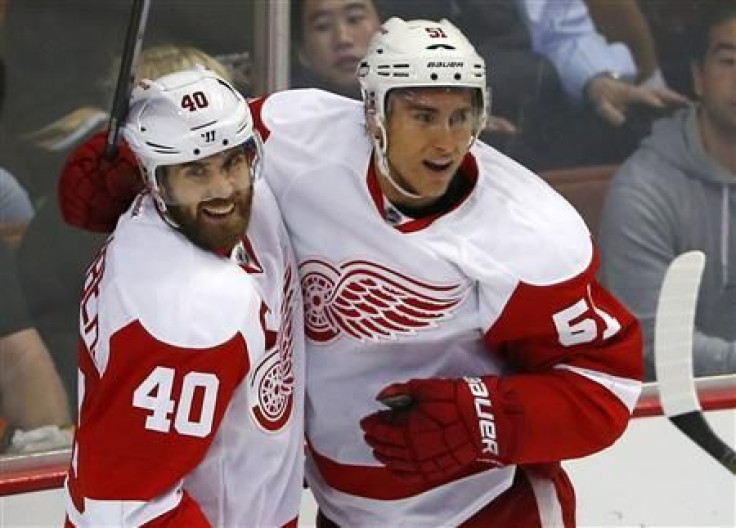 Henrik Zetterberg nearly went from hero to goat in his team's playoff upset over the Anaheim Ducks, but Detroit's face of calm withstood his latest test to confirm his place in a long line of great Red Wings captains.
Zetterberg's delay of game penalty for accidentally shooting the puck over the glass late in the decisive seventh game led to Anaheim's powerplay goal and trimmed visiting Detroit's lead to 3-2 with a little over three minutes to play.
The 32-year-old Swedish standout watched in horror from the penalty box as the Ducks closed the gap, though Zetterberg and the Red Wings proved incapable of panicking.
Behind their steadfast captain, seventh-seed Detroit stayed calm and wrapped up the series over second-seed Anaheim in a Western Conference quarter-final that constantly had the Red Wings on the verge of elimination.
"Most of the guys were fine. Stuff like that happens, it was a bad bounce," Detroit's Niklas Kronwall told reporters about Zetterberg's uncharacteristic miscue.
"We did a pretty good job of staying composed, keeping calm and getting the job done."
No one did that better than Zetterberg, whose resilience is now a part of his job description.
When Zetterberg was named team captain to start the season, it was a role that surpassed his many achievements. The former Conn Smythe Trophy winner as playoffs MVP, Stanley Cup champion and Olympic gold medalist was stepping into important skates and assuming the most critical role on one of the NHL's Original Six franchises.
Clearly, Zetterberg understands his platform.
"We've had a lot of great players, and you learn a lot," said Zetterberg, whose team faced elimination twice during a tight series that featured four overtimes, and five one-goal games.
"We've been through a good school with (former captains) Steve (Yzerman) and Nick (Lidstrom). I can name many. That has helped us when guys have moved on."
Detroit's leadership was tested more than ever this season.
After losing several key veterans, the Red Wings stumbled out of the gate of the lockout-shortened 48-game campaign and had to win their final four games to avoid missing the playoffs for the first time since the 1989-90 season.
Fittingly, it was Zetterberg who led the way in the regular season finale, scoring twice in a 3-0 win against Dallas.
He pulled off a familiar script against the Ducks, who had a 3-2 series lead before Zetterberg sprang to life with a pair of goals in Game Six, including the overtime winner.
In the do-or-die Game Seven, Zetterberg set the tone when he scored less than two minutes into the first period and added an assist on what proved to be the game-winning goal to extend what has been a remarkable closing stretch for the steely veteran.
Zetterberg had been limited to one assist through the first four games against the Ducks, but he busted out with three goals and four helpers in the final three games just as his team was in need of a spark.
"Just when you don't think he can take it to another level, he did," said team mate Justin Abdelkader. "He put us on his back and we've rode him here, especially of late.
"He's been a great leader. He's not a vocal guy in the locker room, but when something needs to be said he'll say it."
Something needed to be said, and done, as the Red Wings flirted with disaster this year, and it turns out their new captain was just the man for the job.
Detroit will now play the top-seeded Chicago Blackhawks in a best-of-seven Western Conference semi-finals starting Wednesday.
(Reuters - Jahmal Corner)
© Copyright IBTimes 2023. All rights reserved.