Republican Wears Sleeveless Dress On House Floor And Violates Dress Code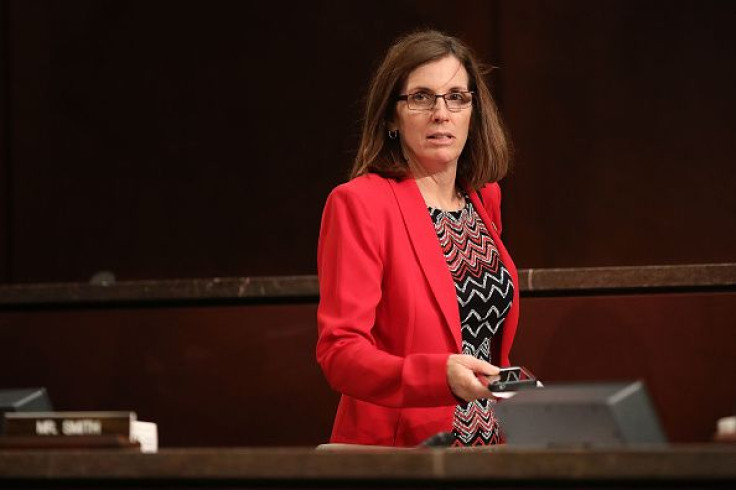 A female lawmaker stood on the House floor on Wednesday and announced she was wearing a sleeveless dress and open-toed shoes. This attire was in violation of a dress code the chamber and the Speaker's lobby supposedly has in place, reported CBS News Wednesday.
"Before I yield back, I want to point out I'm standing here in my professional attire, which happens to be a sleeveless dress and open-toed shoes," Representative Martha McSally (R- Arizona) said.
A "young female reporter" last week was not allowed to enter the Speaker's lobby, an area outside the House chamber where reporters go to interview lawmakers, because she was wearing a sleeveless dress, as reported by CBS News.
Read: Congress Deems Sleeveless Dresses 'Inappropriate Attire,' Turns Journalist Away From House
"Forced to improvise, she ripped out pages from her notebook and stuffed them into her dress's shoulder openings to create sleeves," CBS reported witnesses said. "An officer who's tasked with enforcing rules in the Speaker's lobby said her creative concoction still was not acceptable."
The alleged dress code set in place for women on Capitol Hill premises says they are not allowed to wear sleeveless blouses or dresses, sneakers or open-toed shoes. This dress code has been loosely enforced over the years. Former First Lady Michelle Obama wore a sleeveless dress to a January 2016 State of the Union Address in the House Chamber, and President Donald Trump's daughter Ivanka wore an off-the-shoulder dress to his joint address to Congress in February. The address took place in the House Chamber.
The incident described in the CBS article drew backlash against the dress code.
McSally, speaking Wednesday on the House floor, was subtly a part of that. She has rebelled before in regards to dress codes. When Donald Rumsfeld was secretary of defense, McSally sued him because the military required its female members to wear a head-to-toe garment called the abaya when traveling off-base in Saudi Arabia. The policy was reversed after a review.
The difference between the military policy and this alleged dress code lies in there being no tangible record of such a dress code. And not only women are affected by the code — men are supposed to wear suit jackets and ties in the House chamber and Speaker's lobby.
Read: Will Melania Trump Wear Saudi Arabia's Traditional Head Scarf? President Donald Trump Thinks She Should
According to a 2015 edition of Jefferson's Manual and Rules of the House of Representatives, House Speaker Tip O'Neill of the 96th Congress, a Democrat, said that he thought "proper the customary and traditional attire for Members, including a coat and tie for male Members and appropriate attire for female Members."
The House later implemented a rule that the Speaker would decide what "proper attire" meant.
"Members should wear appropriate business attire during all sittings of the House however brief their appearance on the floor may be," House Speaker Paul Ryan (R-Wisconsin), said in a June 2017 statement.
A spokesperson for Paul Ryan told CBS News that the no-sleeveless rule was unofficially in place under multiple different House Speakers, including Nancy Pelosi.
© Copyright IBTimes 2023. All rights reserved.