Rikers Island Reforms Move Forward, But Some Guards Have Gang Affiliations And Domestic Abuse Records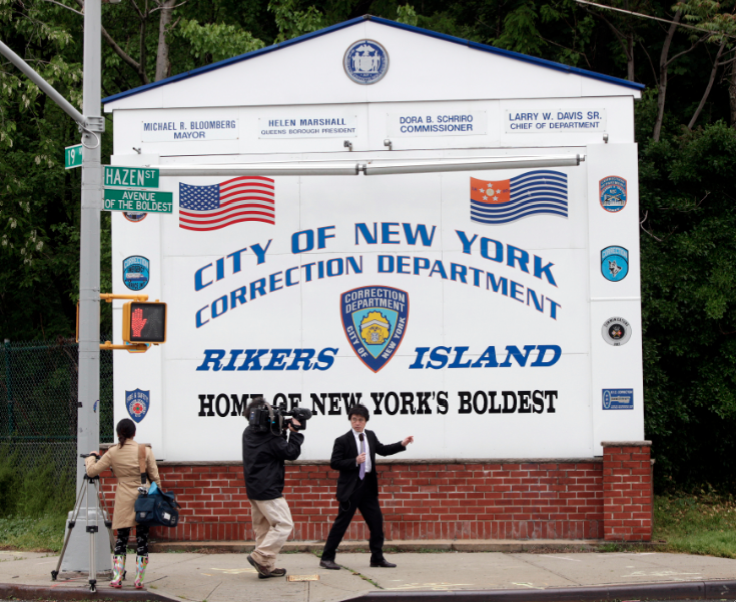 The May suicide of former Rikers Island detainee Kalief Browder put a human face on the suffering -- often at the hands of abusive staff -- of those incarcerated there. After a two-and-a-half-year investigation by Manhattan attorney Preet Bharara led to a scathing August 2014 report describing a "culture of violence" at the infamous prison complex, the administration of New York Mayor Bill de Blasio agreed to multiple reforms, the New York Times reported Monday.
But a New York Daily News piece published Tuesday shows that one place to begin fixing the "broken" institution may be with the 112 employees "red-flagged" for integrity issues by the Department of Investigation in January. Six months later, those employees are still working at Rikers.
On Jan. 15, the DOI looked into Rikers' hiring practices by examining 160 randomly selected files of recently hired correction officers. It tagged 112 of them with "red flags" for questionable integrity on issues like honesty, good judgment and respect for society's rules, reported the Daily News. Thirty-seven of those red-flagged applicants hired by the Department of Correction had criminal records that included gang assault, domestic violence and drug and weapons possession. DOI Commissioner Mark Peters presented the findings to the Department of Correction.
The Department of Correction did not tell the Daily News whether those workers would continue working at Rikers or even if their cases would get investigated again.
Among the reforms the de Blasio administration agreed to are the installation of thousands of surveillance cameras; policies restricting the use of force by guards against inmates; the appointment of a federal monitor; and an increased focus on the supervision and safety of teenage detainees and inmates like Browder, reported the New York Times.
In December, Bharara joined a class-action lawsuit, Nunez v. City of New York, that had been brought by the Legal Aid Society and private law firms to change the way Rikers Island functioned. The settlement de Blasio agreed to was the result of months of negotiations.
"This comprehensive framework requires the city to implement sweeping operational changes to fix a broken system and dismantle a decades-long culture of violence," Bharara said in a statement.
But for now, correction officers minding this institution in need of some credibility include a guard who "completely forgot" to tell the Department of Correction about his prior domestic violence arrest; another guard spotted on Facebook making gang signs, who later denied he was in a gang; another guard who had an affiliation with one gang and had been shot at by another; and yet another guard who'd been fired from a job for cursing and throwing a credit card at a customer, the Daily News reported.
© Copyright IBTimes 2023. All rights reserved.
FOLLOW MORE IBT NEWS ON THE BELOW CHANNELS