RIM CEO Eyes 'Ssignificant' Plans for BlackBerry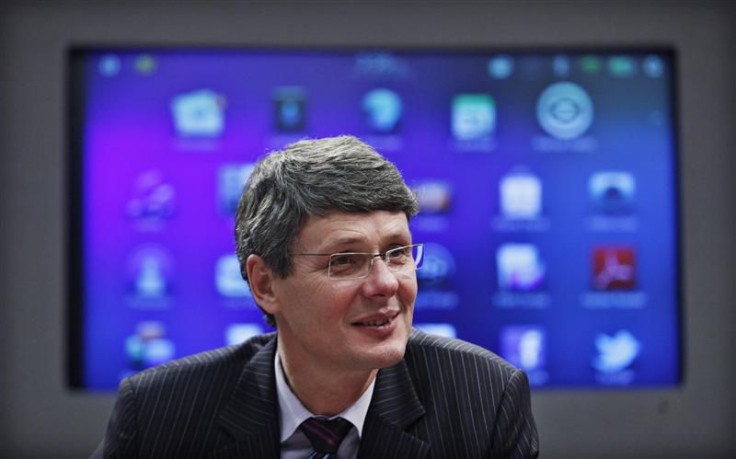 (Reuters) - Research in Motion's Thorsten Heins plans to waste no time in his new job. The BlackBerry maker's chief executive said he will present the board with his plan for company's future in just a matter of weeks.
The German-born executive, who took over from two longstanding co-CEOs on Saturday, said his plans for RIM would be significant though he did not divulge details in an interview with Reuters.
I will have time with the board in two weeks to present my ideas and changes, Heins said.
But the executive, who was promoted from the role of chief operating officer, said he has already done groundwork to tackle his company's most pressing problem - persuading the U.S. market to covet the BlackBerry again.
While RIM is growing in other countries, Heins conceded that its U.S. business is in need of a major revival after losing out to rivals like Apple Inc's iPhone at U.S. service providers and corporations, where it once had a clear advantage among employees heavily dependent on its email service.
In general I wouldn't consider RIM as a turnaround candidate. It is a turnaround candidate in the U.S., he said. We lost market share in this market quite substantially. That is something that we have to address.
While U.S. operators such as Verizon Wireless and AT&T Inc have helped BlackBerry with heavy advertising and promotions in the past, these operators have been much more focused in the last few years on devices like iPhone and smartphones based on the Google Inc operating system.
Heins' quest to regain ground with these operators has been complicated by the fact that RIM had to announce in December that it is delaying the launch of phones based on BlackBerry 10 - its next-generation software - until the later part of 2012 as it is awaiting the availability of a high-powered chip.
The executive would not say when exactly these phones would hit the market but implied that they would arrive in time for the year-end holiday-shopping season in the fourth quarter.
So in the meantime, Heins will concentrate on getting the most current BlackBerrys into more consumers hands. He noted that only 20 percent of U.S. BlackBerry users have the company's latest phones, which he says are competitive with rival smartphones.
The rest of RIM's U.S. customers have devices with older RIM software, some of which are two generations behind, he said.
To overcome this, RIM has devised a new upgrade plan with U.S. operators to promote phones with the BlackBerry 7 system, which was launched in August last year.
All the plans are ready. The carrier agreements are all ready. Now we have to get off the starting grid. Now we need to execute that upgrade program, Heins said.
While he did not want to disclose specifics about the new agreements, Heins said RIM could look at new ways of bundling different devices together or offering carriers smartphones with a package of pre-loaded applications.
He is also betting on the company's PlayBook tablet to compete with the Apple iPad tablet. This spring, Heins said that RIM will launch a version of the Playbook, with a high-speed wireless connection based on LTE - a technology that the top three U.S. operators are building into their networks.
Verizon Wireless and AT&T are already promoting LTE devices including smartphones and tablets from RIM's rivals. RIM's first smartphones with LTE connections will be in the company's BlackBerry 10 line-up, Heins said.
MOMENT OF SURPRISE
In his first presentation to Wall Street as CEO earlier this week, Heins said he did not think the company needed drastic change, causing some analysts to worry that the executive would not do enough to reverse the company's fortunes.
But the executive said on Friday that he was merely telling Wall Street that he does not want to change the core of RIM.
Is RIM up for sale, is RIM up for a split-up? He rejected those possibilities as a drastic, seismic change because it would tear the company apart.
Heins, who has been with RIM for four years after spending over two decades at German engineering group Siemens, was became COO responsible for software and products seven months ago.
He explained that RIM had succession plans for co-CEOs Mike Lazaridis and Jim Balsillie in place for some time and that he had an inkling that he was being groomed to follow in their footsteps when he was named COO.
The moment they tell you it's still a surprise, Heins said, smiling broadly and adding that he immediately said yes.
Lazaridis and Balsillie, who turned the BlackBerry maker into a global company and a household name, stepped down last week but will remain on the board.
Some analysts have worried whether these executives would have too much of a say in the future strategy of the company because of their position on the board.
Heins said, it would be an advantage to be able to tap into the experience and company knowledge of RIM founder Lazaridis, but he made it clear that he would be the one calling the shots.
What I do with the company is my decision. The CEO runs the company.
© Copyright Thomson Reuters 2023. All rights reserved.