RIM Earnings: Is BlackBerry Maker In Death Spiral?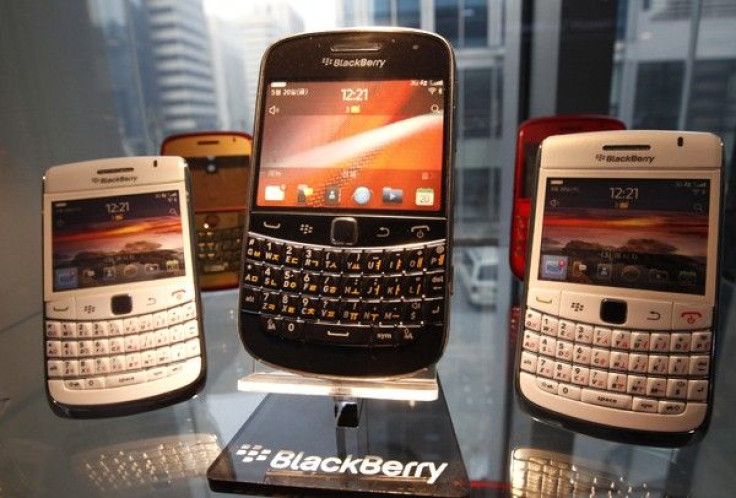 Troubled BlackBerry developer Research in Motion (Nasdaq: RIMM), once the king of the smartphone hill with business, is scheduled to report first-quarter results after Thursday's close.
RIM's new CEO, Thorsten Heins, last month pre-announced a loss on plans to slash costs, fire employees and try to rescue the Waterloo, Ontario, smartphone maker whose market share in the first quarter of 2012 slipped to only 6.7 percent from 13.6 a year ago.
Like its Finnish rival Nokia (NYSE: NOK), RIM's prior management was blindsided by the success of the iPhone family from Apple (Nasdaq: AAPL), the world's most valuable technology company, as well as the prowess of Samsung Electronics (Seoul: 005930) in the Android sector from Google (Nasdaq: GOOG), the No. 1 search engine.
Analysts are expecting RIM will report a loss around $19.5 million, or a penny a share, reversing the year-earlier net income of $695 million, or $1.33 a share. Revenue is expected to plunge 37 percent to only $3.1 billion.
And the predictions are that losses for the current second quarter will widen to $27.5 million, or 3 cents a share -- as the industry awaits Samsung's huge push for its new Galaxy S III now and the upgrade to a new iPhone expected to be announced next quarter.
Is RIM in a death spiral?
Investors like Victor Alboini, of Toronto's Jaguar Financial, who acquired a stake in RIM last September just below 5 percent, say Heins has no choice but to sell the company or split in half, selling the handset division to a strategic buyer and the BlackBerry unit to the likes of International Business Machines Corp. (NYSE: IBM) or Microsoft (Nasdaq: MSFT), the world's biggest software company, which would be interested in its customer base and manage its enterprise business.
The company, as we know it, won't be around in a year, Alboini said. He was heartened by the ouster of co-founding CEOs Michael Laziridis and Jim Balsillie in January and their replacement by Heins and by last month's hiring of JPMorgan Chase (NYSE: JPM) and a unit of Royal Bank of Canada (NYSE: RYC) for strategic advice.
RIM shares have gotten occasional pops but are still down nearly 70 percent over the past 52 weeks, 38 percent this year and 17 percent since Heins, 54, a former executive with Germany's Siemens Corp. (NYSE: SI) announced the loss for the period that ended June 2 last month.
Analysts don't see an easy way out, predicting continuous cuts to shrink the payroll from the current 16,500 to perhaps as few as 2,000, with gambles that a new version of the BlackBerry will finally ship and save the company,
Missing from the talk is anything about a rival to Apple's iPad or Microsoft's Surface, like last year's ill-fated PlayBook.
The situation is so dire that talk of a possible takeover by a strategic buyer like Microsoft, Facebook (Nasdaq: FB), Amazon.com Inc. (Nasdaq: AMZN) or Samsung has faded, said analyst Shaw Wu of Sterne Agee.
To be sure, RIM still owns valuable patents and intellectual property, including patents acquired last year from bankrupt Nortel Networks in a syndicate headed by Apple. That could prompt a bid by a strategic buyer, much like Palm was acquired by Hewlett-Packard Co. (NYSE: HPQ).
To date, HP's bid to enter the tablet sector failed, after last year's TouchPad disaster.
Still, Wu said, the investment bankers might try to auction RIM's IP. But as Eastman Kodak (Pink: EKDKQ) learned last year, a company in death spiral can't pin all its hopes on an IP auction.
Kodak, of Rochester, N.Y., filed for bankruptcy protection in New York on Jan. 19.
Another RIM watcher, Jefferies' Peter Misek, rates RIM shares underperform with a target of only $10 and believes there's little likelihood of a buyer coming forward now.
If Heins is lucky, RIM might be able to ship its long-awaited BlackBerry 10 model with another proprietary OS to the customer base that hovers around 80 million, largely business users in developed countries and consumers in developing countries such as Indonesia and India.
Still, the presumed global slowdown may trim estimates for sales of smartphones overall. Analysts this week trimmed their prediction. At Goldman Sachs, analyst Simona Jankowski estimates smartphone sales overall this year of only 649 million, down from a prior forecast of 668 million.
In RIM's first quarter, she estimates, the company sold only 9.9 million units. Barclays Capital's Jeff Kvall predicts sales were only 6 million, while Ehud Gelblum of Morgan Stanley predicts they were only 5.8 million.
A year ago, RIM shipped 13.2 million BlackBerrys in its first quarter.
RIM shares rose 22 cents to closde at $9.18 in Tuesday trading, valuing the company at only $4.8 billion.
© Copyright IBTimes 2023. All rights reserved.
FOLLOW MORE IBT NEWS ON THE BELOW CHANNELS