'Rise': What Will Happen In Season 1, Episode 8 Of NBC Series?
Stanton High PTA is determined to shut down the drama club's production of "Spring Awakening" in this week's episode of "Rise."
According to the synopsis for Season 1, episode 8 of the NBC series, an unauthorized, provocative sizzle reel promoting the stage play is posted online. But after it spreads like wildfire through the Stanton High and surrounding community, the video catches the attention of the school's PTA, which immediately expresses their opposition to the stage play.
In the trailer for the hour, Tracey (Rosie Perez) shows the sizzle reel to Lou (Josh Radnor) for the first time. "Who did this?" Lou asks.
After Tracey says that she has no idea who created and posted the video, Lou says that they should take the clip down as it could offend people. But after realizing that they need to sell tickets, both teachers decide to keep the video online. "We're doing this because we're helping these kids," Lou explains of their move.
Elsewhere in the trailer, Principal Ward (Stanley Wayne Mathis) makes a rare visit to the school's auditorium to find out who among the drama club members was behind the sizzle reel. "Who is responsible!? Who made that video!?" Principal Ward furiously asks the troupe.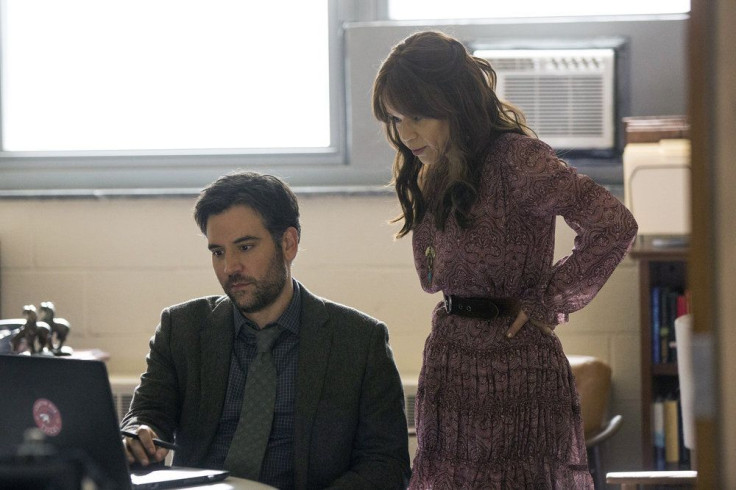 When Lou arrives home, his wife Gail (Marley Shelton) advises him to take the video down, but it seems that the English teacher has no plans to do so. "We sold out the opening night in 24 hours," Lou says of how the sizzle reel has helped them sell tickets.
Simon (Ted Sutherland) is also worried about the show being shut down by the PTA, as he's seen emotionally relaying the upsetting news to his mom.
The trailer for the episode ends with a woman telling Lou that they're going to do their best to stop the show from happening. "We're not going to let that show go on," the lady tells Lou. "I mean honestly, what were you thinking?"
Also in the installment, Coach Strickland (Joe Tippett) and Vanessa (Shirley Rumierk) are forced to face their own daughters, Gwen (Amy Forsyth) and Lilette (Auliʻi Cravalho), but major damage has already been done. Meanwhile, Robbie (Damon J. Gillespie) faces a crisis of confidence, and Maashous (Rarmian Newton) contemplates a difficult reunion with his biological mom.
"Rise" Season 1, episode 8, titled "The Petition," airs on Tuesday, May 1 at 9 p.m. EDT on NBC. Watch the trailer for the installment below:
© Copyright IBTimes 2023. All rights reserved.
FOLLOW MORE IBT NEWS ON THE BELOW CHANNELS