'Rise': Lilette Distances Herself From Robbie In Season 1, Episode 5 [VIDEO]
Lilette takes a step back in her relationship with Robbie in this week's episode of "Rise."
According to the synopsis for Season 1, episode 5 of the NBC series, outside forces conspire to put Lilette (Auliʻi Cravalho) and Robbie (Damon J. Gillespie) at odds with each other.
In the trailer for the hour, Lilette tells her mom Vanessa (Shirley Rumierk) that Robbie's dad Detrell (Mark Tallman) thinks that she's not good enough for his son. Later in the clip, Lilette reluctantly tells Robbie that it would be best for them if they just remain friends.
"We're scene partners, and that's it," Lilette tells Robbie. "That's all we should be, OK?"
While Robbie agrees, it's clear that Lilette's decision makes him unhappy.
In last week's Season 1, episode 4, Detrell invited Lilette to Robbie's trophy room, where he asked her to stay away from his son. "Robbie is great. I think he has a real future if he stays focus," Detrell told Lilette last installment. "You understand what I'm saying?"
When Lilette said that she didn't get what he was trying to say, Detrell said: "A good friend wouldn't distract him from his purpose."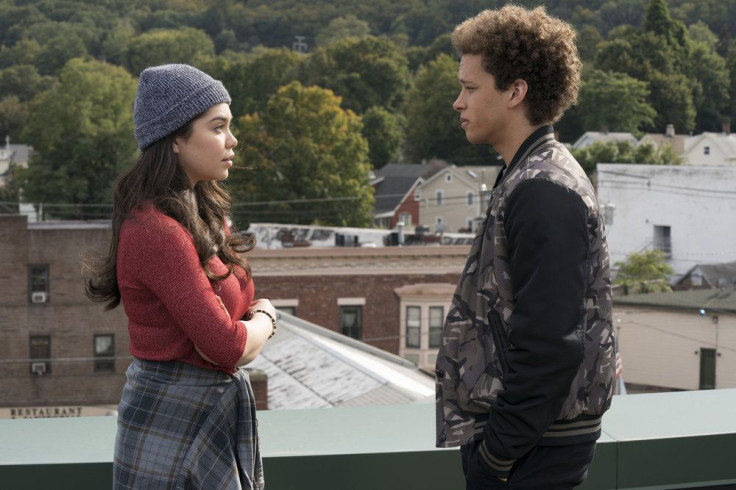 Elsewhere in the next episode, Lou (Josh Radnor) discovers a crucial element to the show that needs a major overhaul. Tracey (Rosie Perez), meanwhile, resists her blossoming romance with Andy (Diallo Riddle). In the trailer, Tracey visits Andy in one of the classrooms and plants a kiss on his lips.
Vanessa (Shirley Rumierk), on the other hand, finally takes a stand when her co-worker Anton (Nikolai Tsankov) harasses her again. In the trailer, Vanessa physically attacks Anton after the latter slaps her butt.
"Keep your hands off me," an angry Vanessa tells Anton.
When Anton doesn't listen and continues to lay his hands on her, Vanessa has had enough and punches him in the face.
Also in this week's episode, Lou and Gail (Marley Shelton) try desperately to get through to Gordy (Casey Johnson) after their unresolved confrontation. Gwen (Amy Forsyth) reels in the aftermath of a shocking announcement from her parents, and Simon (Ted Sutherland) finds an unlikely ally.
"Rise" Season 1, episode 5, titled "We've All Got Our Junk," airs on Tuesday, April 10 at 9 p.m. EDT on NBC. Watch the trailer for the episode below:
© Copyright IBTimes 2023. All rights reserved.