Rock And Roll Hall Of Fame 2016 Induction Ceremony: When And Where To Watch, List Of Performers And More For HBO Special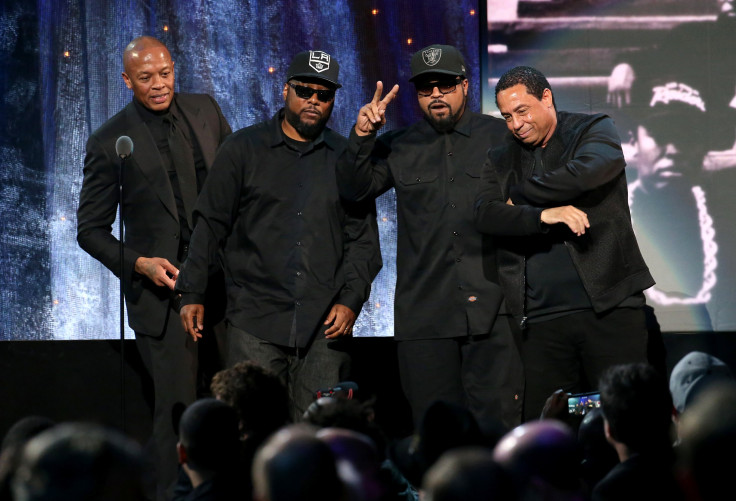 Are you ready to rock? The 2016 Rock and Roll Hall of Fame Induction Ceremony will air on HBO Saturday night and musical acts like N.W.A. and Cheap Trick, who have been waiting for years to get the honor, will be rewarded for the art they've created.
Cheap Trick, Deep Purple, N.W.A., Chicago, Steve Miller are the 2016 performer being inducted into the Rock and Roll Hall of Fame. Each inductee will take the stage and play some of their biggest songs throughout the HBO special. Cheap Trick will play "I Want You To Want Me," Deep Purple will perform "Smoke on the Water," and Steve Miller will sing "The Joker." Songwriter, producer and record label executive Bert Berns will also be welcomed into the Hall of Fame this year.
This year's guests and presenters include The Black Keys, Kendrick Lamar, Rob Thomas, Lars Ulrich, Kid Rock, David Byrne, The Roots, Stevie Van Zandt, Sheryl Crow, Grace Potter and Kimbra. The Black Keys have recently made waves following their announcement of Steve Miller into the Rock and Roll Hall of Fame. Guitarist Dan Auerbach described the experience as "disappointing" to Rolling Stone after Miller was "unpleasant" at the ceremony.
"Pat and I were both definitely disappointed, to say the least. But you never really know what to expect when you meet quote-unquote 'superstars.' Rock 'n' roll superstars, it used to be different for them. Playing stadiums and selling millions and millions of albums. It's almost like he doesn't have respect for the younger generations and how hard it is in the business today," Auerbach explained. "When he made his first record, he did it at Olympic Studios with Glyn Johns. Pat and I made our first record in the basement with broken gear."
The 31st annual induction ceremony was filmed on April 8 at Barclays Center in Brooklyn. Aside from the night being filled with all different kinds of inductions, a few tribute performances for legendary artists who passed away this year were also filmed. The Roots, David Byrne and Kimbra performed David Bowie's "Fame" in honor of the late singer, while Sheryl Crow and Grace Potter teamed up for "New Kid in Town" for Glenn Frey.
If you don't have an HBO subscription, but still want to see the ceremony, you can. The premium cable network offers a streaming service called HBO Now. All of the programming that HBO has to offer is available on HBO Now without a cable subscription. There is a free 30-day trial, and after that it costs $14.99 a month.
The 2016 Rock and Roll Hall of Fame Induction Ceremony airs on HBO Saturday, April 30, from 8 p.m. to 10:30 p.m. EDT.
© Copyright IBTimes 2023. All rights reserved.
FOLLOW MORE IBT NEWS ON THE BELOW CHANNELS