A-Rod News: Yankees Star Paid Legal Retainer For Owner Of Clinic In Doping Scandal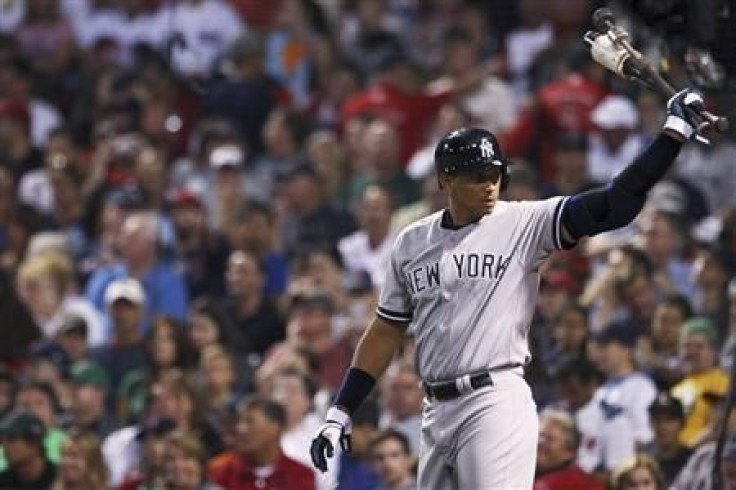 New York Yankees slugger Alex Rodriguez paid legal fees for the owner of a Miami anti-aging clinic at the center of a doping scandal that ensnared 13 professional baseball players, a spokesperson for the clinic owner said on Monday.
Rodriguez, who is fighting a lengthy suspension for his alleged doping, paid the lawyer for clinic owner Anthony Bosch a $25,000 retainer in February, and later made a second wire transfer for nearly $50,000 that the attorney declined, the spokesperson said.
Major League Baseball is suing Bosch and several other people associated with the Biogenesis clinic in a Miami-area suburb for alleged interference with its anti-doping agreement with players.
The Miami attorney, Susy Ribero-Ayala, accepted the $25,000 "on behalf of Anthony Bosch as payment for his legal representation," according to Joyce Fitzpatrick, who serves as spokesperson for Bosch and Ribero-Ayala. The second payment in April, which Fitzpatrick described as "unsolicited and unwarranted," was returned. She declined further comment on the payment.
Fitzpatrick said Bosch and Rodriguez no longer have any legal relationship.
Rodriguez, who grew up in Miami, was suspended by MLB for 211 games through the end of the 2014 season. Twelve other players received 50-game suspensions.
One of the highest-paid professional athletes in the United States, Rodriguez has denied any wrongdoing, and has appealed his suspension to an arbitrator.
Lawyers for Rodriguez did not respond to a request for comment but told ESPN earlier that the second transfer had been sent in error. They did not contest the first payment.
Fitzpatrick declined to comment on media speculation about the possible appearance that Rodriguez may have been trying to persuade Bosch not to cooperate with Major League Baseball's investigation of his ties to Biogenesis.
"Mr. Bosch has consistently expressed his desire to cooperate with any and all investigative authorities," she said.
Bosch's clinic is also under federal investigation by the U.S. Attorney's Office in Miami for the unlicensed sale of controlled substances to professional baseball players, as well as high school students, according to lawyers familiar with the investigation.
Bosch has not spoken to the media in months, but initially denied any wrongdoing.
A Grand Jury began hearing testimony and taking evidence last Friday, the Miami Herald reported.
The U.S. Attorney's Office in Miami launched the probe last month after Porter Fischer, a whistleblower at the defunct Biogenesis clinic said professional baseball players were not its only customers, according to legal correspondence with Fischer that was viewed by Reuters.
The probe involved an "investigation into federal illegal substance violations," according to a copy of the correspondence that was provided to Reuters in late July.
The U.S. Attorney's Office declined to comment on the existence of an investigation.
Fischer obtained hundreds of pages of client records from Biogenesis that he alleged show payments from some of the players for performance-enhancing drugs and that he later turned over to a Miami weekly newspaper, which published them.
The Florida Department of Health fined Bosch $5,000 in April for violating state law for diagnosing and treating patients without a proper doctor's license.
(By David Adams)
© Copyright IBTimes 2023. All rights reserved.