Ron DeSantis Faces Wrath Of Americans As They Rethink Donations To His Florida Charity
KEY POINTS
Americans are not willing to donate to Ron DeSantis-suggested charity for Florida's rehabilitation
Residents are concerned about the misuse of donations
In July, the Gov. announced that Florida had recorded a $21.8 billion surplus for the Fiscal Year 2021-22
Hurricane Ian has left for the Carolinas after tearing through southwest Florida with strong winds and destructive flooding. The Sunshine State is in shambles with washed-out homes, toppled boats, and fallen trees.
Photos of damaged homes and debris taken after the storm passed the state are sobering, reported NPR. Floridians are seeking all the help they can get as the state assesses the full extent of the losses sustained in the aftermath.
While the country is united in sending their thoughts and prayers to Florida, many have decided to take a step back and think twice when comes to donating their money, and it's all connected to Gov. Ron DeSantis' political stunt.
DeSantis is facign reelection in a few weeks. Earlier in September, he used $615,000 from Florida taxpayers' money to transport 50 Venezuelan migrants to Martha's Vineyard in Massachusetts, causing a furor among the public.
Weeks after this, DeSantis urged the public for funds as well as federal aid to help rebuild Florida. However, a section of citizens seemingly is not willing to donate any funds toward the DeSantis-suggested Florida Disaster Fund.
The concerns are stemming from the fact that the Gov. announced a $21.8 billion surplus for the Fiscal Year 2021-22.
"Florida's record surplus includes $2.7 billion in Florida's Rainy-Day Fund (Budget Stabilization Fund) – the highest in state history, $15.7 billion in unallocated General Revenue, $2.8 billion in unallocated trust funds, $499 million in the newly created Emergency Preparedness and Response Fund," according to a press release.
Responding to this development, social media users have expressed their resentment toward DeSantis' aid call.
"Unless you guarantee funds will go to those who REALLY need the money I'm not sure I'll be donating to any Florida cleanup. Sorry not sorry. Can't trust a republican from Florida. If I do donate it would be thru Red Cross and not some Florida website," a tweet read.
"I'm sorry but I will not be donating to Florida. I know there are people who didn't vote this jerk in. perhaps I can donate to an Hispanic or black church. A lot of Floridians will be leaving for good anyway," said another.
"Yeah I live in Florida and I am not donating to that state fund," a third tweeted.
"Florida Gov. DeSantis is a crook, and grifter. I'm not donating to any "charity" he mentions. I'll donate to well established orgs that are helping out with relief efforts," a fourth opined.
DeSantis is facing heat from all quarters, despite timely updates and announcements in the face of disaster. Previously, his plea for aid opened a platform for people to criticize his anti-socialist stance in the past.
The fact that he, as a Congressman, had voted against federal aid after Hurricane Sandy came to light as well.
"In Congress Ron DeSantis voted AGAINST helping Hurricane Sandy victims Now he's begging Biden for aid Rand Paul voted AGAINST helping Hurricane Sandy victims Yet he begged Biden for aid for Kentucky Republicans hate "socialism" until their own a--es are on the line," an irate tweet read.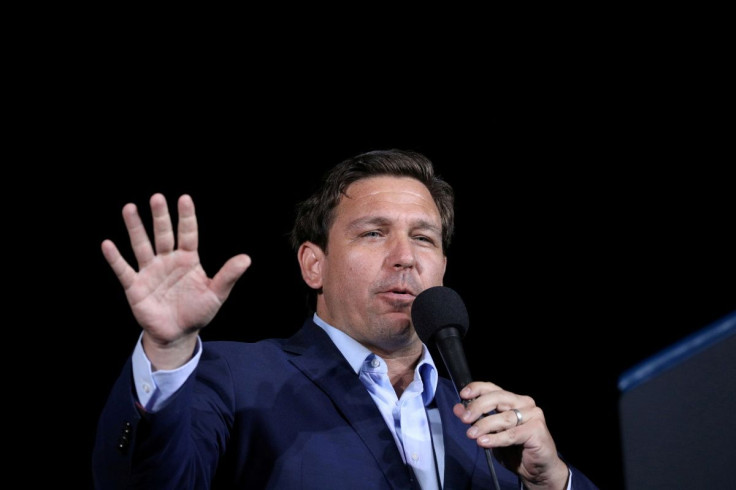 © Copyright IBTimes 2022. All rights reserved.
FOLLOW MORE IBT NEWS ON THE BELOW CHANNELS