Royal Fans Accuse Meghan Markle Of Allegedly Bullying Princess Charlotte Over New Book's Claims
KEY POINTS
Meghan Markle was accused of bullying after Tom Bower's new book made claims about her alleged treatment of Princess Charlotte
The book claimed Markle and Kate Middleton disagreed over the length of Charlotte's hemline and whether the bridesmaids "should wear tights"
Sussex supporters came to Markle's defense, pointing out that the biography's claims are unverified
Some royal fans have accused Meghan Markle of allegedly bullying Kate Middleton and Prince William's daughter Princess Charlotte after a new biography on the British royals made new claims about the two duchesses' 2018 bridesmaid dress feud.
In his newly released book "Revenge: Meghan, Harry and the war between the Windsors," British writer and investigative journalist Tom Bower claimed that Middleton "burst into tears" after Markle compared Princess Charlotte "unfavorably to her best friend Jessica Mulroney's daughter," Isabel, during a dress fitting before the "Suits" alum's wedding to Prince Harry in May 2018, according to Page Six.
Bower also claimed in his book that Markle and Middleton disagreed over the length of Charlotte's hemline or the fit of her dress and on whether Markle's bridesmaids "should wear tights" at the wedding.
"Kate thought it was too short, and anyway did not fit. Melissa Toubati, Meghan's assistant, and the dress-fitters employed by Givenchy's Clare Waight Keller, witnessed Meghan emphatically reject Kate's observation," the author alleged, according to an excerpt from the book obtained by The Spectator.
The British magazine noted that rumors previously claimed that Middleton disapproved of the length of the dress because it was not in line with royal protocol and that the duchess asked Markle to allow her then-3-year-old daughter to wear tights because she was worried her shoes would cause blisters.
International Business Times could not independently verify the book's claims and the rumors. However, some royal fans claimed that Princess Charlotte's flower girl dress and shoes seemed to have issues, based on the photos from Markle and Prince Harry's wedding.
"Princess Charlotte's dress on her uncle Harry's wedding looks not well-tailored," one person tweeted, while another user claimed, "Charlotte's feet were hurting without tights/stockings on the hot pavement. Her feet were blistering in those shoes and chafing. The PHOTOS show the proof."
A number of royal fans criticized the Duchess of Sussex over her alleged treatment of Princess Charlotte.
"Meghan bullied Charlotte," one user claimed. "There IS a line that must NOT be crossed! There are no excuses to bully a child. A 3-year-old toddler!" a second person wrote.
"Regardless of how stressed the bride is, you DO NOT BULLY a 3-year-old child. EVER. ... I am reading Tom Bower's book, and it is an eye-opener," a third user claimed.
But many other royal fans came to Markle's defense, pointing out that the claims in Bower's book are unverified.
"I smell a desperate attempt to use poor Charlotte to villainize Meghan Markle, especially when Kate and William would have used their lapdog Jason Knauf to leak that Meghan bullied Charlotte. The royal that actually abused a minor is Prince Andrew," one Twitter user wrote.
"The Meghan headlines have now worsened! I'll say this: I've been a bride (and a bridesmaid), and most brides are very stressed before weddings -- and then add in a greedy dad selling pics and not turning up for the big day. Give her a break," investigative journalist, author and podcaster Lucie Morris-Marr tweeted.
"First, they used Kate against Meghan, now they are trying to use Charlotte. We see through their bulls–t. It's not going to work. [The] Duchess of Sussex will always rise above the hate," a third Sussex supporter commented.
During her 2021 interview with Oprah Winfrey, Markle addressed the rumors, claiming that "the reverse happened" and that it was Middleton who made her cry and "hurt" her feelings.
The Duchess of Sussex told Winfrey that she didn't want to disparage Middleton by sharing her side of the story but that she felt unprotected by the palace for not correcting the rumors she made her sister-in-law cry when "everyone in the institution knew it wasn't true."
"There wasn't a confrontation," Markle insisted. "I don't think it's fair to [Kate] to get into the details because she apologized, and I've forgiven her. It was a really hard week of the wedding and she was upset about something, but she owned it, and she apologized, and she brought me flowers and a note, apologizing."
In 2020, Kensington Palace released a rare statement addressing a Tatler magazine report, which cited an unnamed friend of Prince William and Middleton as saying of the dress feud: "It was a hot day, and apparently there was a row over whether the bridesmaids should wear tights or not. Kate, following protocol, felt that they should. Meghan didn't want them to."
The palace, however, denied that the feud ever unfolded and said in its statement that Tatler's article hosted "a swathe of inaccuracies and false misrepresentations."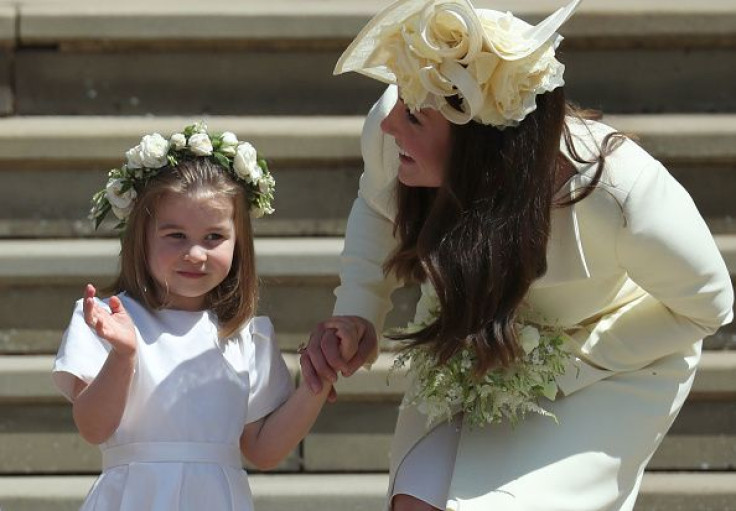 © Copyright IBTimes 2023. All rights reserved.