Russell Westbrook Injury Update: Re-Evaluation Likely Soon, Thunder Win In Star's Absence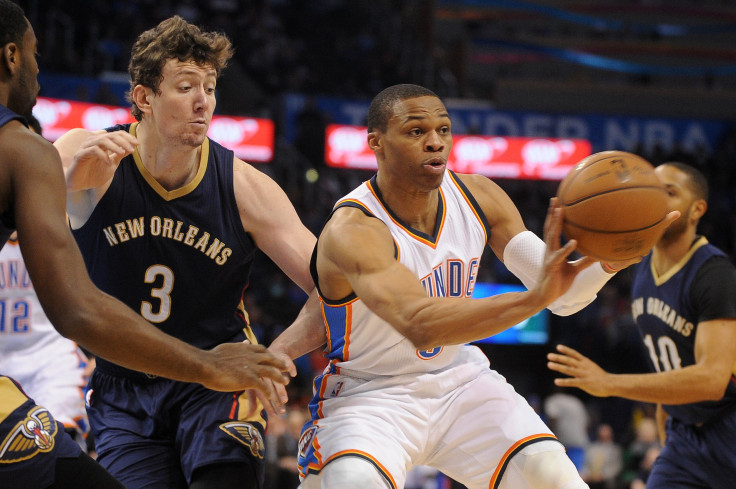 The Oklahoma City Thunder held off the hapless Los Angeles Lakers on Sunday night at Staples Center, 108-101. The result was notable because Oklahoma City pulled off the victory without star point guard Russell Westbrook, who was sidelined after a grisly facial injury and reparatory surgery on Saturday.
Westbrook was accidently kneed in the face by teammate Andre Roberson in a loss to the Portland Trail Blazers on Friday with just seconds remaining in the game. Westbrook was seen rubbing a visible dent on his cheek. It was later reported that the 26-year-old had to have surgery to repair a fracture in his zygomatic arch bone on Saturday, and that he would be re-evaluated for a return this week.
Westbrook is coming off an exceptional February in which he averaged 31.2 points, 10.3 assists and 9.1 rebounds. The four-time All-Star was accounting for a massive amount of points both by scoring and effectively dishing to his teammates. Westbrook possibly vaulted himself into the MVP conversation with the extreme offensive production. Added to that, Westbrook's star counterpart Kevin Durant has been out with his own injury. Durant and Westbrook have combined to put up 51.9 points per game this season. The Thunder must be pleased that the squad was able to pull off a win while playing without all of that production.
After the surgery, it was reported that Westbrook would be out for at least the game against the Lakers. The re-evaluation of his condition, and a decision of whether or not he will return, is supposed to come sometime this week. The Thunder face weak competition without their superstar guard, first playing the Lakers, then moving on to play the lowly Philadelphia 76ers on Wednesday.
There might not be a reason to bring Westbrook against the Sixers, who have a record of just 13-46. But the Thunder will surely hope to get Westbrook back soon, however, as the eighth-placed Western Conference team seeks a playoff berth. The formidable Chicago Bulls loom as Thursday's opponent.
Eight teams can make the postseason in each conference and the New Orleans Pelicans are just a half-game behind the Thunder in the standings.
© Copyright IBTimes 2023. All rights reserved.