'Salvation' Episode 6 Sneak Peek: Liam Insists To Join A Secret Operation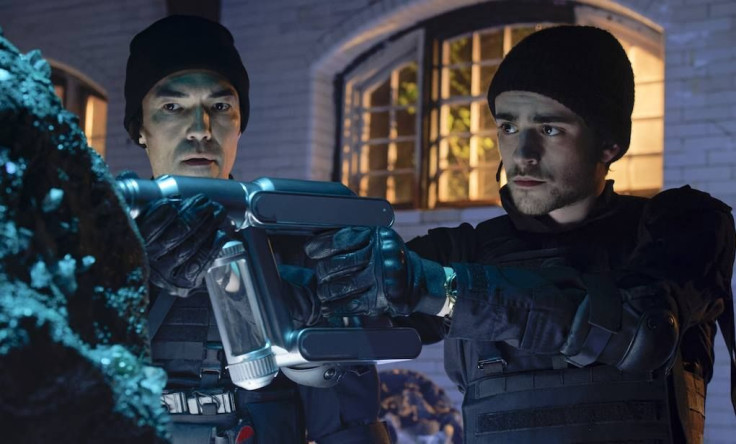 Liam (Charlie Rowe) wants to become much more involved in saving the human race in Season 1, episode 6 of "Salvation."
In a sneak peek from tonight's episode of the CBS sci-fi thriller, Darius (Santiago Cabrera) instructs Liam to draw up instructions for Harris' (Ian Anthony Dale) team on how to extract Icosahedrite from the Khatyrka meteorite. But much to Darius, Harris and Grace's (Jennifer Finnigan) surprise, Liam refuses, saying that he plans on going to London to extract the crystal himself.
When Darius says that he needs him to stay at Tanz Industries, the MIT grad student angrily replies: "Well, it's not your … decision, is it? I've given up everything to make that drive reality. I have lied for it. I have killed for it. And now I've lost the woman I love because of it."
READ: Which book did Santiago Cabrera and Charlie Rowe read before filming "Salvation"?
Harris doesn't also think that letting Liam join the secret operation is a good idea. "I'm with Darius here," the deputy secretary of defense tells Liam. "I can't have any liabilities in the field. The stakes are too high."
When Harris points out that there's no need for Liam to be in the field because his "guys are quick studies with combat experience," Liam enumerates some possible scenarios that could happen if he isn't the one who extracts the crystal. "I am the only person who has ever extracted that crystal," Liam reminds Harris. "What happens if your guy breaks his only diamond tip drill bit? Or the extractor overheats and fuses to the rock. We're all screwed, that's what. We only have one chance. It's gonna be me. It has to be me."
At the end of the sneak peek, Harris lets Liam join the clandestine operation but Harris tells Liam that he should follow his orders "to the letter."
In another sneak peek, Darius introduces Liam to his uncle, Nicholas Tanz (John Noble), who happens to be keeping the Khatyrka meteorite. Promotional photos for the episode show Liam and Harris breaking into Nicholas' space rocks collection and extracting Icosahedrite from the Khatyrka meteorite.
In Season 1, episode 4, Liam and Dr. Croft (Dennis Boutsikaris) found out that the EmDrive needed a stronger and more reflective interior copper lining for it to work. The duo tried dusting the prototype's lining with platinum, glass and gold, but none of it worked. Just when he thought he could never make the EmDrive work, Liam had a light-bulb moment and thought of dusting the EmDrive's interior lining with Icosahedrite. Liam extracted the Icosahedrite from a small piece of meteorite displayed at the entrance of Tanz Industries and used it on the EmDrive's prototype. Although the prototype worked, it was stolen by the Russians at the end of Season 1, episode 5.
"Salvation" Season 1, episode 6, titled "Chip Off the Ol' Block," airs on Wednesday, Aug. 9, at 9 p.m. EDT on CBS. Watch the sneak peeks below:
© Copyright IBTimes 2023. All rights reserved.