Seattle Snow Storm to Hit Pacific Northwest, Worst Since 1985 [PHOTOS]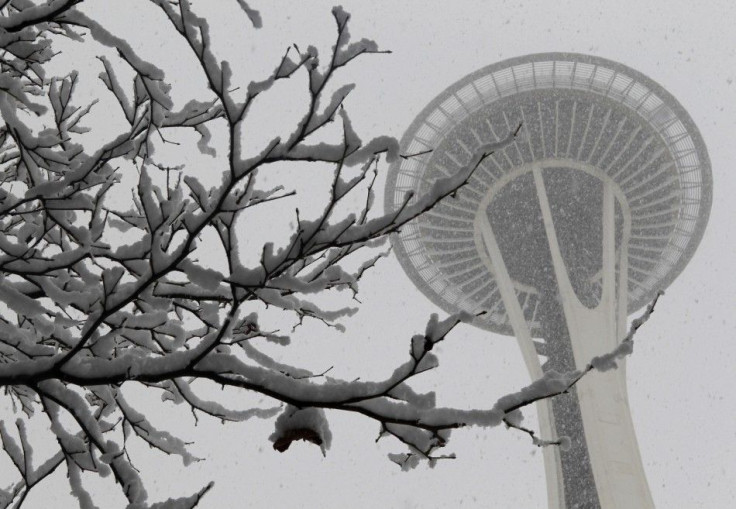 The Pacific Northwest is bracing for a major snow storm expected to hit the region late Tuesday and to continue until midnight Wednesday. The storm could bring record amounts of snow to Seattle and other cities in the Pugent Sound. While there is uncertainty about how much snow the storm might bring, the storm is expected to yield anywhere from 5 to 18 inches of snow in Seattle.
After slight snow showers this weekend, the National Weather Service Forecast claims Tuesday could bring an additional one to two inches of snow followed by a possible five to ten inches by Wednesday evening. According to Weather.com, however, Seattle may see 12 to 18 inches of snow with Portland getting slightly less at 3 to 5 inches.
While other regions may be accustomed to heavier snowfalls, Seattle and the surrounding cities are not. According to reports from Weather.com, the average annual snowfall for Portland is only 2.4 inches and 5.9 inches in Seattle. The snow storm this week could exceed the amount of snow seen in the region since the record-breaking November 1985. On Nov. 21 and 27, snow storms in the region brought a total of 17.5 inches of snow in Seattle in one of the coldest Novembers on record.
Snowfall amounts at Sea-tac could exceed anything seen since November 1985, a top five record 24-hour snowfall amount, the National Weather Service claims.
The National Weather Service Forecast has put out a winter weather advisory in the area for Tuesday and Wednesday with warnings of dangerous roads and difficult travel conditions. Extra precautions should be taken and citizens are also advised to be prepared with extra flashlights, food, water and blankets in case of an emergency.
Weather.com notes that travel could become dangerous or impossible in Seattle, Olympia, Bellingham, Portland, Vancouver and other cities in the region. As the storm continues inland, Spokane, Wash., Coeur d'Alene, Idaho, Kalispell, Mont. and Missoula, Mont. may also experience heavy snowfall and difficult travel conditions.
The expected snow storm has also prompted many schools to post delays and closures for Tuesday.
Following the storm, snow may give way to rain later in the week, leading to more typical weather for the winter months in the region. Temperatures should rise Thursday and Friday, followed by an expected weekend forecast of rain with temperatures in the mid-40s.
© Copyright IBTimes 2023. All rights reserved.