Sebastian Stan Promises 'Crazy Stuff' In Marvel's 'Falcon And Winter Soldier' Disney+ Series
"Avengers: Endgame" was so secretive that most actors didn't read the script, but it looks like that isn't the case for Marvel Studios' new TV series. Sebastian Stan has actually read the scripts for "The Falcon and the Winter Soldier," Marvel Studios' first Disney+ series. The Bucky Barnes/Winter Soldier actor couldn't say much, but he sounds very excited about the new streaming show.
"I have seen [the scripts], yeah. I am so excited about it, and it's gonna be so cool," he teased at the Fandemic Tour fan convention in Houston over the weekend.
Stan has played Bucky since 2011's "Captain America: The First Avenger," but he assured fans that this would finally give them a real look at the character's mindset.
"All I can say is that it's definitely new and different from what you've seen so far," he said. "I mean, it'll be totally in line with everything that has happened and what we've seen and so on, but these characters are getting such additional mileage in terms of learning about who they are now, what they feel, what they're thinking."
The actor promised a mix of action and comedy—typical for Marvel Studios—and noted that the twists in "The Falcon and the Winter Soldier" will leave audiences in disbelief. "There is some crazy stuff, like stuff you don't see coming from anywhere and you're like 'Oh god!'" he said.
In another question and answer session at Fandemic Tour, Stan was asked about his favorite Winter Soldier arm. Stan teased, "The one from Wakanda has a couple more features that we haven't explored yet." It sounds like maybe the limited series could show off more of the arm's capabilities.
Stan also assured audiences that no one is trying to replace Steve Rogers. "Captain America will never be the same without Chris Evans. It just won't," he said. "It doesn't mean that 'Captain America' is over, it just means that that particular [franchise] will never be the same. … Sam and Bucky are going to have to figure out how to incorporate life without that big guy...We're gonna do our best."
"The Falcon and the Winter Soldier" is set to hit Disney+ in fall 2020. It'll be the first of several Marvel Studios TV shows on the streaming service that connect to the movies. "Wandavision" and "Loki" are due out in Spring 2021 and "Hawkeye" is set for fall 2021. "She-Hulk," "Ms. Marvel" and "Moon Knight" are also on the way.
Disney+ is set to launch Nov. 12 with a library full of Marvel titles.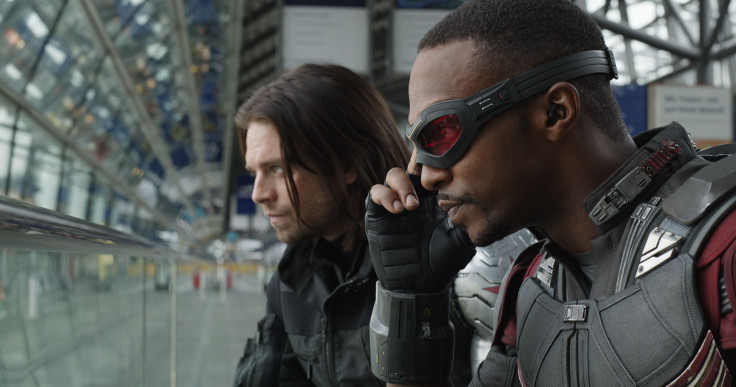 © Copyright IBTimes 2023. All rights reserved.
FOLLOW MORE IBT NEWS ON THE BELOW CHANNELS