Severe Thunderstorm Warnings For Texas Counties: Baseball-Sized Hail In Carrollton, Coppell [Photos]
Golf ball or baseball-sized hail showered down on parts of Texas on Wednesday, a little after midnight.
"Receiving multiple reports of golfball to baseball size hail from Carrollton to Coppell. Dangerous storm moving toward the east side of D/FW Airport to Irving. Get away from windows!!" Texas Storm Chasers tweeted at 1:45 a.m. local time (2:45 a.m. EDT)
Soon enough social media users in Carrollton and Coppell started posting photos and videos of the giant hailstones that were falling in the region. Some of them even held up the hailstones against objects like an apple, a cookie and a baseball to compare the size.
Property damages from the hailstorm was mostly restricted to the windows of cars and homes.
After a few hours, there were reports the hailstorm that descended on parts of Carrollton and Coppell had moved to Irving, and was progressing southwest into the Arlington & Grand Prairie areas.
"Potential of baseball size hail and 60 MPH winds approaching Interstate 30/Highway 360 in the next 10 minutes. Ballpark in Arlington, Cowboys Stadium, Six Flags included. Get away from windows! Storm will move SOUTHWEST into most of Arlington," the Texas Storm Chasers warned.
The National Weather Service of Forth Worth also told residents of Arlington to immediately seek shelter as baseball-sized hail was expected to fall in the area by 2:30 a.m. local time (3:30 a.m. EDT).
Photos of the storm moving through Grand Prairie showed swirling dark clouds accompanied by lightning. The storm clouds were also seen moving over Dallas/Fort Worth International Airport, bringing heavy rain.
"Potential of 2"+ hail between Aubrey and Celina and north of 380 in eastern Denton county. Moving south toward Little Elm and Lakewood Village," tweeted the Texas Storm Chasers. Their Twitter channel also began live tracking the storm's path.
"Storms continue to move south through eastern #ConchoValley and #Heartland and will likely make their way into the eastern Northern #EdwardsPlateau and the Northwest #HillCountry over the next couple hours. Winds of 40-50 mph and small hail possible with stronger storms," the National Weather Service of Fort Worrth tweeted, later issuing storm warning for counties like Denton, Lewisville and Flower Mound.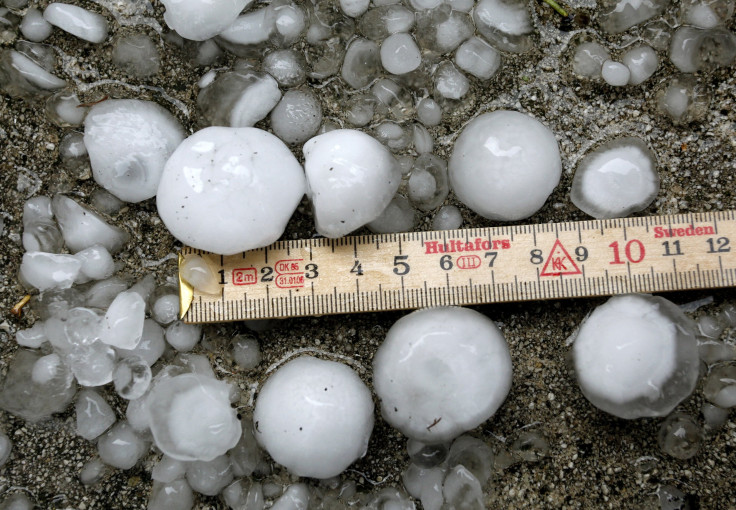 © Copyright IBTimes 2023. All rights reserved.
FOLLOW MORE IBT NEWS ON THE BELOW CHANNELS