'Shiba Eternity' Makes History, Ranks #1 Card Game On App Store
KEY POINTS
'Shiba Eternity' Download Day went live Thursday
The game is now available for download
SHIB was trading down 2.68% at $0.00001118
The Shiba Inu community made history after the highly-anticipated Collectible Card Game (CCG) "Shiba Eternity" ranked first in Apple App Store just hours after the game's Download Day went live Thursday.
The "Shiba Eternity" Download Day was initially scheduled for Oct. 1 but was pushed to a later date. Shytoshi Kusama, the pseudonymous lead developer of the Shiba Inu ecosystem, was hoping that the Shib Army could break the internet so the game could be placed at the top spot on Apple App Store and Google Play Store, allowing those not familiar with the game to see it.
Interestingly, while the "Shiba Eternity" Download Day did not break the App or Play Store, it set another milestone: a tap on the back of the development team. Just a few hours after the game went live, "Shiba Eternity" outranked popular card games like UNO, Card Tower and Monopoly Solitaire in the Apple App Store when it claimed the top spot and became the number 1 card game in many regions across the world.
The collectible card game also crossed the 10,000 downloads mark for Android devices and earned over 8,000 reviews. The community was, overall, happy and proud of the game's achievement as seen in their tweets. Shiba Inu development team member who goes by the Twitter handle @khaaldhairya also shared a screenshot showing "Shiba Eternity" as the top 1 card game.
"We are #1 in most of countries App and Play store, and going to put the likes of Marvel card game to shame @Marvel @marvelduel and uhm uhm @realUNOgame," the developer's tweet read, seemingly trolling other card games.
Shib Army who goes by the Twitter handle @THESHIBLIFE also shared a celebratory tweet while trolling the game that "Shiba Eternity" outranked, "Hey, @UNOMobileGame @realUNOgame. @shibaeternity was released a few hours ago and is now the number one card game. Just thought someone should let you know so you can update your description. Also, why not download it and come play with the #SHIBARMY?"
Meanwhile, @GossipShib had some choice words for fudders. "For those who criticize #ShibaEternity as childish - can you grow up? Do you understand how important it is to be easily downloadable for all, not only for gamers? SHIBARMY is community-driven and for everyone - what's better than offering a game - everyone - can download and play," the tweet read.
"Shiba Eternity" is now available for download. It is a free card game that even children aged 9 years old and up can enjoy. The game is one of the many projects of Shiba Inu and 5% of its profits will be dedicated to burning SHIB to help reduce the total circulating supply.
As of 1:45 a.m. ET Friday, SHIB was trading down 2.68% at $0.00001118 with a 24-hour volume of $184,968,162, according to the latest data from CoinMarketCap.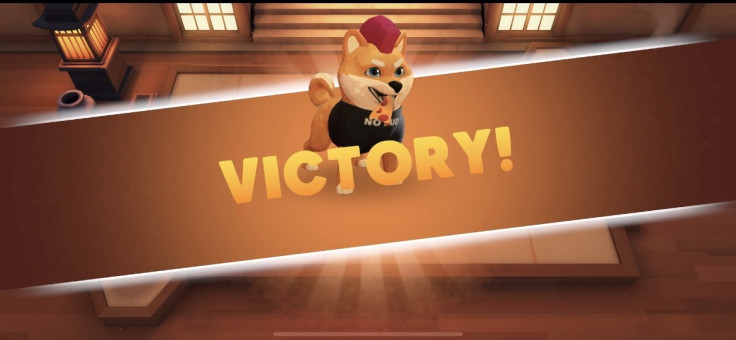 © Copyright IBTimes 2023. All rights reserved.
FOLLOW MORE IBT NEWS ON THE BELOW CHANNELS