Shiba Inu Achieves Major Milestone, Beats Ethereum, Dogecoin And Other Altcoins In Popularity In America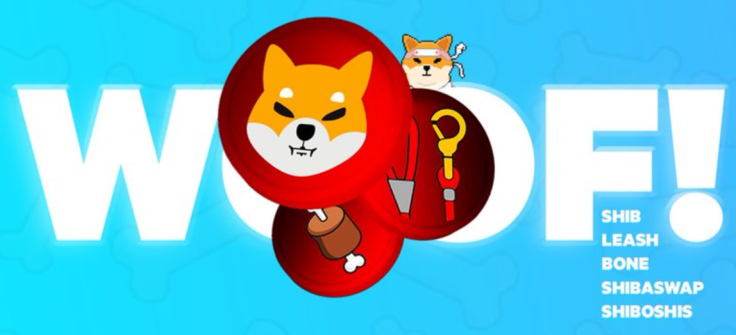 KEY POINTS
Bitcoin is still the most popular cryptocurrency in America
Dogecoin only ranked third on the list
Ethereum trailed behind Dogecoin with around 238,000 monthly searches
Dog-themed altcoin Shiba Inu achieved another milestone as it beat Ethereum, the world's second-largest crypto asset by market capitalization, as well as Dogecoin, the world's first-ever meme coin, and trailed behind Bitcoin, the world's largest-ever cryptocurrency by market cap, in terms of popularity in the U.S.
Despite the series of regulatory enforcements that the U.S. Securities and Exchange Commission executed this year, the popularity of cryptocurrency continues to surge in the country, where its adoption and utility continue to peak.
While Bitcoin maintained its status as the king of crypto and the most popular cryptocurrency in America, Shiba Inu emerged as the second most popular cryptocurrency in the country, based on a study conducted by crypto bookmakers Cryptobetting.com and shared with International Business Times.
The study utilized search volume data to analyze and compare different cryptocurrencies from the top 100 cryptos (by market cap) and determine the most searched ones in America.
While Bitcoin recorded a 1,910,000 monthly search volume, Shiba Inu saw a monthly search volume of 484,000, which was mainly due to its unique branding and enthusiastic community — the Shib Army, otherwise known as the fierce and loyal members of the Shib Ecosystem.
The popularity of the altcoin, developed and introduced to the world by its pseudonymous creator Ryoshi in August 2020, also attracted the interest of investors and traders looking for quick gains because of its potential for significant price volatility.
Taking the third spot on the list of the most popular cryptocurrencies in America was another meme coin, DOGE, with a monthly search volume of 280,000.
Its popularity can be attributed to the so-called DogeFather, Elon Musk, who is one of the most influential and richest men on Earth.
The tech billionaire recently rebranded the social media platform Twitter to X as a part of his vision of turning the platform into an "everything app" and hinted at the possibility of integrating Dogecoin into the micro-blogging site.
As for the fourth spot on the list, it was taken by Ethereum, which saw 238,000 monthly searches.
Co-founded by crypto genius Vitalik Buterin, Ethereum is a decentralized blockchain platform known for its smart contract functionality.
Trailing behind Ethereum was Cardano with 118,000 monthly searches, Ripple (XRP) with 92,000 monthly searches, Uniswap with 87,000 monthly searches, Pepe with 85,000 monthly searches, Solana with 76,000 monthly searches and TRON with 75,000 monthly searches.
"In an increasingly digitized world, crypto has emerged as a testament to the human desire for financial freedom and technological innovation. Its growing popularity lies in its ability to transcend borders and empower individuals to take control of their finances," a Cryptobetting.com spokesperson said in a note sent to IBT.
"As trust in traditional systems wavers, crypto offers a new paradigm, where transparency, security and opportunity converge. The rise of crypto in America represents a collective realization that the future of finance and other sectors, such as art, music and gaming, are all being shaped, and driven forward, by blockchain technology," the spokesperson added.
But what could be the other factors behind the Shiba Inu token's rise in popularity?
The dog-themed altcoin has surged in popularity over the past months, courtesy of the series of projects and the upcoming initiatives scheduled to launch this year, especially Shibarium.
Also known as the layer-2 scalability solution of the Shiba Ecosystem, Shibarium promises to deliver faster transactions at a very minimal gas fee.
Its potential launch in August as hinted at by its pseudonymous lead developer, Shytoshi Kusama, along with the release of the World Paper, which is a "deep dive into all the aspects of Shib; the ecosystem of tokens, products, platforms and services including but not limited to $Shib, $Bone, $Leash, Treat" and other decentralized tokens under the Shiba Ecosystem and is created to "explain a long-term plan for full and complete decentralization, our new official partners (and a reminder of current ones) and all details you all want and crave. It's a bit different than the Woofpaper as this paper is about 'changing the WORLD via decentralization.'"
"The decentralized teams near completion of Shibarium where $BONE will prove its utility as [a] gas token for the L2 blockchain," Kusama also said, noting that Shibarium is the next project on the cards "now that the final piece of the puzzle is available."
All of these are expected to happen at the Blockchain Futurist Conference, which will take place in Toronto in August and where Shiba Inu will serve as the title sponsor.
SHIB was trading up at $0.000008703 with a 24-hour trading volume of $0.000008703 as of 10:57 a.m. ET on Sunday. This has represented a 5.21% increase in the last 24 hours.
Shiba Inu's total circulating supply stood at 589,346,914,631,298 SHIBs, and its value has decreased by 5.33% with a market cap of $5,121,854,897, according to the latest data from CoinMarketCap.
© Copyright IBTimes 2023. All rights reserved.