Short-Seller Interest on Groupon Places Co. in Unenviable List of Most Overhyped, Dubious, Failing Publicly-Traded Firms
ANALYSIS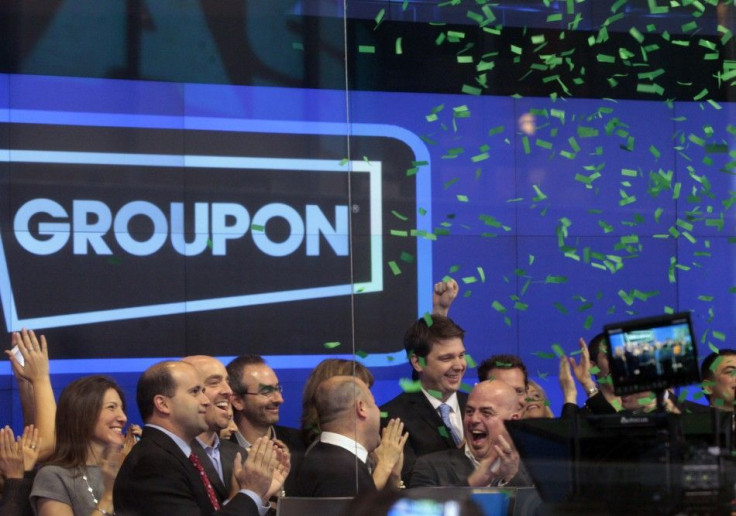 Groupon Inc. (NASDAQ: GRPN) built a multibillion-dollar business from the ground up by offering discounts of 50%, 75% and even 90% on other people's products. Now, traders seem to be indicating the company might have badly overpriced the one offering it had full control in valuing: that of its corporation's common stock.
After shares of the online daily-deal company hit an intra-day low of $23.20 Thursday (some 17.14 percent lower than what they first sold for last Friday), various news outlets began noting Groupon was drawing extremely high interest from short-sellers. The shorts, who are betting the price of the stock will fall, have piled on with such vigor, they are making it almost impossible for anyone else to join in on the Groupon-bashing party.
According to a Financial Times report filed Thursday, 5.5 per cent of Groupon's free-floating shares were shorted, or nearly 100 per cent of the shares available to be loaned out, according to Data Explorers.
The idea driving the rush to sell short is a view that Groupon's shares were offered to the public at an inflated value, a situation that will lead to an inevitable collapse in the stock's price. Whether or not this is true can be debated ad nauseum.
Less likely to be debated is the fact that such high levels of short interest put Groupon among the top 10 of all publicly-traded companies short sellers are betting against. That dubious distinction, in turn, places Groupon in a peer group of companies with uncharacteristically bad business models, firms that are grossly overpriced when compared to any possible earnings they might ever be able to enjoy, and corporations that, more likely than not, will end up in failure.
Among the companies that have attracted short-seller attention at the level Groupon is stirring are Bridgepoint Education (NYSE:BPI) and ITT Educational Services (NYSE:ESI), two for-profit college operators whose viability as businesses will soon be determined via government decree. The companies, as well as the general for-profit education sector, have recently come under fire for the startlingly high percentage of students who graduate from the institutions with mountains of debt and the inability to find jobs. Because their business model depends on federal subsidies, they find themselves in a precarious situation. A single failing grade from any number of powerful Washington bureaucrats, and the companies go bankrupt.
Bridgepoint seems to be wearing a particularly visible corporate dunce cap. The company, which has less than a thousand employees and provides 99 percent of its educational services online, seems not to have only lost the confidence of investors, but of its own management: the company's CEO has been dumping his stock options by about half a million dollars' worth every month. He now owns a grand total of 100 (yes, one hundred) shares.
Part of the parade of frothily overhyped companies being bet against with the same viciousness now being afforded Groupon: Teavana (NYSE:TEA). The company, which sells loose-leaf tea and tea-related products through dozens of stores in the U.S., has lost 19.78 of its value since it was first traded July 28. Its trailing price-to-earnings ratio, a financial metric that measures how much a company's stock price relates to previous earnings performance, is relatively high at over 59 (The P/E ratio for Starbucks, by comparison, is less than 8).
Also present in the motley crew of companies short-sellers love to hate: electronics retailer Hhgregg (NYSE:HGG). While the chain of stores is not as overpriced as some of its peers on this unenviable list (Its P/E ratio is over 13, which compares to Best Buy's ratio of slightly over 9), it has the unpleasant distinction of regularly reporting less free cash flow than net income. This is normally taken by investors as a worrying sign that a company does not have the money to invest in the future which, combined with the fact the company has been lowering expectations since late 2010, has driven the stock down 24.15 percent for the year.
Of course, no list of dwindling companies would be complete without a mention of a large newspaper group, a bloated construction company and a flash-in-the-pan Internet bubble outfit... and this list has all these.
The McClatchy Company (NYSE:MNI), the large publisher of U.S. metropolitan newspapers, is a failing company trapped within a dying business, and the most volatile of all large publicly-traded newspaper companies. It is on the list, down a headline-grabbing 72.59 percent for the year.
KB Home (NYSE:KBH), a formerly imposing homebuilder that has not been able to become as lean as required since the U.S. housing market cratered more than four years ago, is also in the list. The company, which has not turned a profit since 2010, is down 45.66 percent for the year.
E-Commerce China Dang Dang, Inc. (NYSE:DANG), which is something like a second-rate Chinese knock-off of Amazon.com, could be the poster-child for everything that's wrong with the Web 3.0 bubble. Its one saving grace: the Chinese characters that make up its logo look like tiny Mandarin Pacmans being chased by a ghost. The corporate brand cuteness does not seem to have swayed the market, however: the company is down 79.83 percent for the year.
Also being heavily torpedoed by the shorts: Overseas Shipholding Group (NYSE:OSG), an oil tanker company navigating such murky financial waters, it recently had its credit sunk five notches below junk status by S&P.
Perhaps the most nefarious comparison that could be made to Groupon, however, is to the company that rounds out the list: LinkedIn Corporation (NYSE:LNKD). The online social network operator has a stratospheric P/E ratio of 1,509, a figure that puts it squarely in the 99.9th percentile of all companies listed in the New York Stock Exchange. That firm is still trading above its IPO price of $45, although that fact is not much solace to investors who bought in after the stock started trading at $80. It closed Thursday at $76.95.
While these comparisons do not make Groupon look good, only time will be able to tell the eventual fortunes of the shares. For the shorts, however, the deal is on.
© Copyright IBTimes 2023. All rights reserved.