Silver Prices Fall Late in Day on Profit-Taking, Fears about Europe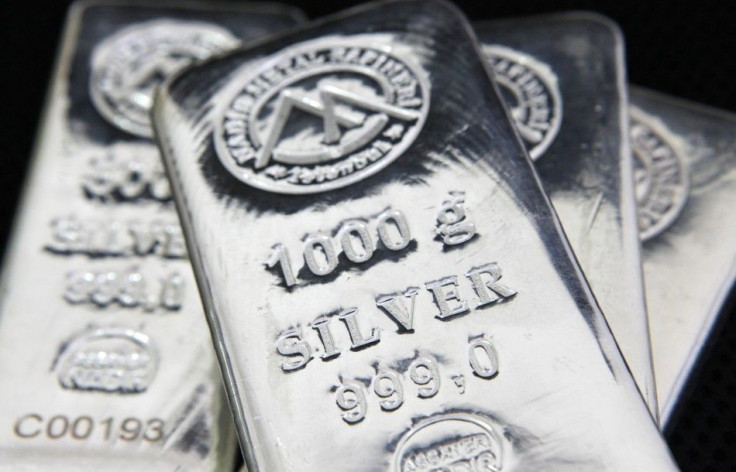 Silver prices fell in electronic trading Tuesday afternoon following a big 2.4 percent jump during floor trading as the possibility that Europe's industrial activity will plunge took some shine off the white metal.
Although silver, like gold, is a store of value, it gets about half its demand from industrial uses. With the likelihood that Greece will default, European banks holding Greek debt will then suffer acute damage and finally the continent's already weak growth will slow or stall, industrial demand for silver is expected to fall.
Events on both sides of the Atlantic reinforced a negative outlook for European industrial activity.
German Chancellor Angela Merkel is no longer dismissing the possibility of a Greek default and on Tuesday said she would not allow an uncontrolled insolvency of Greece. Her new phraseology implied a readiness to countenance a default.
And then there was Italy: It auctioned off five-year notes Tuesday but the only way it could find buyers was by offering the highest interest rate in the security's history, a fresh indication that investors see Europe's third-largest economy as a less and less reliable borrower.
On this side of the Atlantic, President Barack Obama expressed concern to Spanish journalists about European leaders not acting more resolutely to fix their sovereign debt problems. Also, Treasury Secretary Timothy Geithner plans on taking the unprecedented step of attending a meeting of EU finance ministers in Poland on Friday, his second trip to Europe in a week.
Besides investors who worry about Europe's prospects, some investors simply decided that silver -- which has climbed more than a third this year alone -- has had a good run and now is the time to book profits.
The upshot was a selloff. Silver for December on the New York futures market had climbed 98 cents to $41.19, a 2.4 percent gain. But by early evening the white metal was down 10 cents per ounce, or 0.36 percent, to $40.04.
The same dynamics lifted gold in electronic trading. It was up $7.10 to $1,837.20.
© Copyright IBTimes 2023. All rights reserved.
FOLLOW MORE IBT NEWS ON THE BELOW CHANNELS