'The Simpsons' Death Vs. 'Family Guy' Brian Death: Good Fun Or Cheap Ratings Ploy? [POLL]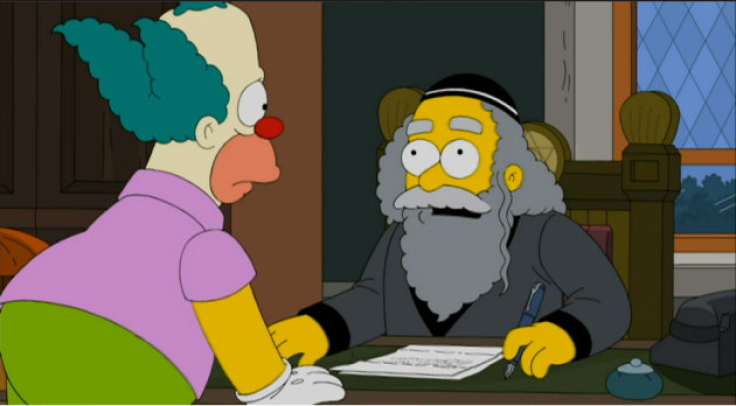 Television shows have long used character deaths as an audience draw for big episodes, so it shouldn't be surprising that animated shows have jumped in on the game too. Shows like "The Simpsons," and "Family Guy" have become so beloved that fans care as deeply for their characters as those of live-action shows, and a character death can be a momentous occasion. However, the large character universes and rule-bending realities of cartoon show worlds lend themselves to gimmicks and for "The Simpsons" and "Family Guy," recent death episodes seem to be just that – gimmicks.
On Sunday night "The Simpsons" aired its 26th season premiere with an episode, "Clown in the Dumps," that promoted the death of a Springfield resident. While there was much speculation over which character it would be, when the episode aired, it was Krusty the Clown's (Dan Castellaneta) father, Rabbi Krustofski (Jackie Mason), who got the ax (from old age). Right before his death, the Rabbi father's last words to his son about his career were "eh," a phrase which could sum up fan reaction to the grossly overhyped cartoon tragedy.
Fans would not be alone to find the reveal a bit underwhelming. "The Simpsons" executive producer Al Jean did try to scale back the hype surrounding the episode telling TV Line, "I've done everything I can to temper any disappointment by saying that, although the press is claiming this is an 'iconic' character, we never said that. We just said it's a 'beloved' character. I think it may have become overhyped, though I've never heard the term 'under hyped,' before. Either way, it's an emotional story, and it's one we're really proud of."
However, that did not stop Fox from heavily promoting the episode around the minor death, hinting that a much more major character could have been the one to go instead. In the end, the death felt more like a ratings plot than an emotional story, whether that was the intent or not.
Another Fox animated show, "Family Guy," (which premiered Sunday as well with a crossover episode featuring "The Simpsons") pulled a similar stunt in November of 2013. However, "Family Guy" got a little more ambitious, killing off Brian (Seth MacFarlane), the Griffins' beloved family dog and one of the series' main characters. The death was an emotional one for fans and even caused some outrage.
So, why was the "Family Guy" death a gimmick? Just a month later on the show's 2013 Christmas episode Brian returned when the family's baby, Stewie (Seth MacFarlane), found a way to go back in time and save him. Brian's speedy return to the series made his original death come off as another cheap ratings ploy.
Are these stunts by animated shows justifiable fun for the audience or cheap gimmicks used to hook fans? That will have to be a call for fans to make, but if the ratings for these shows continue to bump (like they did for "Family Guy" after Brain's death in 2013) after the character death stunts, audiences cannot expect them to stop anytime soon.
Which character death was more obnoxious? Answer below and tweet your thoughts to @Ja9GarofaloTV.
© Copyright IBTimes 2023. All rights reserved.