Simsimi: 5 Crazy Conversations to Have With the Hilarious iPhone and Android App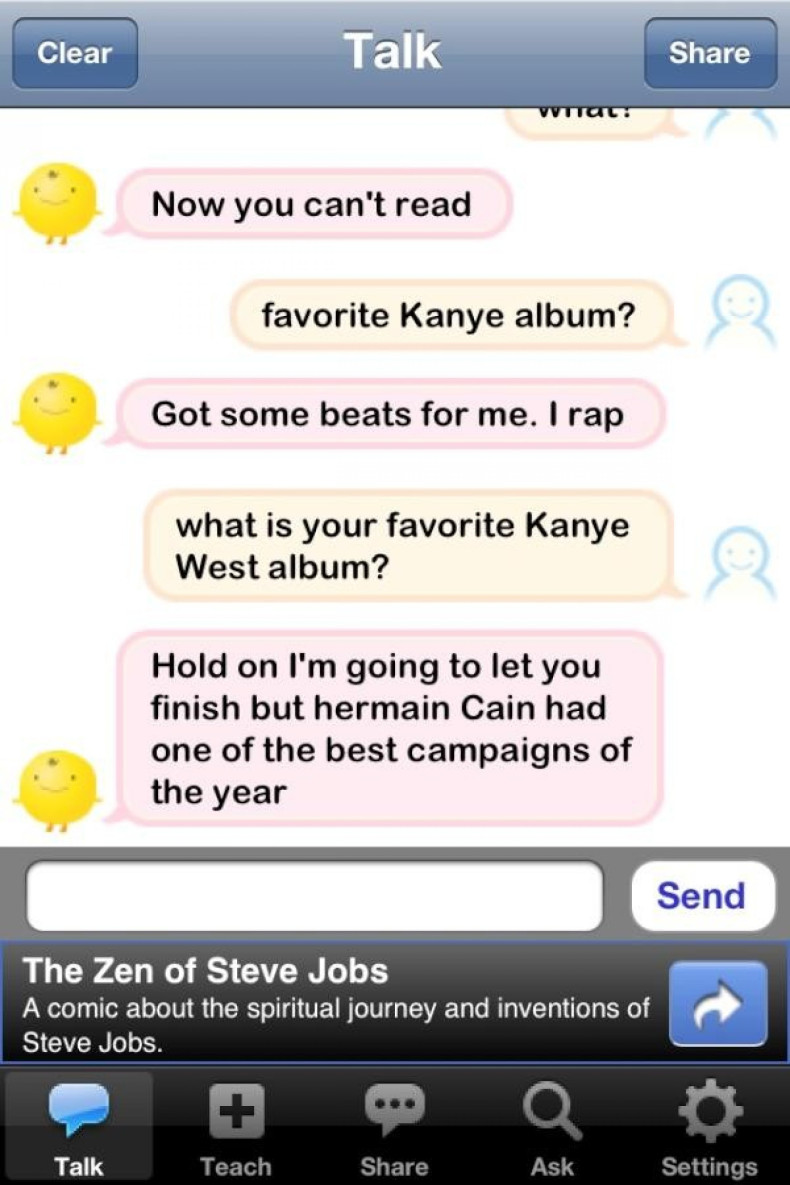 The Simsimi app offers many crazy conversations to have on your iPhone and Android.
Simsimi is a wildly-popular, and hilariously crazy, iPhone and Android app that has already been utilized by 2.7 million users.
It was originally a messenger service in which you could interact with a fun digital friend.
A Korean artificial intelligence program, it is often compared to the Siri feature of the iPhone 4S, which interacts with iPhone users through the use of an evolving form of artificial intelligence.
But many users say that Simsimi, which is particularly attractive because it is both an iPhone and Android app, say that Simsimi's conversation-making ability is actually superior to that of Siri.
The argument is that because of the advanced nature of Simsimi's artificial intelligence, it is better able to hold a good (and crazy) conversation.
It works based on a log of millions of chat conversations users have had with Simsimi since it was created and released in 2002.
Simsimi was trending on Twitter Sunday, and people had a wide range of reviews of the popular app.
Most of the comments were positive, like one by Twitter user @BodyBaggHazmat, who Tweeted Sunday that simsimi is my bestfriend.
But some were negative, like one by Twitter user @Brit_Aleis who Tweeted Sunday that the simsimi app is funny but not that funny. like really.
Either way, it's a good way to kill time, so here is a breakdown of 5 crazy conversations to have with the hilarious iPhone and Android app:
1.) What is your favorite Kanye album? -- Asking about Simsimi's favorite 'Ye album yields a hilarious response that shows off the cultural and political knowledge of the app, as well as its ability to stay up to date. It responds, Hold on I'm going to let you finish but Herman Cain had one of the best campaigns of the year.
2.) Do you eat pork? -- Asking Simsimi this question reveals its religious leanings: Naw dog, I'm Muslim it responds. But Simsimi is a fickle app, and if you ask it if it's saved, it answers By the blood of Jesus!
3.) I'm having a baby -- Announcing the news that you have a bun in the oven gets Simisi in comedy mode: Call 1-800-Maury the app replies, referencing the Maury Povich Show, which deals with teen mothers and other such issues.
4.) DMX -- Simply typing the rapper DMX's name into Simsimi gets the app to make a hip-hop joke, responding Where my dogs at? The line is one of DMX's best-known catchphrases, and typing other rapper's names in also yields hilarious responses.
5.) I love you -- When you declare your undying love to Simsimi, you're greeted by the cynical answer, How many savings accounts do you have? But sometimes, Simsimi decides to show its nice side, saying I love you more.
MUST READ - iPad 3 Rumors Roundup: From Specs to Release Date and Everything Else In Between