'Sister Wives' Season 6 Spoilers: Kody And Robyn Celebrate Adoption With An Emotional Party In Episode 8 [RECAP]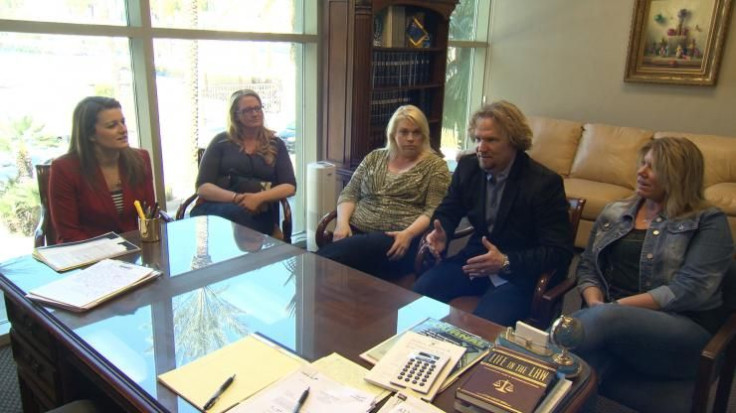 The Browns are throwing a party! But of course, what's a family get-together without a little drama? That's what happens during episode 8 of "Sister Wives" when Kody and his four wives -- Meri, Janelle, Christine and Robyn -- attempt to plan a party celebrating the adoption of Robyn's three eldest children.
But before Kody and his wives carefully selected the menu for the anticipated gathering, the TLC family bid Dayton, Aurora and Breanna adieu as they packed their bags for Montana to visit their biological father.
"I'm very excited to see him," Aurora says in the Season 6 episode, titled "Chaos in the Cul-De-Sac," "I haven't seen him in a long time."
Robyn confirms that her children hadn't seen their biological dad in over two years. "It's about time he had the kids go there a couple weeks in the summertime," she says, adding that her children's relationship with her ex has "never been that strong."
"I just hope he'll set the dramatic stuff aside and enjoy us being there," Dayton reveals in a confessional.
Kody is also weary of his children heading to Montana because, according to the patriarch of the polygamist family, whenever they come back from a visit with their biological father "they're different." That's why he wants to have their adoption party scheduled for after their trip so he can remind them how loved they are and that they complete the Brown family.
While the kids are away, Kody and his wives plan for the upcoming festivity -- or should we say argue about the upcoming festivity? Apparently Kody and his wives are at odds regarding the theme of the party. While Kody wants a finger-licking barbecue soiree, Robyn reveals she's interested in having a Sunday dinner-like celebration, just like Kody had originally agreed to -- before he changed his mind.
Kody tells Robyn to "ease up" when she begins to butt heads with him over the modification of the menu, causing the other sister wives to raise their eyebrows over the confrontation.
"I have never seen you so openly mouthy to Kody until you were pregnant with this baby," Janelle says to Robyn in a confessional, revealing that she was excited to see this feisty side of her expecting sister wife. But after some harsh words, Robyn and Kody finally came to a conclusion about what food should be served. After all, they had bigger things to worry about -- like gifts.
Kody explains he wants to do something special for his kids by making them plaques, which they can look at and think of their special relationship. But while sifting through baby pictures of Dayton, Aurora and Breanna (to put on the plaque) with Robyn, Kody gets choked up over the fact that he wasn't there when the kids were young. This gives Robyn an idea. She hires an artist to create a portrait of Kody from 15 years ago and combine it with images of her children when they were younger so he could have his own "moment" with them as babies.
"I created a moment that didn't exist and does now," Robyn says while presenting the gift to her husband during the adoption party.
"I was completely floored," Janelle reacts to the gift.
But Kody and the kids weren't the only ones to receive gifts during the emotional celebration. Dayton, Aurora and Breanna also have a gift for Meri who divorced Kody so that Robyn could legally become his wife, giving Kody a better chance at adopting the children.
"When this whole adoption process started I really didn't know what it was going to entail," Meri explains in a confessional. "I went into it doing my part of it which is the divorce and since the divorce was final I think some of the thoughts and emotions I've had have been surprising to me." Meir continues to say that from the very first time she contemplated divorcing Kody, she's known "that it has been all about the kids."
Kody concludes the sweet episode saying that although he and the wives get teased a lot by their children regarding their countless celebrations, they have so many celebrations because they have "a lot to be grateful for."
"Sister Wives" airs Sunday nights at 9 p.m. EST on TLC.
© Copyright IBTimes 2023. All rights reserved.