'Sister Wives' Season 6 Spoilers: Meri Brown Addresses Catfish Scandal In Emotional 'Tell All' Episode [RECAP]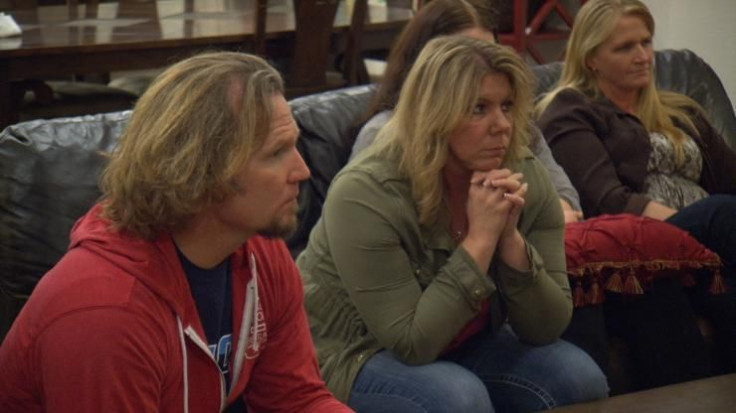 "Sister Wives" may have already concluded its sixth season, but the drama continued to unfold when the hit TLC series returned Sunday night for an emotional two-hour special. During the anticipated "Tell All," Kody Brown, his four wives (Meri, Janelle, Christine and Robyn) and their children sat down with "Today" reporter Tamron Hall to discuss all the chaos that occurred throughout Season 6, from the adoption of Robyn's children to Meri's jaw-dropping emotional affair.
In fact, it was shortly before the "Tell All" was filmed that Meri's online rendezvous was unveiled to the world. (Meri confirmed to People magazine in October that she was catfished by a woman pretending to be a man.)
In the Season 6 finale of "Sister Wives," fans watched as Meri began to open up to her family about the eye-widening scandal -- one that left patriarch Kody speechless.
"I didn't know what to think," Kody explains of what was going through his mind when Meri started to address the situation. "At the time it seemed so vague. I didn't want to push her ... she hasn't felt well, hasn't seemed like herself for a long time," he says, elaborating that he noticed a change in his wife over nearly sixth months.
Kody continues to reveal that Meri refused to open up to him about what was going on -- that is, until Robyn "made" her. During the "Tell All," Robyn explains that she forced Meri to confide in the family after "begging her" to.
"I knew something wasn't right. I was begging her to talk to me," Robyn says. That's when Meri decided to come clean.
"I just knew I had to [tell them]," Meri says in the Season 6 "Tell All," adding that she was afraid that the person who catfished her would ruin her life ... because that's what they were threatening to do. "I believe that what the goal was -- to break up this family."
But her attacker didn't break up the Browns. Instead, the attacker's threats made the family stronger.
"My first reaction was to put on armor and go to war," Janelle says, painting a picture to the audience of the four of them surrounding Meri with their weapons in hand.
"Our job is to keep everybody safe," Christine adds.
But Meri didn't feel safe -- she felt "scared" of her catfisher and what the person was capable of as well as "guilty" for dragging her family into this situation." That's when Meri "made the decision to distance" herself from her friends and family because she "felt like I had to protect them until I could safely get myself out of this situation."
Kody then admits to how he first reacted when he learned of Meri's online affair and her starting to "love" the person who she thought was on the other side of the computer.
"This is somebody who I see was trying to exploit her -- to literally harm our family and find some way to damage our children. So nothing but forgiveness in this case. I see it as a flirt. So what," he says, noting he doesn't "even know what" emotional infidelity is.
Meri concludes the interview stating that "it doesn't matter" what she says because "people are always going to believe what they want to believe." "But the thing I can say for sure is that I feel like this person or these people who started focusing on us -- for whatever reason, I don't know why -- and targeted us and wanted to tear our family apart ... that's not happening on our watch."
What did you think of Meri Brown's confession during the Season 6 "Tell All" of "Sister Wives"? Sound off in the comments section below.
© Copyright IBTimes 2023. All rights reserved.