Snowstorm Hits Northeast, Claims Two Lives In Multi-Car Pileup In Pennsylvania
KEY POINTS
The mishap in Pennsylvania involved 30 to 60 vehicles and injured many
A multi-car crash happened in Henry Hudson Parkway near NYC too
Over 1,300 flights were canceled for Wednesday and Thursday
In what could be the biggest snowstorm in years, a blizzard hit much of the U.S. East Coast and Mid-Atlantic on Wednesday, causing heavy snowfall and treacherous travel conditions.
The "Winter Storm Gail" already claimed two lives on Interstate 80 in central Pennsylvania in a pileup involving dozens of cars, reported The New York Times. Rescue operators were working tirelessly through the wreckages of at least 30 cars to help the commuters out.
The Henry Hudson Parkway near NYC too witnessed a multi-car collision near West 181st Street, injuring six people. None of them is critical, the officials said. All southbound lanes had to be closed down following the crash, disrupting the traffic on the bridge. The lanes were reopened shortly after 9:30 p.m., said ABC7 NY.
According to National Weather Service, more than six inches of snow and sleet has already covered Central Park, NY, by midnight. This winter storm is greater than the total snow for the 2019-2020 winter season, the agency said on Twitter.
"This could be the biggest storm in several years," said New York City Mayor Bill de Blasio. While indoor dining has already been banned, outdoor dining in NYC has also been suspended due to the "snow alert."
While Washington DC can expect 2 inches of snow around 2 a.m. on Thursday after the rain and sleet, many areas in Philadelphia saw as much as 5.7 inches of snow as of 7 p.m. on Wednesday, said CNN. By Thursday evening, NYC can expect 14 inches of snow, while parts of Connecticut and Southern New York may see up to 16 inches.
Boston can expect up to 13 inches of snow from Wednesday night into Thursday. The city has already imposed an emergency. The heaviest snow could come in parts of central Pennsylvania and northern New Jersey, where up to 2 feet could collect.
The situation has prompted a declaration of emergency across the tri-state area with several transit agencies announcing cancelation and diversion of services. Over 1,300 flights were called for Wednesday and Thursday besides suspension of bus and rail services. Besides travel curbs, power outages and damage to homes from falling trees are all possible across the mid-Atlantic, said the report.
Over 50 million people are under a winter storm warning, including the New York City metro area.
However, the weather is unlikely to affect the Covid-19 distribution with shippers making contingency plans to account for weather issues.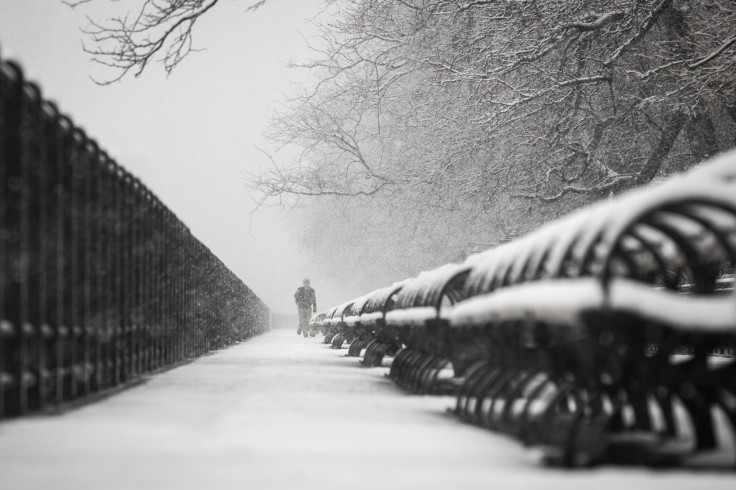 © Copyright IBTimes 2023. All rights reserved.