Space Tourism Set For Blastoff Next Year With Branson Family Leading The Way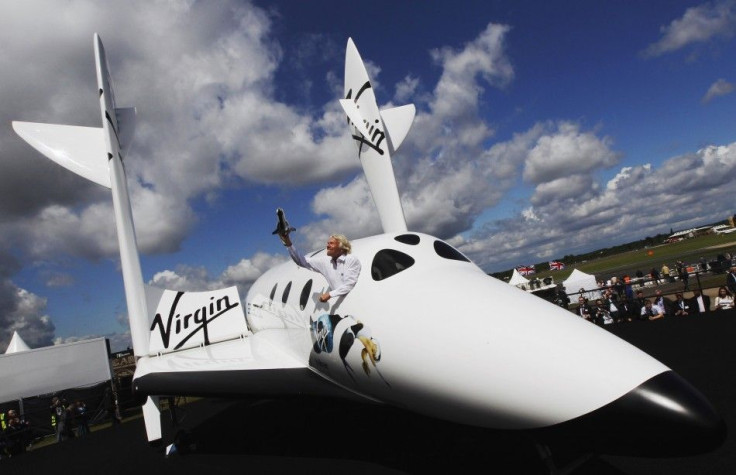 Sir Richard Branson announced Wednesday, with typical bravado, that he and his adult children would pave the way for future space tourists as the first passengers on the SpaceShipTwo (SS2) aircraft, part of his U.S.-based Virgin Galactic program, which is set to have its inaugural launch next year.
The British tycoon behind the Virgin empire -- which spans cable television, airlines and space tourism -- will make the first trip a family affair with his son Sam and daughter Holly. The three are expected to fly 60 miles into space on the SpaceShipTwo by the end of 2013.
Approximately 120 other space tourists who've signed up for the trip joined Branson as he spoke Wednesday at the 2012 Farnborough Airshow south of London.
The gregarious entrepreneur declared that the WhiteKnightTwo aircraft -- set to help launch SS2 into space -- will also propel another vehicle, the LauncherOne, which he said can ferry small satellites into space for a fraction of the current cost. The new small satellite launch service is the latest addition to Branson's commercial space program, which is set to commence operations in 2016.
I'm delighted to say that we can announce the next step of the Virgin Galactic journey, Branson said Wednesday as he unveiled LauncherOne. A step that will bring great long-term benefits to our existing SpaceShipTwo program. It will unlock new technologies and will help fast-track the potential of space as a positive force for powerful change.
Branson also showed off a model of the SS2, a manned spacecraft designed to fly two pilots and six passengers on short suborbital flights above earth. The actual vessel is under construction deep in New Mexico's Mojave Desert, along with a spaceport designed by British architect Lord Foster.
The short flights will offer passengers a few minutes of weightlessness, and each space tourist will have to undergo a week of training at the New Mexico spaceport before taking flight.
Virgin Galactic has announced that a total of 529 future astronauts have signed up for the $200,000 two-hour suborbital flights -- eclipsing the total number of humans to reach space thus far in the 50-year history of manned launches. The company aims to sell 600 tickets before the first commercial flight, due next year.
Among those signed up are singer Sarah Brightman, actor Ashton Kutcher, physicist Stephen Hawking and X-Men director Bryan Singer. Others like Brad Pitt and Angelina Jolie are rumored to be on the list.
At Farnborough, Branson boasted that Virgin Galactic's tourism arm has, as yet, no competitors on the horizon and the potential to entice thousands of high net-worth customers.
Paul Allen, co-founder of Microsoft Corporation, said in December that his Stratolaunch Systems Inc. will have a plane capable of carrying humans into space within five years.
But by then, Branson has even bigger plans.
The initial flights will be suborbital, which will give people a taste of space, he said. From there we'll go into orbital flights and maybe one day hotels in space.
© Copyright IBTimes 2023. All rights reserved.