Speaker Boehner: Answers Needed In Garner, Brown Cases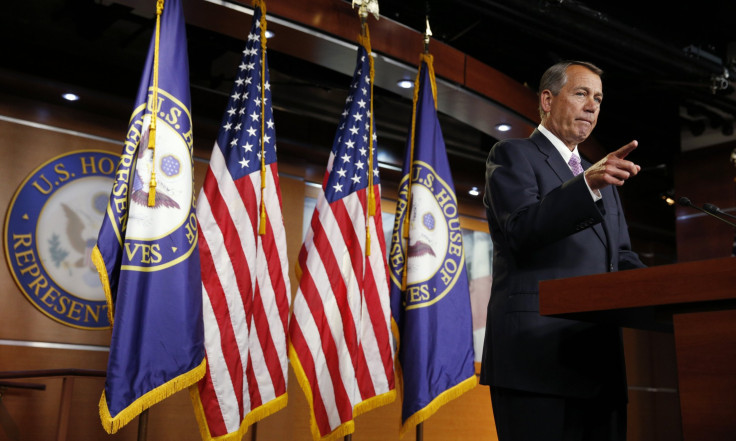 WASHINGTON -- House Speaker John Boehner said the American people want more answers in the cases of two unarmed men, Michael Brown and Eric Garner, who died at the hands of police officers. Boehner said investigations by the Department of Justice and congressional hearings could be in order.
"Both of these are serious tragedies that we've seen in our society," Boehner told reporters on Thursday. "I think the American people want to understand more of what the facts are."
The decisions by two grand juries hundreds of miles apart to not indict the police officers involved in the two men's deaths have sparked national outrage. Brown was shot by Officer Darren Wilson after an altercation between the two. Garner was confronted by police after being accused of illegally selling cigarettes and died after being placed in a chokehold. The incident was captured on video.
In the case of Brown, angry protesters took to the streets of Ferguson, Missouri, setting buildings on fire and flipping over cars. Attorney General Eric Holder has said the Department of Justice is investigating both cases to determine whether civil rights violations occurred.
On Wednesday, a no indictment decision in Garner's case, which took place in Staten Island, New York, prompted another wave of protests, this time all peaceful. In New York City, thousands took to the streets, blocking traffic and causing gridlock. More protests are anticipated in the days to come.
So far no hearings have been called in Congress to examine either how both men died or how the police responded to the waves of protests that came in the wake of their deaths. Rep. Cathy McMorris Rodgers, R-Wash., was the first Republican on Thursday to call for hearings.
"We all have a lot of serious questions that need to be addressed and we need to understand what happened, why this decision was made," McMorris Rodgers said, according to Bloomberg." "I would call for the House to have those hearings so that we can better understand. But we need to take action, appropriate action, making sure our local law enforcement have the training, that they're using appropriate force, which -- I think we all recognize these are tragedies and it has raised a lot of questions."
Boehner said McMorris Rodgers' suggestion to hold hearings may be heeded.
"There may need to be hearings, I'm not going to rule that in or out," Boehner said. "I do think the American people deserve more answers about what really happened here."
© Copyright IBTimes 2023. All rights reserved.