Spielberg's Tintin film targets new audiences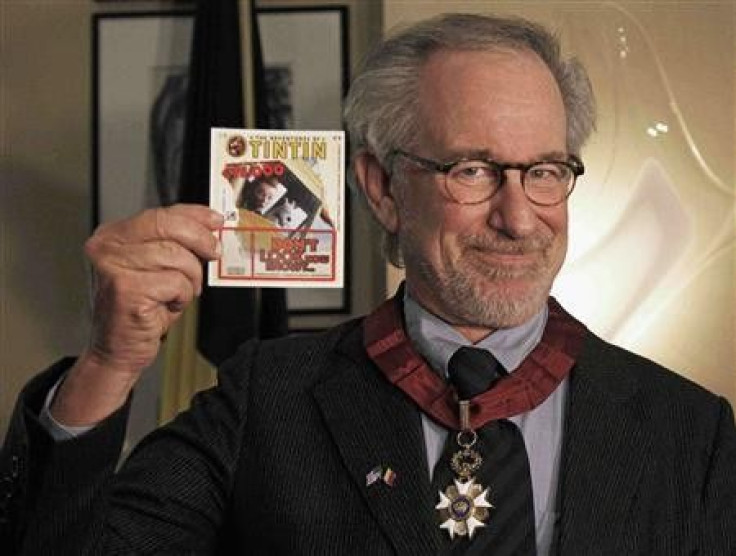 Steven Spielberg's computer animated 3D adaptation of Belgian comic book hero Tintin premiered in Brussels on Saturday, aiming to capture a new global audience for the adventures of the boy reporter with the trademark quiff.
The Adventures of Tintin, first penned in 1929 by Brussels-born author Georges Remi, better known as Herge, are already hugely popular in most of Europe and Spielberg said he hoped his film would find fresh fans.
American audiences will look at this as an original movie, Spielberg told reporters in Brussels.
Hopefully, if it is successful in America, perhaps for the first time in 80 years the books will start being published in America.
Spielberg, who sported crossed Belgian and American flags on his lapel during the pre-screening press conference, after which he was made a commander of the order of the Belgian crown.
In The Adventures of Tintin - The Secret of the Unicorn, Spielberg, who directed blockbusters including Indiana Jones, E.T. and Jaws, aims to bridge the gap between Herge's comics and the big screen by employing a technique similar to that deployed in James Cameron's record-breaking Avatar.
Actors including Jamie Bell, who portrays Tintin, had to adapt to acting in a studio wearing a special suit which registered his movements. The data was then transformed into a computer generated, three dimensional, image of his character.
It actually becomes like a rehearsal stage, like you are rehearsing for a play you will never put on stage, Bell said.
Spielberg added that he was in touch with Herge, shortly before the author died in 1983, about adapting Tintin.
He was a big fan of Raiders of the Lost Ark and actually on the telephone said he wanted me to adapt his books into movies so it was one of the most exciting phone calls in my life, Spielberg said.
For Belgium's comic book store owners, renewed interest in Tintin is good news.
Without doubt we have noticed an uptick in sales. We have also seen this with the recent Smurfs film but even more so with Tintin, said Beo Hanssen of the Beo comic book store in Antwerp.
POSITIVE REVIEWS
Early reviews for the film, which combines three of Tintin's comic book adventures, were broadly positive, with the Belgian press particularly glowing about Spielberg's adaptation.
Action and humor dominate in a very pleasant spectacle, Belgian French-language magazine Le Vif wrote in a review.
Herge would have loved this Tintin, full of character, French daily Le Soir wrote on Saturday.
Some British reviews were less enthusiastic, arguing that the computer graphics made the characters seem dull.
How curious that Herge achieved more expression with his use of ink-spot eyes and humble line drawings than a bank of computers and an army of animators were able to achieve, British daily The Guardian wrote.
RACISM CONTROVERSY
Tintin has also made negative headlines as a lawsuit alleging racism in Herge's second book Tintin in the Congo commenced in Belgium in late September.
The case, brought by Congolese-born campaigner Bienvenu Mbutu Mondondo, says Herge's depiction of native Africans is racist and propagates a colonialist view of the continent.
What poses a problem today is not (author) Herge, it's the commercialization of a cartoon book which manifestly diffuses ideas based on racial superiority, a lawyer for Mondondo told a Brussels court in September.
The book was published in 1931 and Bienvenu is taking action against a modern version of the original. Racist language was removed in subsequent editions.
I don't know anything about the court case, I haven't followed it. It was just brought up before coming here, in case a question was asked, Spielberg said. There is no real reason for me to contribute to whatever the dialogue has been.
© Copyright Thomson Reuters 2023. All rights reserved.