Spooky Skull Watches For The Halloween Season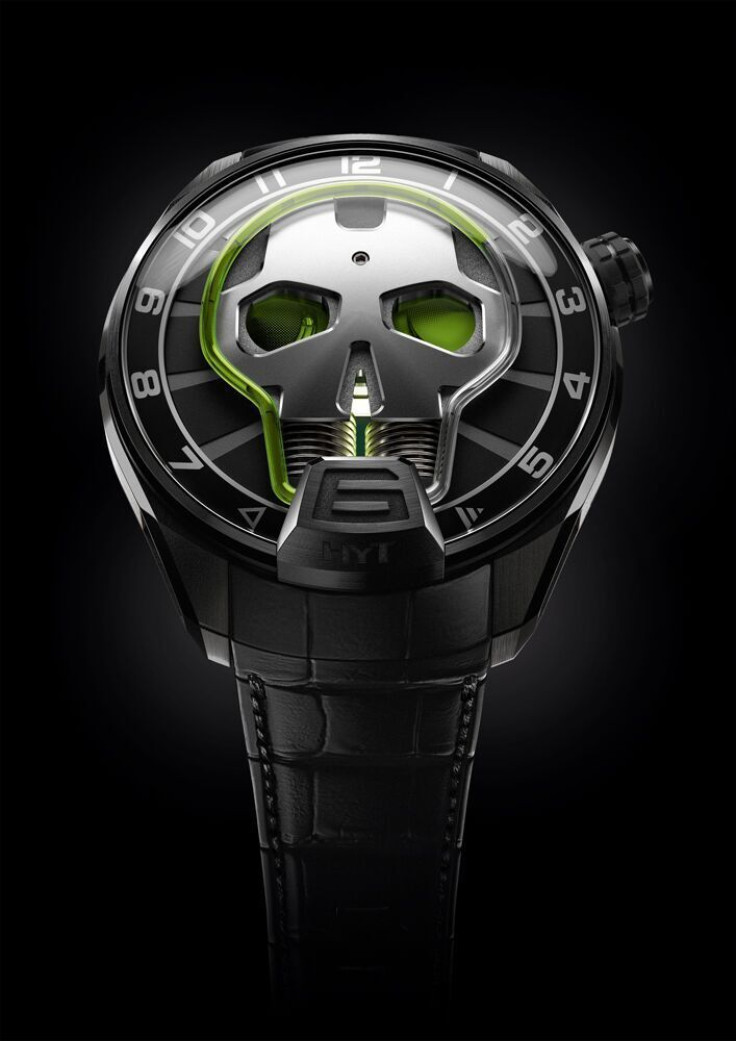 Sponsored content from Modern Luxury
Throughout the month of October, eerie jack-o'-lanterns spring up and copious cobwebs creep across houses from coast to coast. Stage a small-scale celebration of the season with these skull-motif watches, which go from spooky to simply stylish come November 1. One thing they have in common: an almost defiantly insouciant attitude towards the phrase "memento mori ."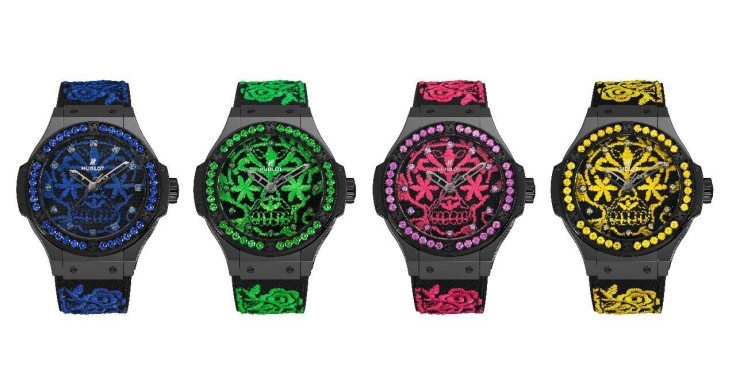 Hublot – Big Bang Broderie Sugar Skull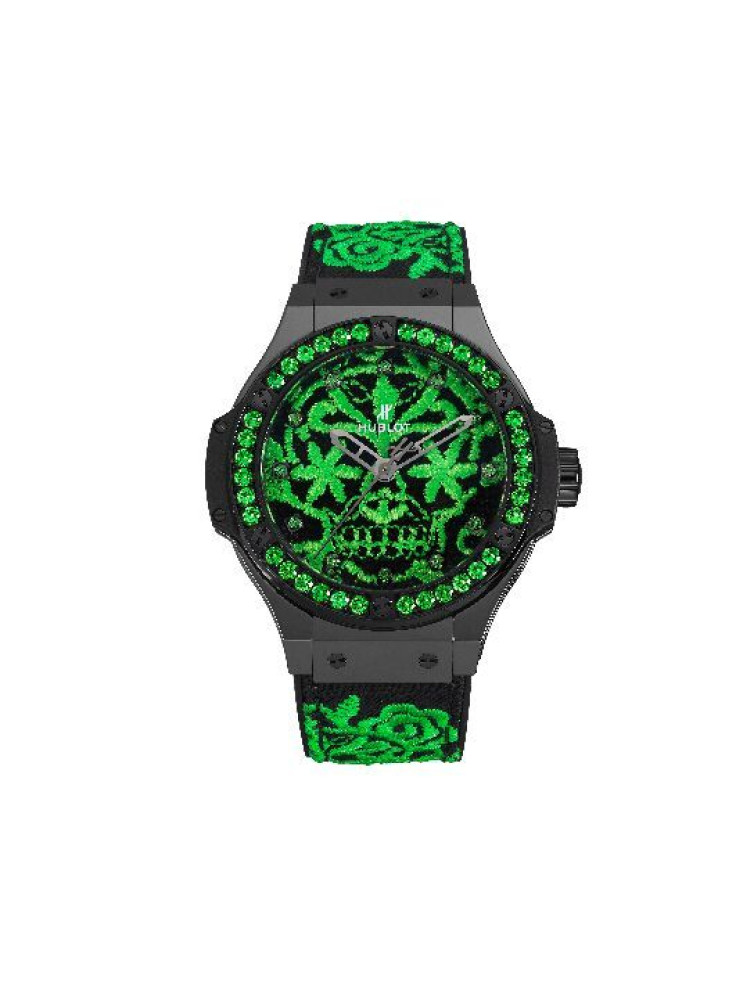 Hublot has been creating skull-themed watches since 2012, but its 2017 variation s on the theme dial up the irreverence, edging even closer in appearance to the edible, brightly colored sugar skulls prepared for Día de los Muertos. In partnership with prestigious Swiss embroiderer Bischoff, Hublot presents fluorescent embroidery on silk organza, complete with cheerful floral arabesques and a subtle yet unmistakable death's-head. Stitched in cobalt blue, sunflower, hot pink and malachite green, these electric beauties—with matching straps—frame their dials with matching gemstones as well, in blue, yellow or pink sapphires, or even bright green tsavorites .
de GRISOGONO – Crazy Skull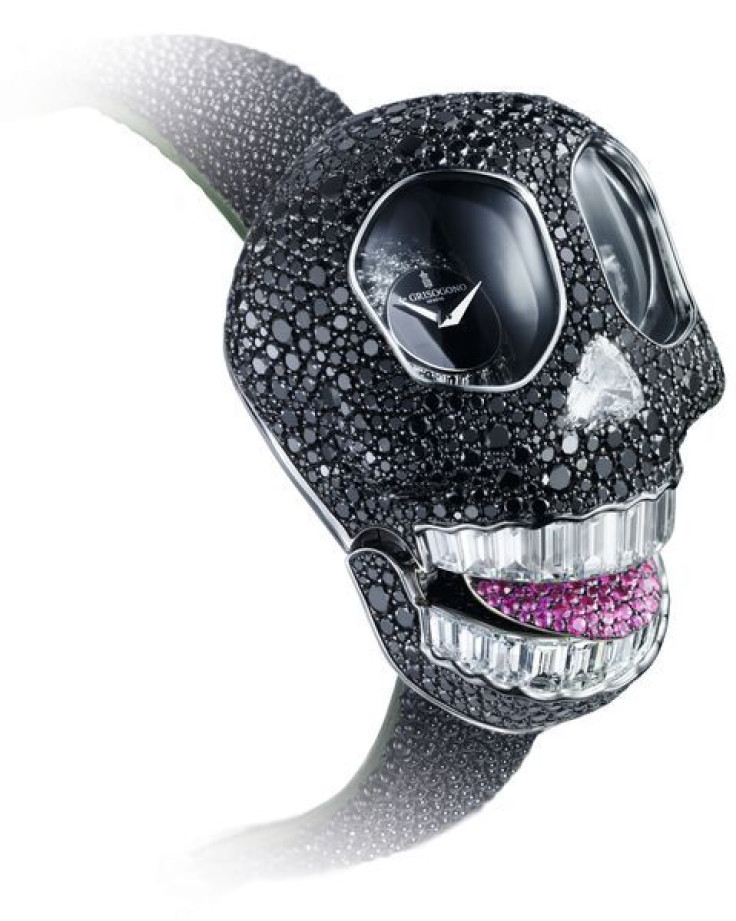 Of all the watch brands that have experimented with this macabre motif, de GRISOGONO has surely taken the concept furthest with its Crazy Skull. Completely covered in white diamonds, black diamonds or rubies (891 stones and approx. 23 carats in total), the skull-shaped case opens two wide eyes on small dials that show the time in different time zones. The face grins with 7.70 carats of baguette-cut white diamond teeth, which part (using an innovative mechanism) to reveal a tongue set with rubies or pink sapphires. A heart-shaped diamond (1.5 carats) stands in for the nose. Luxurious, sophisticated, iconoclastic and just a touch off-the-wall, the Crazy Skull epitomizes de GRISOGONO's design philosophy.
Bell & Ross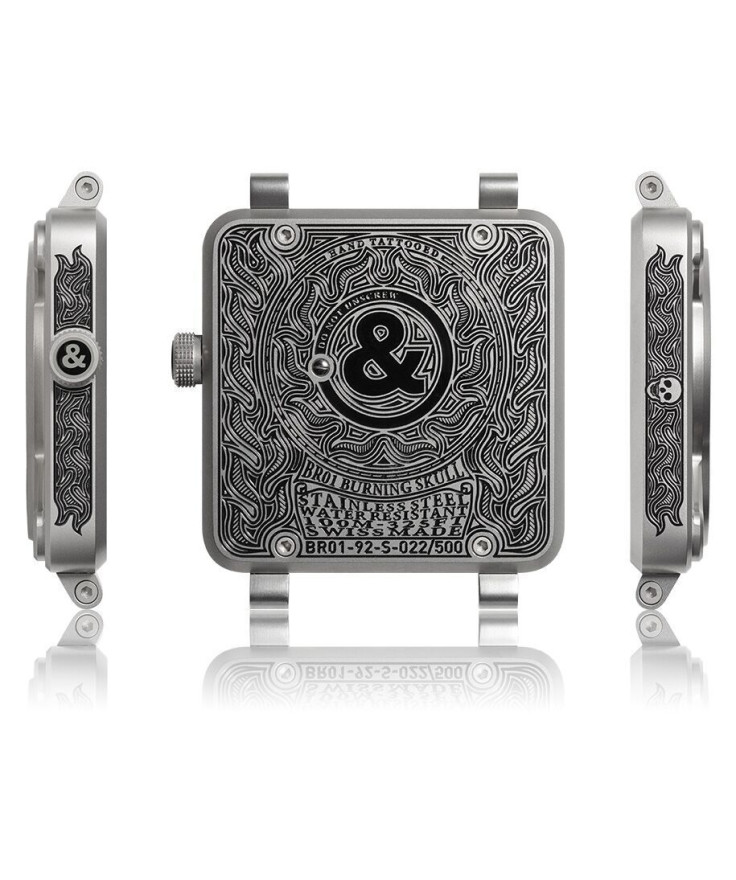 Inspired by 20th -century soldiers, Bell & Ross pays homage with its skull watches to the American fighters who par achuted into Normandy on D-Day; their motto was "Death from Above," accompanied by a skull. Piratical in appearance, with stylized crossbones on the square 46x46mm case, the Burning Skull model fully commits to the design, with dagger- and sword-shaped hands upon a startlingly realistic stamped-metal skull. Black SuperLuminova coats the area in and around the skull, to hyper-intense effect. Bell & Ross also draws on mil itary history for the intricate, tattoo-like engraving that spreads across the case with meaningful motifs such as a heart, a rose, a scythe and an hourglass.
Jacob & Co. – Palatial Five Time Zone Pirate Black PVD with Rubies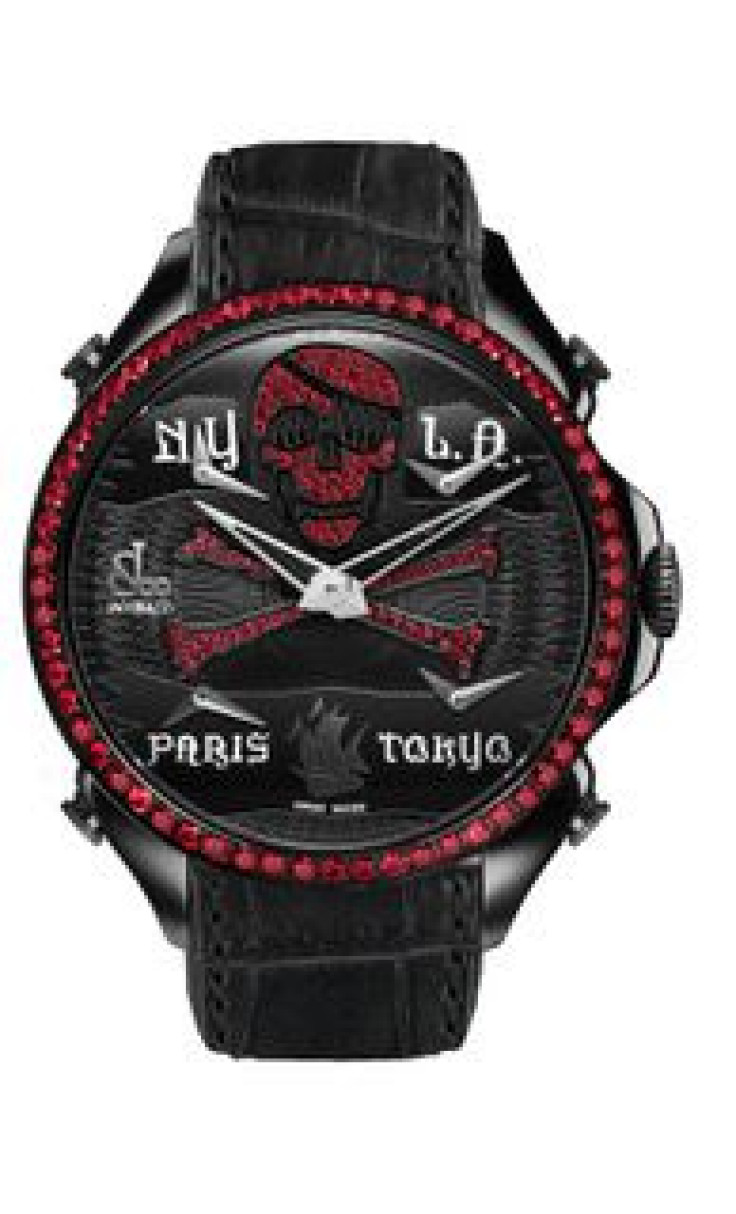 Jacob & Co. offers a collection that could have come straight from a treasure map: a black beauty worthy of Blackbeard himself, via PVD-coated stainless steel. An eyepatched death's-head in diamonds or rubies sits in splendor above central gem-set crossbones. New York, Los Angeles, Tokyo and Paris each enjoy a dedicated time zone display on the dial, with engraved waves separating North from South and the silhouette of an intrepid vessel of plunder at the bottom of the dial. A gem-set bezel and five separate crowns complete the look for modern-day buccaneers.
HYT Skull, Green Eye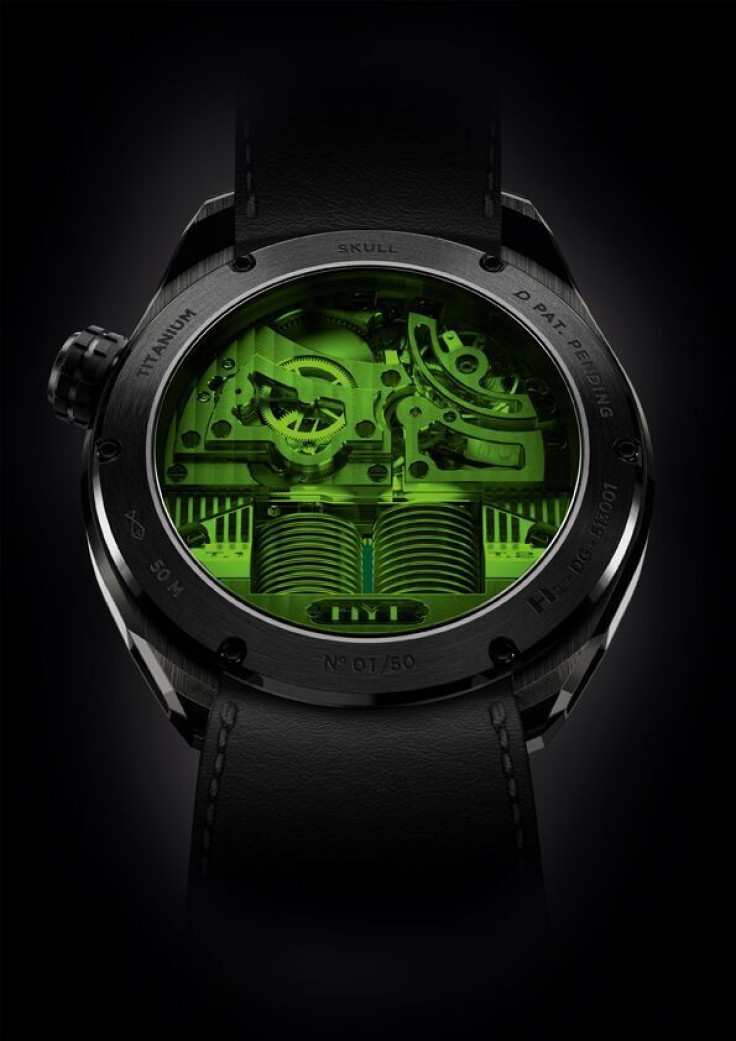 HYT is known for its groundbreaking approach to telling time, incorporating a colored fluid into futuristic designs that force us to reevaluate preconceived notions about how a watch works. With its Skull Collection, HYT uses its signature capillary form to draw the fluid around the dial, lining up with hour markers around the periphery and dispensing with the minutes altogether. The capillary's skull shape, which not only curves but also bends, at times sharply, required extreme delicacy on the part of HYT, not only in shaping the glass tube, but also in ensuring that the fluid moves through it with perfect regularity. The skull's left eye indicates the power reserve, gradually dimming towards the end of the movement's autonomy, while the right contains a continuously rotating seconds dial.