Sprint Galaxy Nexus Vs. iPhone 4S: Will The New Flagship Smartphone Topple The iPhone 4S For Sprint Customers?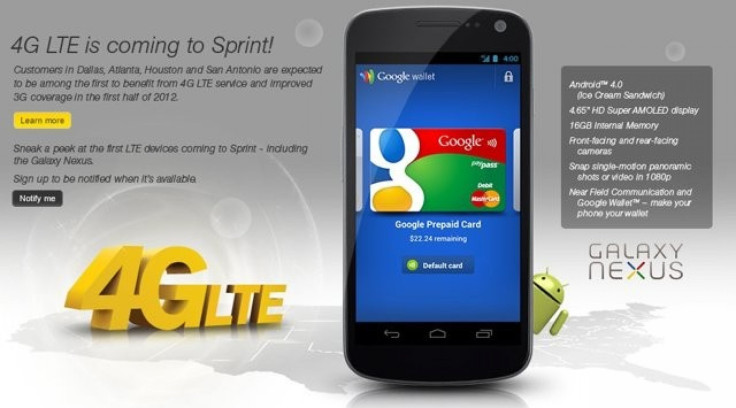 Well, good times are here for Sprint fans, as with each passing day, the wireless carrier operator is adding droolworthy smartphones to its basket of offerings. Recently, the carrier introduced Google's flagship Android ICS phone, the Samsung Galaxy Nexus at a price for around $199.99 with a 2-year contract. The LG Viper, released along with the Nexus and the HTC Evo 4G LTE is also in the lineup for launch, due to hit stores sometime in spring this year.
As a treat to its customers, Sprint has promised the availability of the Galaxy Nexus backed by the 4G LTE capability and the Google Wallet feature (the Google's mobile payment service missing in Verizon Galaxy Nexus).
Last year Sprint also brought to its customers Apple's most powerful smartphone so far, the iPhone 4S at an unlimited data plan, in an attempt to position itself as the most affordable option for those who wish to use a lot of data with a decent performance.
So now, Sprint subscribers are finally getting to chose between two prominent Android and iOS flagship phones. But wait! The big question here is which flagship model best suits your needs? Well, here is a brief detailing on all the specs and pricing details of both the power-puffed smartphones. Take a look and decide which out of the two is worth your wallet and suitable for your next phone upgrade.
Sprint Galaxy Nexus Data Plan Details
Sprint announced Monday the availability of the Samsung Galaxy Nexus. The Android 4.0 handset can be pre-ordered now and is available for purchase at $199.99 with a new two-year agreement.
As an extra bonus, Sprint is offering customers who register a Google Wallet account within a week of activating their devices, a $10 instant credit, along with an additional $40 of credit to be delivered within three weeks. Customers who pre-order the Galaxy Nexus will begin receiving the device as early as Friday, April 20.
Galaxy Nexus customers can enjoy an unlimited data experience with Sprint Everything Data plans. Sprint's Everything Data plan with Any Mobile, AnytimeSM includes unlimited web, texting and calling to and from any mobile in America while on the Sprint Network, starting at just $79.99 per month for smartphones - a saving of $40 per month versus Verizon's comparable plan with unlimited talk, text and 2GB web, or $10 per month savings versus Verizon's 450-minute plan with unlimited text and 2GB web.
Additional key features will also include Face Unlock, Android Beam, Google+ Hangouts, Google Play and Google Voice.
iPhone 4S Data Plan Details
Despite rumors surrounding the Apple's next phone, the iPhone 5, the iPhone 4S sales are still going strong. For all those who are looking to purchase an iPhone 4S, Sprint has a decent pricing option for them. Buyers can pickup a $69 a month unlimited data plan which includes 450 voice minutes and unlimited mobile-to-mobile calling, or a $99 plan which includes both unlimited voice and data.
Sprint is the only US carrier offering an unlimited plan, after AT&T and Verizon dropped theirs, making the deal very tempting. Sprint also offers the hotspot tethering service but it will have a 5GB cap on that.
Summing all up, the carrier offers the iPhone 4S variants at the following price tags : iPhone 4S 16GB $199, 32GB at $299 and 64GB at $399.
Sprint Galaxy Nexus vs iPhone 4S - Specs Analysis
Processor
Apple's smartphone is powered by a 1 GHz Cortex-A9 dual-core CPU and the A5 chipset with 512 MB RAM. The chipset delivers up to seven times faster graphics handling and is believed to offer gaming enthusiasts a very rich experience, supported by a PowerVR SGX543MP2 GPU.
While, the Galaxy Nexus is powered by a 1.2GHz Cortex-A9 dual-core CPU and TI OMAP 4460 chipset. Its faster processor ensures a quick way to access apps and web browser. PowerVR SGX540 adds support to powerful graphics.
Operating System
The iPhone 4S runs on iOS 5. However, the company has released iOS 5.1, an upgraded version now available to all iPhone 4S owners. The upgrade is expected to have fixed several prior issues including battery bugs and loss of audio quality.
The latest Galaxy Nexus runs on Android 4.0 ICS which features multi-tasking, rich notifications, resizable widgets and new lock screen actions. The smartphone can now also be upgraded to Android 4.0.4, a slightly higher version.
Dimensions & Weight
While, the iPhone 4S weighs 140 grams with dimensions of 115.2 x 58.6 x 9.3mm, the Galaxy Nexus measures around 135.5 x 67.94 x 9.47 mm in dimension and has a weight of 150 grams.
Display
The Galaxy Nexus flaunts a Super AMOLED capacitive touchscreen with a resolution of 1,280 x 720 pixels. The 4.65in device includes an oleophobic coating as well as multi-touch functionality.
In comparison, the iPhone 4S touts a LED-backlit IPS TFT capacitive touchscreen with a resolution of 960 x 640 pixels. The 3.5-inch device also comes with Corning Gorilla Glass and an oleophobic coating which rejects skin oils.
Camera
The Galaxy Nexus boasts a 5 megapixel rear-facing camera which features autofocus, LED flash, touchfocus, geo-tagging and face detection. It lets the user record the video of 1080p and also comes with a 1.3 megapixels front facing camera.
In contrast, iPhone 4S boasts an 8-megapixel rear-facing camera with a resolution of 3264x2448 pixels. Further, Apple's smartphone has an iSight camera which features AutoFocus, Tap-to-Focus, LED flash, video stabilisation and photo and video geo-tagging. However, it offers only a 0.3-megapixel VGA front-facing camera.
Connectivity
Galaxy Nexus features a Wi-Fi 802.11 a/b/g/n with DLNA, Wi-Fi hotspot as well as NFC for contactless mobile payments. The Galaxy Nexus supports Bluetooth 3.0 with A2DP wireless technology.
Further the handset also comes with 4G LTE capabitity, however, as for now, a Sprint Galaxy Nexus will begin with a simple 3G connection and eventually upgrade to 4G as the carrier is still in the process of rolling out a 4G LTE network to match the Galaxy Nexus' connection capabilities. Six cities are expected to go live with Sprint 4G LTE by the middle of the year, most likely around June: Atlanta, Dallas, San Antonio, Houston, Kansas City and Baltimore. And the carrier has announced in a statement that they will be able to cover 123 million users with 4G service by the end of the year, increasing to 250 million by the end of 2013.
The iPhone 4S has Wi-Fi 802.11 b/g/n with Wi-Fi hotspot. It offers advanced Bluetooth 4.0 version with A2DP. Basically, the iPhone 4S connects to Sprint's 3G network and lags behind the latest generation of LTE-branded phones.
Storage
The Sprint version Galaxy Nexus will have a single 32GB variant of internal storage accompanied by 1GB RAM. On the other hand, the iPhone 4S has more internal storage options of 16/32/64GB and neither of them have expandable memory card slots option.
Battery
The Galaxy Nexus comes with a Li-Ion 1750mAh standard battery which allows a stand by time of up to 290 hours on 2G and 270 hours on 3G networks. It offers a talk time of up to 17 hours 40 minutes on 2G and 8 hours 20 minutes on 3G networks.
When it comes to the iPhone 4S, the handset comes with a Li-Ion 1432mAh standard battery which allows for stand-by time of up to 200 hours on 2G and 3G networks. It offers talk time of up to 14 hours on 2G and eight hours on 3G networks.
Let us know in the comments if you are stoked about Sprint's new lineup or are you still an iPhone 4S fan?
© Copyright IBTimes 2023. All rights reserved.