'Spy' Star Melissa McCarthy Kicks Fat Jokes To The Curb In New Paul Feig Movie [REVIEW]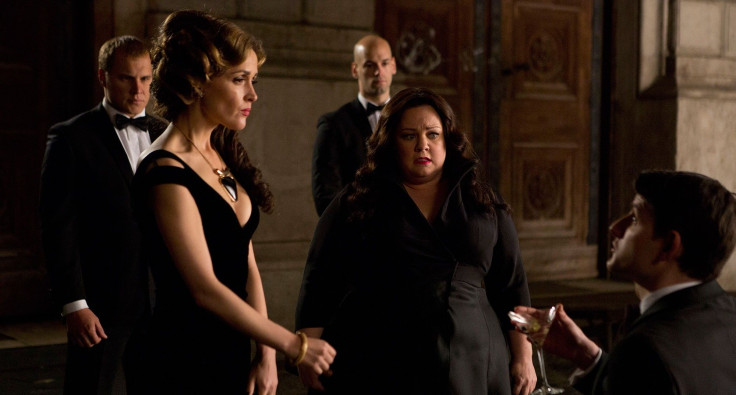 Leading up to the highly anticipated all-female "Ghostbusters" movie, Paul Feig has yet another comedy on the way with frequent collaborator Melissa McCarthy. Their latest, "Spy," marks the pair's third collaboration after "Bridesmaids" and "The Heat." I found a charm in "Spy" that their previous efforts lacked, and I'm curious to see if audiences will respond to it the same way I did.
McCarthy stars as Susan Cooper, an in-house analyst for the CIA who is responsible for assisting the debonair James Bond knockoff Bradley Fine (Jude Law). Susan earns the chance to get out in the field when all of the CIA agents' secret identities are compromised by terrorist Reyna (Rose Byrne). Susan goes undercover to infiltrate Reyna's terrorist plot and avenge her fellow agents, but going undercover means exploring the darker side of the spy business.
The supporting cast of "Spy" is excellent. McCarthy's "Bridesmaids" co-star Rose Byrne slips perfectly into the role of a spoiled European organized crime leader, complete with a cold, uncaring accent. As the archgangster De Luca, Bobby Cannavale hasn't played a character this slimy in some time. Plus, the always reliable Allison Janney is wonderful as Susan's constantly disappointed boss. Action hero and upcoming "Furious 7" baddie Jason Statham's stone-faced agent Rick Ford goes rogue from the CIA and frequently pops up to let Susan know how badly she's ruined the mission. It's incredibly fun to watch Statham and Law exercise their comedic chops "Spy."
Perhaps the biggest supporting cast member surprise was Miranda Hart as Susan's best friend in the office, Nancy. Probably best known to Americans who watch "Call the Midwife," Hart is McCarthy's dowdy confidante in an agency that is almost hostile to their homely existence. The top brass barely acknowledges them and the svelte model-like field agents seem to enjoy a place of privilege in the workplace and in public, where they can get top service easily over Susan and Nancy. But when the unassuming duo jumps into action, they become one of the best female comedy teams to hit mainstream movies in recent years. The pair doesn't compete or attempt to undercut each other -- rather, they provide support and cheer each other on for a job a well done. It's rare to find that sort of symbiotic dynamic among female friendships in movies.
In "Bridesmaids" and "The Heat," McCarthy's physical appearance was supposed to disgust the "straight man" character she was hitting on or working with as a crude fat joke. McCarthy usually played the outsider character in these movies, but in "Spy" she plays the underdog, someone who needs the break to prove herself. The outsider characters she previously played are often static -- a device to teach the protagonist about acceptance.
McCarthy's earlier gross, ribald characters were often the butt of a joke and/or the annoyance of those around her. In "Spy," the tables are turned on the enemies and co-workers who belittle her, and the audience laughs at their insensitivity or prejudice. One great running joke is that all the secret identities assigned to Susan are variations of stock fat woman characters such as "cat lady" or "overweight American tourist." Susan rolls her eyes every time, because none of those identities reflect her active ambitions but rather how society close-mindedly perceives her.
McCarthy is a very physical comedian, and plenty of scenes throughout "Spy" have her protagonist running, fighting and kicking bad guys, making the majority of the action sequences revolve around Susan. Her opponents' underestimation of her abilities because of her appearance makes Susan's victories even more rewarding when she defeats them, as she drop-kicks whatever snide fat jokes are made at her expense.
"Spy" is a mature step in the right direction for Feig and McCarthy. "Spy" was Feig's first solo screenplay credit in recent memory, and it seems like he will collaborate again with "The Heat" screenwriter Katie Dippold for his upcoming "Ghostbusters" film starring McCarthy, Kristen Wiig, Leslie Jones and Kate McKinnon.
McCarthy excels at portraying Feig's fresh and fleshed-out Susan, just a regular woman who fights to be taken seriously by her superiors and enemies. Sadly, McCarthy doesn't get the chance to play the hero often enough. I hope that Feig continues to give this in-depth awareness to his characters, mining new comedic material rarely touched upon and punching up against societal standards.
"Spy" opens nationwide June 5.
© Copyright IBTimes 2023. All rights reserved.