Stephen Colbert Donald Trump Jokes: Jesus, Twitter And Taco Bowls Mark New Year's Message [VIDEO]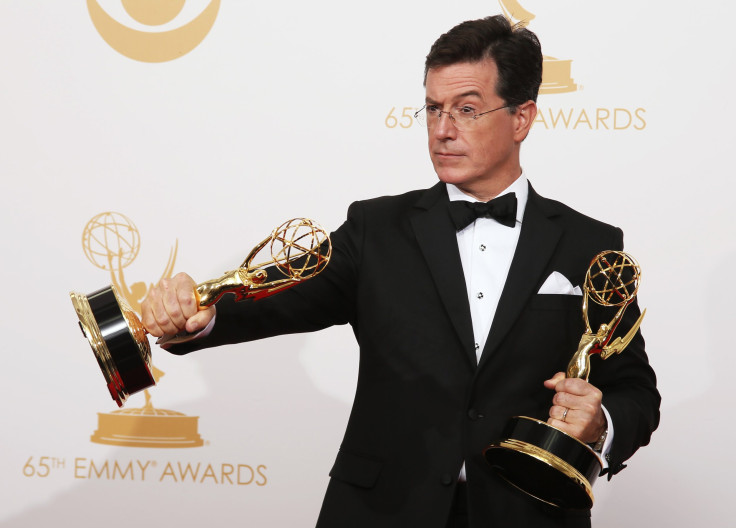 Stephen Colbert was quite vivacious on Tuesday's "Late Show," poking fun at President-elect Donald Trump's tweets over the holidays in Jesus' name.
On New Year's Eve, Trump wished everyone a good year on his Twitter account, including his "many enemies and those who have fought me and lost so badly they just don't know what to do. Love!"
Colbert interpreted Trump's tweet saying, "In the holiday spirit, Donald Trump is loving his enemies. It reminds me of Jesus' famous tweet: 'Suck it @PontiusPilate. I rose from the dead. @TheRealJesus is gonna live forever. Love!'"
That's not the only tweet Colbert poked fun off. Another tweet was when Trump gave himself credit for America's rising consumer confidence on Dec. 27.
"That's right, Donald Trump thanked himself in the third person — Stephen Colbert thinks that's crazy," Colbert said.
The last few minutes of the 11-minute clip, Colbert read some "Trump greeting cards," which were satire-based: "Donald Trump's hallmark of sending well-wishes while simultaneously insulting your enemies," Colbert said.
"Happy Cinco de Mayo, I'll take a taco bowl, get out of the country. Love," Colbert said in another joke. He continued, "To my daughter on her birthday, I think you're hot! Love."
Colbert also read a Trump greeting card in regards to Russia:
"Friends, sometimes you've gotta dance like no one's looking: But the Russians are always looking. Hail, Putin."
He then mentioned that over the holidays, President Barack Obama kicked out 35 Russian diplomats, who he claimed were spies. "This year, they [Russians] would be celebrating [Christmas] on Jan 20," which is the same day Trump gets inaugurated. "Loooove," Colbert sang.
Tuesday was Colbert's first day back to work. However, House Republicans, decided to return to work a day early --- just so they "can get a jump on it," Colbert said. "Defeat ISIS, cut taxes, and fix our trade deal with China."
Colbert's remark came after the House Republicans voted in secret Monday night to embowel the independent Office of Congressional Ethics that was created eight years ago, according to the Washington Post. The GOP later withheld their plans to proceed with gutting out the Office of Congressional Ethics Tuesday.
© Copyright IBTimes 2023. All rights reserved.