Steve Ballmer Bashed By Former Microsoft VP: Is Microsoft's CEO Stunting The Company's Growth?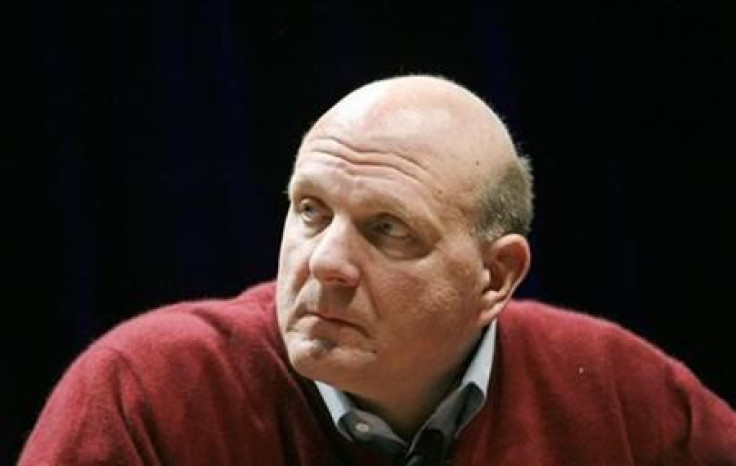 Joachim Kempin played a big role in Microsoft's success between 1983 and 2002. For part of that time, he was in charge of overseeing all sales of the company's Windows software to various computer manufacturers; as the bridge between software and hardware makers, one might say Kempin's role was paramount to Microsoft's success as a software company at the time.
Given his integral role, Kempin had direct access to Microsoft's iconic co-founder, Bill Gates. And yet, with everything Kempin had seen and experienced at Microsoft for almost 20 years in Redmond, Wash., the one thing Kempin is extremely critical about his former company is its current CEO, Steve Ballmer.
Kempin unceremoniously left the company back in 2002 as Microsoft was mired in a four-year antitrust lawsuit with the U.S. government, which pointed to many of Kempin's "aggressive contracts" he helped build with PC makers as potential infractions.
Kempin is releasing a new book on Tuesday, entitled "Resolve and Fortitude: Microsoft's 'secret power broker' breaks his silence." In a conversation with Reuters, Kempin spoke about his time at Microsoft and what he thinks of the company now, but the former senior VP spent a great deal of time criticizing Ballmer, his boss from 2000 to 2002, for the dubious way in which he protected his CEO seat, by continually and intentionally ousting any rising managers or executives that had potential to unseat him.
Kempin said he first saw Ballmer complete this process with Richard Belluzo, the former HP exec promoted to Microsoft's president and COO after he successfully developed and launched the company's first gaming console, the XBox. After attaining his new post, however, Belluzzo left the company just 14 months later. Kempin blames Ballmer for this.
"He (Belluzzo) had no room to breathe on the top," Kempin said. "When you work that directly with Ballmer and Ballmer believes 'maybe this guy could someday take over from me,' my God, you will have less air to breathe, that's what it comes down to."
Belluzzo was just one in a long line of successful Microsoft executives that have fled the company, for one reason or another. Kempin points to a few notable departures, including Kevin Johnson, who ran Microsoft's online division but went to manage Juniper Networks; Stephen Elop, the former Office chief who went on to become CEO of Nokia; and Ray Ozzie, who Bill Gates had personally christened Microsoft's next "big-picture" guy, but still decided to leave and start his own project, a mobile communications start-up called Talko.
"Ozzie is a great software guy, he knew what he was doing," Kempin said. "But when you see Steve (Ballmer) and him on stage where he (Ozzie) opposed Steve, it was Steve's way or the highway."
More recently, long-time Windows chief Steven Sinofsky decided to split ways with Microsoft in November shortly after launching Windows 8. Even though some cited Sinofsky's "relentlessly aggressive" style, it's possible that he and Ballmer just didn't mix well.
About two years ago, Kempin said he spoke to Ballmer and confronted him about his abrasive management style and personal direction for Microsoft, but Kempin said he has seen no changes since their discussion.
"Steve is a very good business guy, but make him a chief operating officer, not a CEO, and your business is going to go gangbusters," said Kempin. "I respect that guy (Ballmer), but there are some limitations in what he can and can't do and maybe he hasn't realized them himself."
Microsoft: Suffering From Stunted Growth?
Microsoft's new Surface tablet, while not the best tablet available by any means, was a bold attempt by a software company to break into the increasingly hot hardware space. It may be bold, but Kempin perceives it as embarrassing.
"Just think about the insult of Microsoft coming out with a tablet themselves, trying to mimic Apple, and now they are going to come out with a notebook on top of it," Kempin said, referring to Microsoft's Surface RT and soon-to-be-released Surface with Windows Pro.
But even though the Surface isn't selling well now, Kempin said tablets were on Microsoft's agenda more than a decade ago, but mismanagement between Microsoft and its hardware makers -- the area Kempin oversaw in his tenure -- ruined the company's chances of introducing a viable solution before Apple did.
"They missed all the opportunities they were talking about when I was still in the company," Kempin said. "Tablets, phones ... We had a tablet going, we had tablet software when Windows XP came out [in 2001], it was never followed up properly."
Above all, however, Kempin believes the majority of Microsoft's biggest business blunders, both internally and externally, stem from Ballmer.
"Is he a great CEO? I don't think so," Kempin said. "Microsoft's board is a lame duck board, has been forever. They hire people to help them administer the company, but not to lead the company. That's the problem. They need somebody maybe 35-40 years old, a younger person who understands the Facebook generation and this mobile community. They don't need this guy on stage with this fierce, aggressive look, announcing the next version of Windows and thinking he can score with that."
Kempin's critique of Ballmer was echoed by David Einhorn of Greenlight Capital in 2011, who said of the 10-year Microsoft CEO, "His continued presence is the biggest overhang on Microsoft stock."
"The problem with Ballmer isn't Wall Street," Einhorn said. "Ballmer's problem is he's stuck in the past."
FOR FREE to continue reading
✔️ Unlock the full content of International Business Times UK for free
offer available for a limited time only
✔️ Easily manage your Newsletters subscriptions and save your favourite articles
✔️ No payment method required
Already have an account? Log in
© Copyright IBTimes 2023. All rights reserved.