'Straight Outta Compton' Black Lives Matter: NWA's Legacy Is Reflected In Anti-Police Brutality Movement 25 Years Later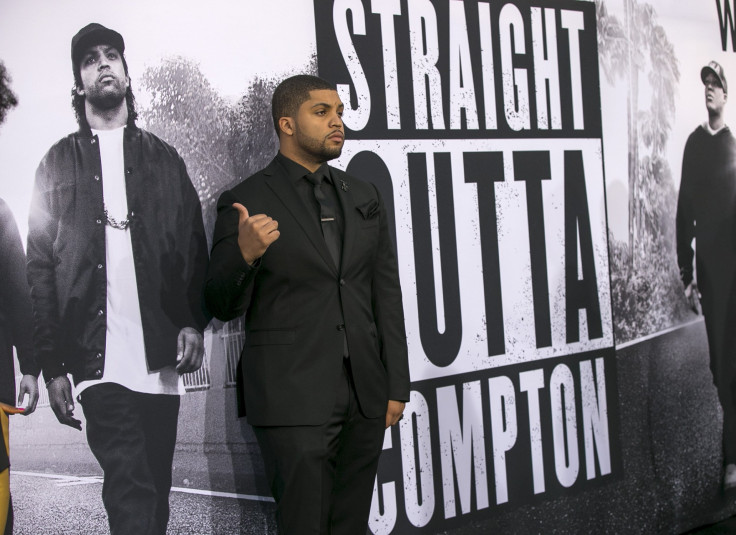 Whether the modern movement against racial profiling, police brutality and mass incarceration has hip-hop artists to thank for giving voice to the struggle is debatable. But one thing that can't be disputed is how many rappers past and present have chronicled injustices experienced by urban and African-American communities in the U.S. through their music.
Few of them, however, have been as groundbreaking as N.W.A., the quintet who rhymed about the grim realities of their immediate, volatile surroundings. Formed in the late '80s out of South Central Los Angeles, the group put the West Coast, specifically the city of Compton, on the map during what had been an East Coast-dominated hip-hop scene. While critics of their hardcore and vulgar lyrical content ranged from white politicians to conservative black community leaders, their message and meteoric rise -- chronicled in the highly anticipated "Straight Outta Compton" biopic opening nationwide Friday -- in many ways foreshadowed today's mainstream scrutiny of police treatment of minorities in the U.S.
"They are one of the most influential groups of any genre of the last 25 or 30 years," said Timothy Welbeck, an African-American studies professor at Temple University, in Philadelphia. "Not only did they further usher hip-hop into the mainstream culture, they also shined a light on urban neglect that many people felt was being ignored."
Release of the group's breakout album, "Straight Outta Compton," in 1988, with its unflinching critiques of law enforcement in songs such as "F--- tha Police" and "Express Yourself," preceded the L.A. riots that followed the videotaped beating by police of Rodney King by a few years. The biopic celebrates in part N.W.A.'s legacy and influence on a generation of civically minded artists and activists, such as Black Lives Matter, a growing movement against police brutality that has been drawing increasing media attention.
"If you're [a hip-hop artist] or activist today, you have been influenced by N.W.A., particularly in how you're articulating that message," said Welbeck, who is also a Philadelphia-based hip-hop artist and social activist influenced by the pioneering rap group.
Misogyny in N.W.A.'s lyrics helped to fuel criticism that the rappers were less than ideal as messengers of the black struggle against oppression. However, the pioneering rap group was an influential piece of a tapestry of politically charged verbal expression, said Davey D, a noted hip-hop historian and veteran radio DJ in California's San Francisco Bay Area.
The current generation of rap fans and activists relies less on hip-hop artists, who have gotten less lyrically political over time, to legitimize their sentiments and movements, Davey D added, underscoring the lasting effects of N.W.A.'s legacy. "People can now speak for themselves," he said. "A lot of what [activists] were saying, they'd hope it would be crystalized by a song. You didn't have a way to talk to the masses and [the artists] did. Now that I can go to Twitter and Facebook, I'm not looking for an artist to be my leader."
From its formation in 1986, N.W.A., an acronym for "Niggaz Wit Attitudes," billed itself as "the most dangerous rap group" and attracted attention for glorifying street gang culture in California and being unapologetically sexist. Together, members Dr. Dre, Ice Cube, Mc Ren, DJ Yella and the late Eazy-E were among the first hip-hop acts to cross over into popular culture primarily based on public reaction to their music.
As "F--- tha Police" drew intense backlash from police unions and community groups, which refused to support public performances of the song and led boycotts of radio stations and record stores playing and selling N.W.A. records, the rappers dug in their heels. The FBI warned N.W.A. against inciting violence against police officers, amid censorship from radio and music television programs. The group's stance paid off: After releasing just two full length studio albums, the group has sold approximately 10 million units.
Even apart from the group, Dr. Dre and Ice Cube as soloists continued releasing music that reflected urban black culture and offered commentary on injustice and white supremacy in the U.S., particularly in the aftermath of the 1992 L.A. riots.
"It's ironic that Ice Cube and Dr. Dre have become huge mainstream players because they were unflinching in expressions that would have ordinarily seen them marginalized," said Charles Hughes, historian of black music and a teaching fellow at Rhodes College in Memphis, Tennessee. "You can hear why they galvanized people. They became a key part of the soundtrack of dissent. Particularly with the 'Straight Outta Compton' album, there's absolutely no way you can listen and not understand what they are talking about."
Hughes added: "I think [the movie is] a great reminder of just how powerful their message was and continues to be."
Welbeck, the Temple University professor, carefully compared N.W.A. and Black Lives Matter activists, as the rap group's clear influence on modern activists was its resistance to the mainstream culture's attempts to water down speech that isn't politically correct. "N.W.A. cast themselves as the news reporters of their day," he said. "Black Lives Matter are saying something similar -- they are reporting what's happening and advocating for change."
Black Lives Matter emerged as a Twitter hashtag campaign started by African-American female social activists after the 2013 acquittal of George Zimmerman in the shooting death of Trayvon Martin, an unarmed black teen in Florida. The movement evolved into mass demonstrations in the U.S. and around the world, following widely-publicized police-involved deaths of African Americans in the last year. While most protests had been peaceful, the deaths of Michael Brown in Ferguson, Missouri, and Freddie Gray in Baltimore, Maryland, set off riots, looting and arson reminiscent of the L.A. riots, although not nearly as destructive or deadly. No one died in the uprisings against police conduct in Ferguson and Baltimore, compared to the 53 deaths in the Los Angeles unrest.
Welbeck, 33, said he recorded a tribute song in 2013 in part to honor Oscar Grant, an unarmed African-American killed in 2009 by a transit officer in Oakland, California. N.W.A. remains an inspiration for him today, he said.
"They inspired me to be myself, uncompromisingly, and to present my message unabashedly," Welbeck said. "They've influenced people who have influenced me."
FOR FREE to continue reading
✔️ Unlock the full content of International Business Times UK for free
offer available for a limited time only
✔️ Easily manage your Newsletters subscriptions and save your favourite articles
✔️ No payment method required
Already have an account?
Log in
© Copyright IBTimes 2023. All rights reserved.