Super Bowl 2016 Betting Odds: Patriots, Broncos, Panthers Chances Of Winning Title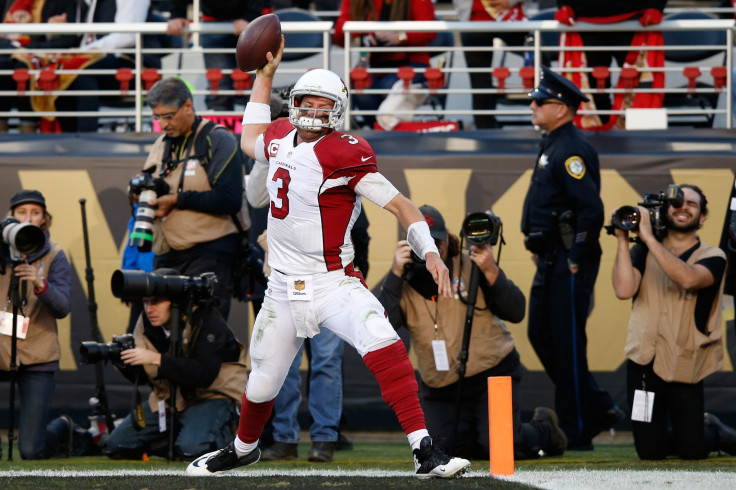 The New England Patriots' first loss of the season completely blew open the race toward Super Bowl 50. New England (10-1) remains the favorite to win it all this season but its 30-24 overtime loss to the Denver Broncos (9-2) on Sunday dipped its chances from 12/5 to 3/1 odds, according to the latest odds from VegasInsider.com.
The loss allowed both the Arizona Cardinals (9-2) and the Carolina Panthers (11-0) to increase their chances of winning the first Super Bowl in each franchise's history, jumping from 5/1 and 7/1 odds respectively, to a deadlock at 11/2. However, the Panthers domination of Dallas, compared to Arizona's trouble in putting down last-place San Francisco, puts them at 2/1 odds to win the NFC. Arizona's listed at 18/5 to return to the Super Bowl for the first time since the 2008 season.
Injuries once again played a huge factor in the Patriots pursuit of an 11-0 record and a second-straight Super Bowl as tight end Rob Gronkowski went down with a knee injury in the fourth quarter against Denver.
Though the severity of his injury is presently unclear, the 26-year-old's status for the rest of the season should play a huge role in the Patriots run for one of the AFC's top two playoff seeds. New England already lost top receiver Julian Edelman to a broken foot and running back Dion Lewis to a torn ACL.
New England is still the pick at 7/5 odds to represent the AFC in the Super Bowl, but the Broncos second straight victory without quarterback Peyton Manning and 25-year-old Brock Osweiler instead under center moved them just behind the Patriots at 18/5 odds to reach the NFL's title game for the second time in three seasons.
Manning is presently dealing with a variety of ailments, including foot and rib injuries, and how healthy he is going forward will determine whether he or Osweiler gets to lead Denver into the postseason. Last week, the Broncos were listed at 14/1 odds to win it all, but they've jumped to 10/1.
Meanwhile, the Cincinnati Bengals (9-2) snapped their two-game slide with a dominating victory over St. Louis and moved into a tie with the Green Bay Packers (7-4) at 12/1 odds. While the Bengals have played well this season and sit just one game back of New England for home-field advantage throughout the AFC playoffs, odds makers are likely leaning on their poor postseason record. Cincinnati's failed to claim a victory in six straight playoff games, with their last win coming in 1990.
Dealing with uncharacteristic issues on the offensive side of the ball, the Packers lost for the fourth time in the last five games and surrendered first place in the NFC North to Minnesota. Green Bay was previously listed at 8/1 odds as the likely challenger to Arizona and Carolina in the NFC, but it's fallen back to 12/1 before Thursday night's road trip to rival Detroit.
Odds To Win Super Bowl
New England Patriots 3/1
Arizona Cardinals 11/2
Carolina Panthers 11/2
Denver Broncos 10/1
Cincinnati Bengals 12/1
Green Bay Packers 12/1
Pittsburgh Steelers 14/1
Minnesota Vikings 16/1
Seattle Seahawks 18/1
New York Giants 28/1
Indianapolis Colts 30/1
Kansas City Chiefs 40/1
Houston Texans 75/1
Washington Redskins 85/1
New York Jets 100/1
Oakland Raiders 100/1
Atlanta Falcons 125/1
Chicago Bears 125/1
Check out the full list of odds at VegasInsider.com.
© Copyright IBTimes 2023. All rights reserved.