Super Tuesday Live Stream: Watch Donald Trump, Hillary Clinton Victory Speech Here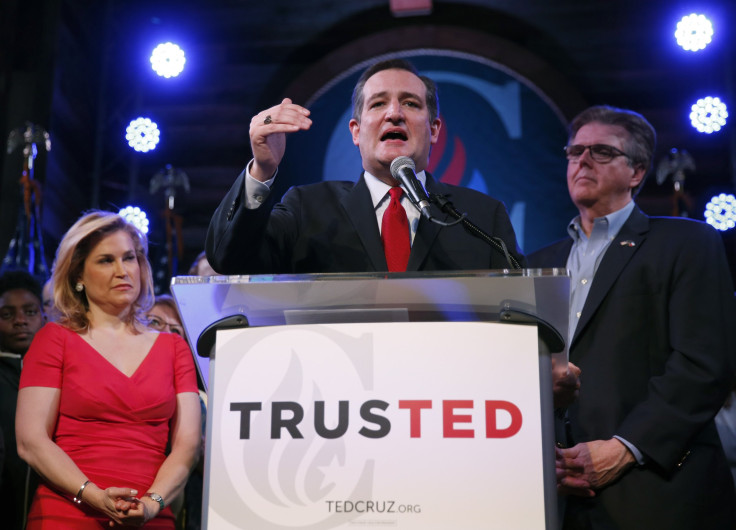 UPDATE: 4:30 a.m. EST — In something of an upset for Republican frontrunner Donald Trump, Ted Cruz won the Republican presidential caucuses in Alaska, giving the Texas senator his third win on Super Tuesday, along with Texas and Oklahoma. With 36 percent of the vote, Cruz was ahead of Trump, who despite an endorsement by former Alaska Governor Sarah Palin, came in second with 34 percent.
UPDATE: 9:55 p.m. EST — Donald Trump said he would unify the Republican Party in a short speech after winning five states on Super Tuesday, during which he also criticized Hillary Clinton and Florida Sen. Marco Rubio.
"She wants to make America whole again and I'm trying to figure out what that is all about," Trump said, referring to Clinton's speech earlier in the night during which she criticized his campaign slogan. "Making America great again is better than making America whole again."
Trump lashed out at Rubio, who had not won any states yet Tuesday night, saying he would likely beat the Florida senator — who he called a "lightweight" — in his home state later this month. The New York billionaire also declared he had expanded the Republican Party and argued he would be the strongest opponent for Clinton in a general election.
"We have expanded the Republican Party," Trump said. "That hasn't happened to the Republican Party in many, many decades ... I think we're going to be more inclusive, a much bigger party and I think we're going to win in November."
UPDATE: 9:10 p.m. EST — Clinton focused on her new message of uniting the country against bigotry in her speech in Miami after winning six states on Tuesday evening, taking shots at Trump and his comments disparaging Mexican immigrants, Muslims and other groups.
"This country belongs to all of us, not just those at the top. Not just the people who look one way, worship one way or even think one way," Clinton said.
"We know we've got work to do, but that work is not to make America great again. America never stopped being great," Clinton added. "We have to make America whole. We have to fill in what's been hollowed out, we have to make strong the broken places, restitch the bonds of respect across our country."
Original Story:
As results from the Super Tuesday states were coming in Tuesday night, Clinton and Trump were each winning by far the most contests in their parties. Both have been their parties' front-runners, and after Tuesday night, they were expected to pull even farther ahead in the delegate count.
Clinton's rival for the Democratic nomination, Vermont Sen. Bernie Sanders, won his home state early in the night, while the former secretary of state was sweeping the Southern states of Alabama, Georgia, Virginia, Arkansas and Tennessee. Sanders spoke early in the evening after his Vermont win, and his speech aired live on C-Span. You can watch his speech here.
Trump was expected to speak Tuesday evening at a news conference in Palm Beach, Florida, as votes were still coming in from some Super Tuesday states. When his speech airs, you'll be able to watch it here live.
The New York billionaire's speech and Clinton's Tuesday night rally were also covered by major news networks. You can watch coverage of the front-runner's speeches below, from NBC News.
For her part, Clinton held a rally in Miami Tuesday night to celebrate her wins on the important night. When she speaks, you will be able to watch her remarks here.
Ahead of Super Tuesday, Clinton focused on appealing to African-American voters in Southern states. She has consistently polled much better with black voters than Sanders has, and after her crushing victory in South Carolina, she was expected to do well among African-Americans Tuesday night, as well.
On the Republican side, Florida Sen. Marco Rubio and Texas Sen. Ted Cruz have been trailing Trump in most polls, so Tuesday night was an important opportunity for them as they try to slow the front-runner's momentum. If they are to remain competitive in the race going forward, the other GOP candidates will need to keep pace with Trump and avoid getting too far behind in the delegate count.
Rubio, who was expected to do well in Minnesota and potentially in Virginia, was also set to speak from Florida Tuesday night. If you want to watch his speech, you can do so here.
© Copyright IBTimes 2023. All rights reserved.