'Supergirl' Season 3: Will Lena Luthor Deal With The Legion Of Super-Heroes?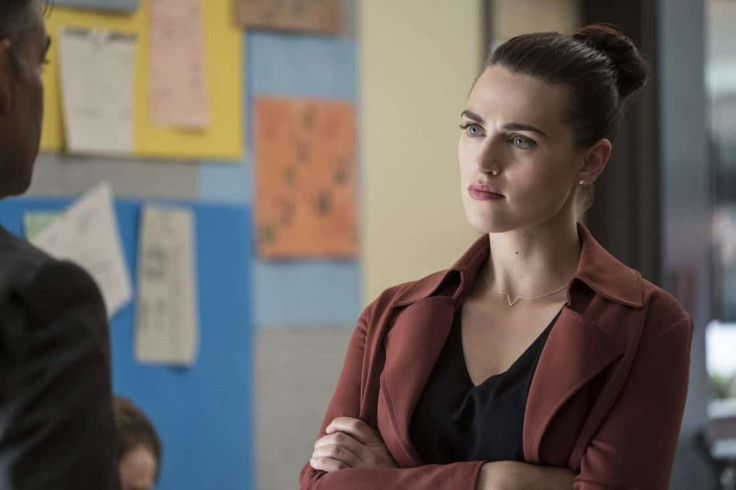 The Legion of Super-Heroes will be introduced in next week's episode of "Supergirl." The arrival of the Legion is expected to have a big impact on Kara as returning character Mon-El appears to be connected with the group. Apparently, Kara isn't the only one who will be affected by the Legion's arrival.
During a recent press visit to the Vancouver set of the CW series, series star Katie McGrath told reporters that the arrival of Legion on National City will also have an effect on her character, Lena Luthor.
"It's such a massive part of a Season 3, [so] I would imagine that yes, she will be," McGrath said (via ComicBook.com) when asked if the L-Corp CEO will find herself dealing with the Legion. "We've only just gotten the scripts where they come in so we don't quite know how they're going to interact with all of the characters because they've only just arrived. But I can't imagine that it's not going to have an effect on her. For a start, Kara (Melissa Benoist) is her best friend and the love of Kara's life (Chris Wood's Mon-El) has just come back. So that is going to impact on everyone, I think."
Without giving any specifics, McGrath's co-star David Harewood also said (via Nerdist) that the Legion's arrival will have a "big effect" on his character, J'onn.
In the comics, Legion member Superboy put Mon-El in the Phantom Zone when he was fatally poisoned by lead. Mon-El stayed there until another Legion member, Brainiac 5, discovered a cure in the 30th Century, and this led Mon-El to become a member of the Legion of Super-Heroes.
Earlier this month, it was announced that "No Tomorrow" alum Jesse Rath was cast in the recurring role of Brainiac 5. And last September, it was revealed that Bollywood star Amy Jackson was tapped to play Saturn Girl, a founding member of the Legion of Super-Heroes.
Jackson is set to make her debut as Saturn Girl in next week's Season 3, episode 7, while Rath's Brainiac 5 will first appear in Season 3, episode 10, titled "Legion of Super-Heroes." "Episode 10 is called 'Legion of Super-Heroes,' and you can't call it that without having the Legion of Super-Heroes in it," executive producer Andrew Kreisberg told TVLine. "We've hinted at the Legion going back to Season 1, when we saw the Legion ring in the Fortress of Solitude, so the Legion will have a presence."
"Supergirl" Season 3 airs Mondays at 8 p.m. EST on The CW.
© Copyright IBTimes 2023. All rights reserved.