'Supergirl' Stuntwoman Jessie Graff 'Can't Help' Kicking On 2016 Emmys Red Carpet [PHOTOS]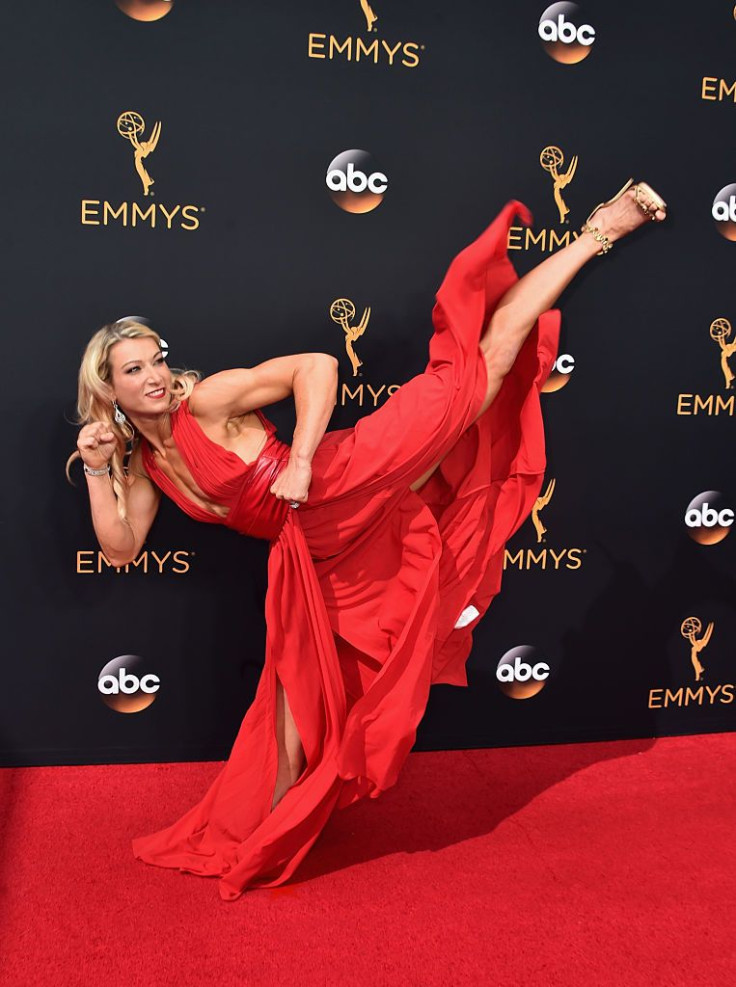 "Supergirl" stuntwoman Jessie Graff had the most unique poses on the red carpet of last night's 2016 Emmys.
Graff — who attended the annual awards night to support NBC's "American Ninja Warrior which was nominated for Outstanding Reality Competition Program — showed off her flexibility on the red carpet by doing some high kicks while wearing heels.
Responding to a tweet shared by India Today Showbiz, Graff wrote that she "can't help" but display her stunt skills on the red carpet. "I love kicking," she added.
Graff also took to Instagram to express her gratitude to all the people who had helped her achieve her Emmy look.
"#emmys ninja style!" she captioned a photo of herself performing a high kick. "Thank you so much to @stylelvr [Lo VonRumpf] @personapr @girlgetglamorous [Molly Gardner] @nvr_gvup [Maggi Thorne] for teaching me how to get #redcarpet ready! Especially Lo, for letting me test all the dresses for function and stuntability. This one is PERFECT!"
Graff, who has been working as a stunt double since 1998, rose to prominence for her athletic achievements as a contestant on "American Ninja Warrior."
In the Los Angeles qualifying round of "American Ninja Warrior" Season 8, Graff became the first woman on the show's history to make it up the new 14 1/2-foot Warped Wall and move on to the city finals along with professional rock climber Natalie Duran.
Commenting on her rise to popularity, the 32-year-old professional stuntwoman said on her website: "I have spent the last 10 years behind the scenes working as a stuntwoman. Recently I have gotten some face time which I have strived to use for breaking gender stereotypes, and becoming a positive female role model. Being feminine shouldn't mean you can't be athletic, strong and confident. Healthy is attractive!"
Aside from her stunt work on CW's "Supergirl," Graff's recent stunt credits include "Agents of S.H.I.E.L.D.," "The Goldbergs" and "Hawaii Five-0," among many others.
© Copyright IBTimes 2023. All rights reserved.