Suspect In NYC Box Cutter Attack Arrested, Charged With Hate Crime
New York City -- A suspect has been detained and charged with hate crime in connection with the unprovoked assault on a 59-year-old Asian woman in New York City on Sunday, according to police.
Police claimed Tuesday that the unwarranted attack with a box cutter was an act of hate by Anthony Evans, NBC News reported.
The 30-year-old, who is an alleged career criminal, approached the 59-year-old dressmaker as she was pulling a shopping cart behind her along Seventh Avenue near West 42nd Street in Manhattan on Sunday morning. He slashed her hand with a box cutter, according to authorities, as was previously reported.
The entire incident was captured on a shocking video.
Evans, who has already been detained more than 30 times, was apprehended during the assault at about 8:45 a.m. on Tuesday.
The woman who was attacked told ABC News that the incident has left her traumatized and frightened to step out of her house. She bled heavily after the attack.
"My mom is happy an arrest has been made and that the perpetrator is off the streets," the victim's 23-year-old daughter, told the New York Post, "It was a very violent event, a very violent thing to do. I wouldn't wish this upon anybody — even my worst enemies."
In 2020, there were 8,263 cases of hate crimes in the United States, according to a report by the Department of Justice.
In a similar incident of hate crime reported in June, a woman was detained in New York for pepper-spraying a group of Asian ladies. Madeline Barker, 47, was found yelling anti-Asian remarks, "Go back to where you came from!" and "Go back to your country!" to the women. The victims were enjoying the flower installations in the Meatpacking District when Barker attacked them. Aware of hate crimes against Asians, one of the victims expressed regret for having caused Barker to feel that way, stating, "I'm sorry, it wasn't my intention."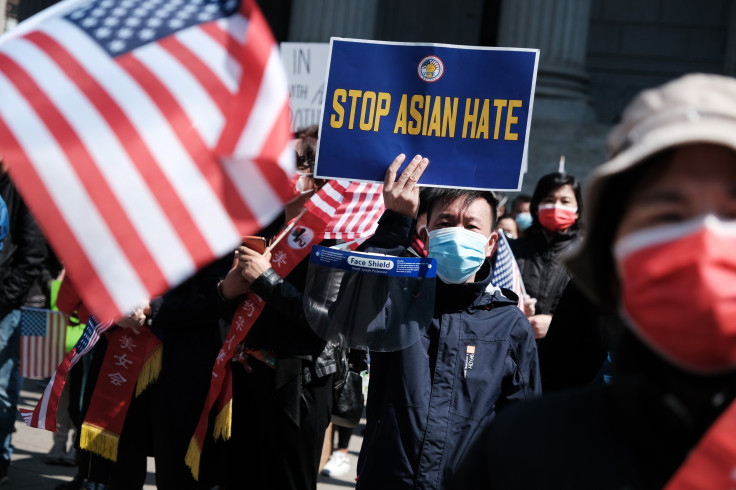 FOLLOW MORE IBT NEWS ON THE BELOW CHANNELS