Tablet War 2012: 5 Upcoming ARM-Based Windows RT Tablets That May Pose The Biggest Threat To iPad Mini And Samsung Releases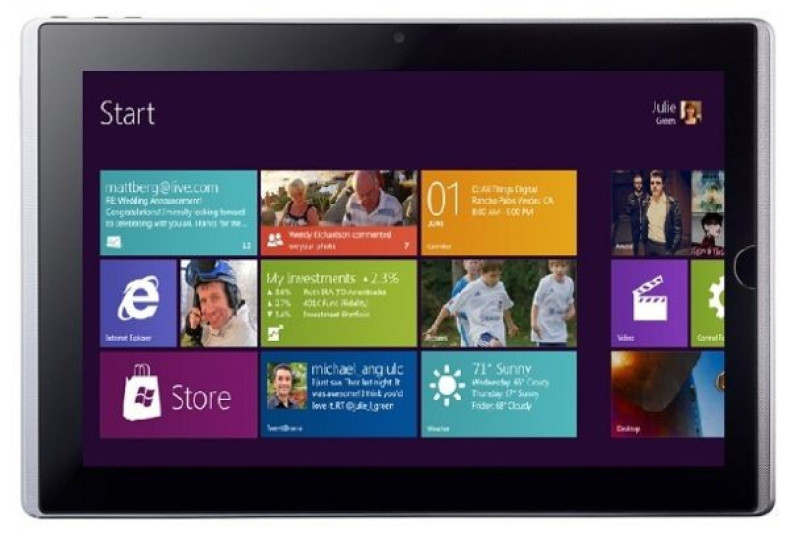 In a recent development, Microsoft unveiled three editions of its next Windows products, namely, the consumer-friendly Windows 8, the more advanced and versatile Windows 8 Pro and the tablet-friendly Windows RT.
The company informed that the Windows RT is a version of Windows that will run on devices powered by ARM-based chips, which are used in a lot of tablets today (including the iPad but not phones, since those run Windows Phone) as they offer longer battery life than the Intel-type processors used in traditional PCs.
Meanwhile, Microsoft is also planning to come up with a slew of ARM tablets, i.e. Windows RT tablets, after the launch of the new version in October 2012. The company is gearing up for a new tablet line in an attempt to directly position it as a competitor in the tablet market to the likes of Apple's iOS and Google's Android.
At the same time, recent reports from a Chinese portal were spread all over the media that six million iPad Mini devices will be unleashed in the tablet market in the third quarter of this year. Also, the report from NetEase, translated by Kotaku mentioned that the mini iPad will sell for $249-$299. This rumor was co-related to a report from Mashable, which claimed that Samsung was supplying Apple with new LCD technology for smaller iPads.
Talking about the rumored features of Apple's iPad mini, the device is expected to sport a 7.85-inch screen with Retina display with a resolution of 1,600 x 960 pixels, or 1,280 x 960 pixels. Further, features of the next iPad may include a possible 3G connectivity, iOS 6 and a better Siri (not a voice dictation like the one in the New iPad).
It is very likely that Apple might be planning the iPad mini launch to conquer market shares against Amazon's highly popular, low-cost tablets, Kindle Fire. While on the other hand, the same device is also going to rival Samsung's smaller Galaxy Tablets. The lineup includes the Galaxy Tab 7.0, Galaxy Tab 7.0 Plus, Galaxy Tab 7.7 and the latest Galaxy Tab 7.0 2.
However, reports also indicate that the ARM-based Windows 8 tablets may pose a threat to Apple, Samsung and other market shares. The reason being that this newly upgraded operating system supports both ARM and x86chips, contributing automatically to more options for the buyers in terms of price, performance and battery life in choosing the right tablet for their purchase.
Reports of Asus and Nokia planning Windows 8 ARM tablets are already floating in the tablet media world. Hewlett-Packard may also produce an ARM tablet, including other topnotch wireless communication vendors such as Lenovo. The latest buzz in the industry has hinted these manufacturers will saturate the table market with the Windows 8 powered line-up devices.
Here are some confirmed and some rumored Windows 8 tablets models from manufacturers around the world, which are eventually expected to enter the challenging market soon and chip away the market share from iOS and Android devices.
Nokia
The Finnish phone manufacturer has been in the news in the recent past for its plans to launch a Windows 8 tablet. According to Reuters reports, Marko Ahtisaari, design chief of Nokia, confirmed in an interview with Finnish magazine Kauppalehti Optio that he had been supposedly spending one-third of his time on the creation of a tablet.
Nokia's Windows 8 tablet reportedly flaunts a 10-inch screen display and would be powered by dual-core processor. This Windows 8 would be launched later this year. It has been reported that Nokia plans to produce two million units of the device and the tablet will be released sometime in Q4 2012.
Dell
PC Major Dell was not able to set any remarkable records when it forayed into the smartphone market with its Streak series. However, the manufacturer plans to re-enter the market with its big plans on a release of Windows 8 tablet.
Lately, CEO Michael Dell confirmed that they were building a tablet for Microsoft's new Windows 8 software. Having a secure Windows tablet that works with all the Windows applications - we are hearing a lot of demand for that and we think that will be quite attractive, Dell told Bloomberg television in their report.
Dell also informed that the company would release the Windows 8 tablets on the exact day that Microsoft ships the new OS.
Asus
Pocket-lint interviewed Benson Lin, Global Head of Handheld Devices at Asus, who hinted during MWC 2012 that the company was working on a Windows 8 tablet for launch later in the year.
For Microsoft we would be allowed to say that we are very, very, very close and work hard with Microsoft, Lin told Pocket-lint in a one-to-one interview at Mobile World Congress when he was asked what the company's plans were for a Windows 8 tablet.
If you are Microsoft, which partner will you select? It is very simple, added the man in charge of the successful Transformer range.
It is definite that if Asus launches the Windows 8 tablet it would be the best of the lot, as the company's Asus Transformer and Asus Transformer Prime are considered the best Android tablets in the market. They also come with an optional keyboard. So it would suit the Windows 8 touch and more traditional desktop environments.
HP
Personal computer maker HP (Hewlett-Packard) has also confirmed its plans to bring in a tablet based on Windows 8 operating system. During the Wall Street Journal conference in Menlo Park, Calif., Chief Executive Officer, Meg Whitman informed that the company's initial tablet would be based on the Intel Windows 8 technology.
This will be the second tablet after HP's first WebOS based tab launch last year.
Whitman said in a report, HP will release by Christmas a new tablet tailored for security, productivity and business network compatibility. The company will release the tablet computer based on Microsoft Corp's new version of its Windows software (the Windows 8) and Intel's technology (Chipset).
Lenovo
Recently rumors were rampant that Lenovo had already contrived to break the cult and become the maiden brand of all and deliver the first Windows 8 tablet to the consumers. According to Verge reports, in the recent past, they informed that Lenovo intends to be the first in the market to deliver a Windows 8-powered tablet.
Though there are no specifications available for the Lenovo Windows 8 tablet other than the fact that it will use an Intel chip, yet consumers can assume that it may take the form of Lenovo IdeaPad Yoga.
The 13.3-inch tablet features a full QWERTY keyboard and a hinge that enables the device to transform into a laptop. It made its debut at this year's Consumer Electronics Show in Las Vegas and was shown running on a Window 8 developer preview.