Taylor Swift-Kanye West Feud Update: Selena Gomez Defends 'Bad Blood' Singer Over West's Diss In 'Famous'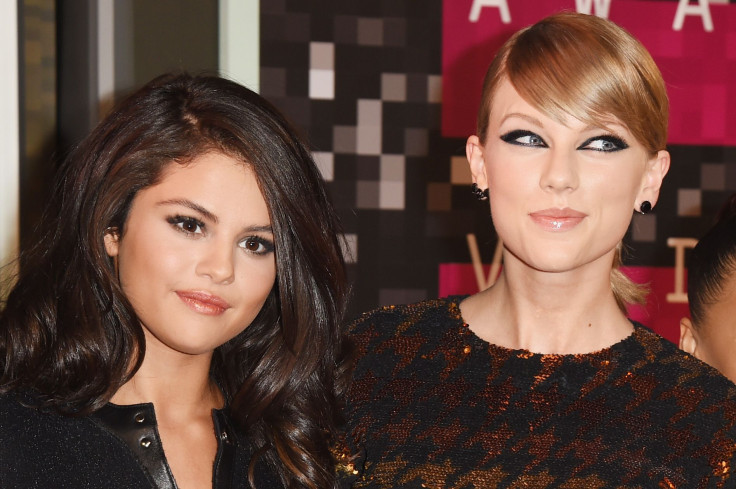 Selena Gomez defended her best friend Taylor Swift, amid an ongoing feud between the "Bad Blood" singer and rapper Kanye West after he used derogatory term for her in his song "Famous." While West had claimed that Swift approved the lyrics of the song, her representative has so far denied his claim.
"Everybody has their own opinion," Selena said, during an interview to SiriusXM Hits 1, according to E! News, adding: "At the end of the day, you can just do what you do."
In a reference to West's diss, Gomez said: "She's killing it and she kind of always has been."
The support for Swift is not only from Gomez as her brother also posted a video on Instagram Friday, showing him throwing away a pair of Yeezy sneakers, which are designed by West.
The E! News report also said that a Tumblr user also caught the moment when Gomez liked Austin's post while Martha Hunt, another friend of Taylor, was seen commenting on the post saying: "Yesssssss."
Meanwhile, a report from Hollywood Life on Saturday said that Taylor's boyfriend Calvin Harris thinks she should end the feud with West privately but not at the Grammy Awards.
"Calvin thinks that Taylor should handle ending her feud with Kanye privately and not in a public setting like the Grammy Awards," a source told Hollywood Life, adding: "He's suggested she should talk it through over the phone and tell Kanye exactly how she feels about what he said in his lyrics. But she should't pander to Kanye's ego. He believes she needs to tell him straight that he was wrong for what he did."
The feud began after West was heard saying in his song: "I feel like me and Taylor might still have sex / Why, I made that b**** famous."
West was slammed on social media for the lyrics after which he took to Twitter to say that he did not diss Taylor. He had also said that he had spoken to Swift, who though it was "funny" and approved the lyrics.
However, Swift's representative said: "Kanye did not call for approval, but to ask Taylor to release his single 'Famous' on her Twitter account. She declined and cautioned him about releasing a song with such a strong misogynistic message," adding: "Taylor was never made aware of the actual lyric."
© Copyright IBTimes 2023. All rights reserved.