Taylor Swift-Miley Cyrus Feud Update: 'Bad Blood' Singer Will Retaliate 'Cleverly' To 'Saturday Night Live' Diss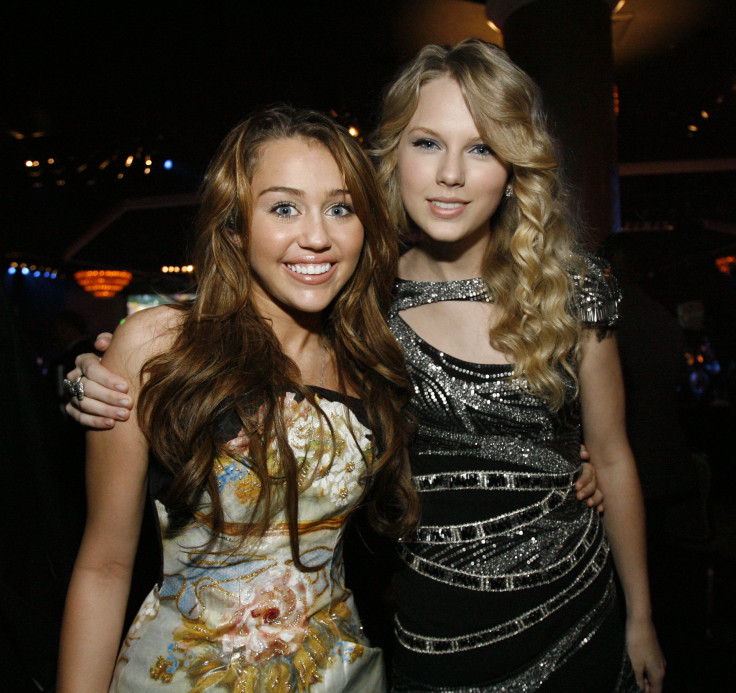 Taylor Swift plans to retaliate to the shade thrown at her on "Saturday Night Live" episode Saturday, hosted by Miley Cyrus. The episode showed a video, with the "Walking Dead" theme, mocking Swift's growing crew.
The video shows two girls from high school being involved in a car crash and when they regain consciousness, the world seemed to have joined Swift's squad. Although Cyrus was not featured in the video, the Hollywood Life reported that Swift believed the 22-year-old "Wrecking Ball" singer was behind it.
"It's hardly coincidental that Taylor was parodied in an episode hosted by Miley," a source told Hollywood Life, adding: "[Taylor] hopes that she will get her chance to cleverly deliver a retort when it's her turn to host again."
Cyrus had commented on Swift gathering "musicians, actresses, models, entrepreneurs" in an August interview with the New York Times. "I'm not trying to be in the squad," Cyrus said, adding: "None of my friends are famous and not because of any other reason than I just like real people who are living real lives, because I'm inspired by them."
The feud between the two is believed to have begun after Cyrus posted a photograph of Swift and Justin Bieber on Instagram in July, with their faces swapped. Following the incident, Cyrus had criticized Swift's "Bad Blood" in the September issue of Marie Claire.
"Anaconda" singer Nicki Minaj also has an ongoing feud with Cyrus, and had trashed her during the MTV Video Music Awards in August. Following the awards show, Swift and Minaj, who were also said to have been in a tiff at the time made peace.
"Taylor doesn't want to pick sides, but she does support Nicki 100 percent," a source told Hollywood Life last month, adding: "She doesn't think Nicki was bullying Miley. The whole incident in Taylor's opinion has been blown out of proportion. She thinks Nicki has a big heart and is often misunderstood."
Here is the video by "Saturday Night Live."
© Copyright IBTimes 2023. All rights reserved.
FOLLOW MORE IBT NEWS ON THE BELOW CHANNELS