Ted Cruz South Carolina Primary Live Stream: South Stronghold In Doubt After Tight Finish, Loss To Trump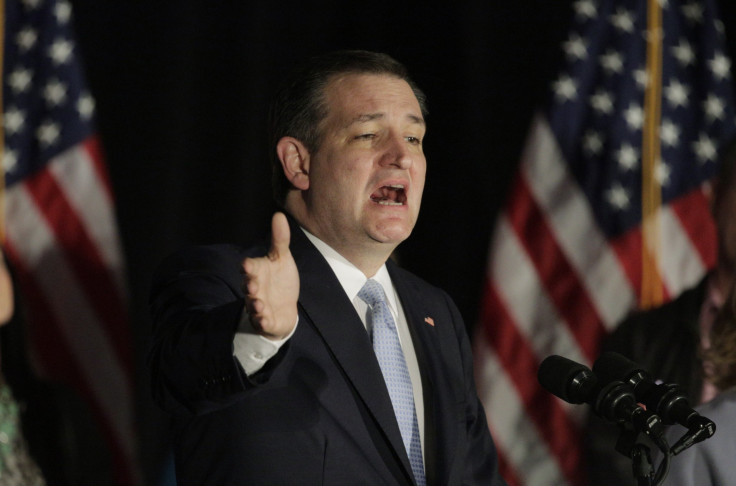 UPDATE: 10:05 p.m. EST -- Texas Sen. Ted Cruz put forth an "extraordinary" and optimistic twist on what some say was a disappointing fourth-place finish in South Carolina's Republican primary at a campaign rally Saturday night. "We are the only campaign that has beaten and can beat Donald Trump," Cruz insisted during his speech, in which he frequently cited the "extraordinary results" in the state's race.
"Once again, we have made history," Cruz said during his opening remarks. "In Iowa, they said it couldn't be done, and we won. In New Hampshire, they said a conservative, a Bible-believing Christian, could not compete, and we defied expectations. And tonight, despite millions and millions of dollars in false and nasty attacks, despite the entirety of the political establishment coming together … South Carolina has given us another remarkable result."
.@tedcruz speaks after the Republican #SCPrimary: "We have made history" https://t.co/ixbo4KdXye https://t.co/n5yGqEh2pb

— CNN Politics (@CNNPolitics) February 21, 2016
During his remarks, Cruz called for a moment of silence to pay respects to the late U.S. Supreme Court Justice Antonin Scalia, whose funeral was held Saturday, one week after his death. Afterward, Cruz insisted Scalia's replacement "will be decided by we the people," a shot at those calling for President Barack Obama to nominate Scalia's successor, something many Republicans adamantly oppose.
Cruz also showered Jeb Bush with praise shortly after the former Florida governor officially suspended his presidential candidacy. The Texas senator called Bush "a man who ran a campaign based on ideas, based on policy, based on substance," before adding: "Governor Bush brought honor and dignity to this race."
Original story:
Texas Sen. Ted Cruz's campaign may have suffered something of a setback Saturday night after placing third in the South Carolina Republican primary, finishing behind the winner Donald Trump and the second-place candidate, Florida Sen. Marco Rubio. The battle for the No. 2 spot was a close call after Trump's victory was declared shortly after the polls closed.
Cruz's finish fell short of its polling expectations, which, leading up to the weekend contest, had him squarely behind businessman Donald Trump and ahead of his Senate colleague Rubio. To watch Cruz's post-primary speech in South Carolina from a planned campaign rally, click here or watch a live stream below.
ABC Breaking News
Shortly after the preliminary results were clear on who would definitely not win or place high in the primary, former Florida Gov. Jeb Bush emotionally announced the suspension of his campaign, at times choking back tears while maintaining he ran a campaign based on integrity. Bush had not finished any of the three primary contests with a significant placement after entering the race widely considered as an early favorite.
It was immediately unclear if Cruz's loss Saturday could be connected in any way to a growing reputation for employing aggressive political ploys against his opponents. However, one thing was clear after Cruz's defeat: The Texas senator's foothold in the South is not a sure thing. Despite both his apparent popularity among evangelicals, and South Carolina exit poll data showing that nearly 75 percent of Republican voters in the state identify as evangelical, he still came up short Saturday.
Voters in many Southern states will go to the polls March 1, aka Super Tuesday.
Cruz's campaign -- which won the GOP Iowa caucus before placing third in the New Hampshire primary -- has been accused of calling voters in New Hampshire and telling them rival candidate retired neurosurgeon Ben Carson was dropping out of the race. The most recent instance of Republican candidates crying Cruz's foul came Saturday afternoon.
Cruz's win in Iowa, the nation's first caucus, upended the conventional wisdom that the consistently high-polling Trump would win, giving the Texas senator's campaign a considerable boost that resulted in other campaigns ramping up their attacks against him. Trump has led the way on that front, exchanging increasingly acrimonious barbs with Cruz. The billionaire has threatened to sue Cruz, whose eligibility for the presidency has been questioned by Trump because the senator was born in Canada.
Entering the primary, Cruz narrowed Trump's polling lead in South Carolina to just 5 percentage points separating the pair. As of Saturday morning, Cruz had registered 23 percent of the state's Republican voters' support against Trump's 28 percent, the New York Times reported.
© Copyright IBTimes 2022. All rights reserved.
FOLLOW MORE IBT NEWS ON THE BELOW CHANNELS