'That's What Makes Us Great' Is Bruce Springsteen's Anti-Trump Song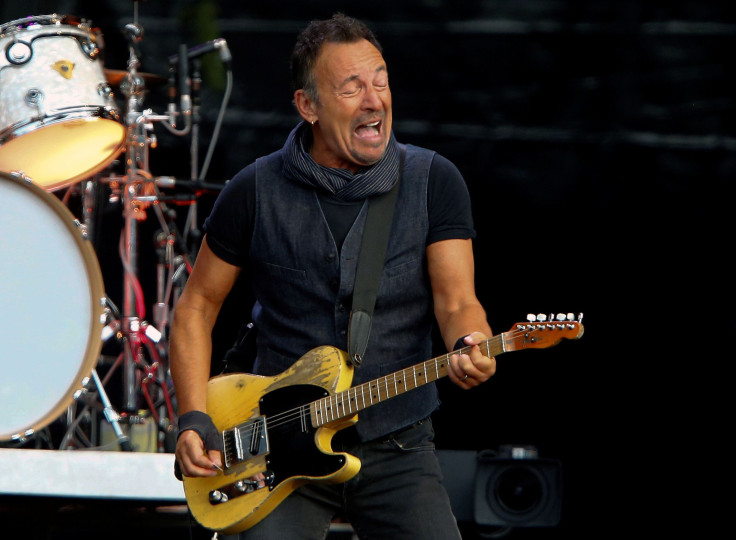 Legendary singer Bruce Springsteen released a new collaboration Wednesday with his rock musician friend Joe Grushecky and the Houserockers named "That's What Makes Us Great." Springsteen and Grushecky both have given their vocals for the protest anthem, which aims at President Donald Trump's comments on special needs people, immigration and other issues.
Grushecky, who has been friends with Springsteen since 1980s, wrote the song when Trump took office in January. "I had this song, and Bruce and I had been talking. I sent it to him and he liked it. I said, 'What do you think about singing on it?'" Grushecky said, Pittsburgh Post-Gazette reported.
When asked what specifically sparked the song, Grushecky, who had been a high school special education teacher, said: "[Trump] lost me the moment he started making fun of special needs people. How could a person like that be president of the United States? Regardless of all the other [stuff], that to me is appalling. I have special needs people in my family and in my neighborhood. I worked with special needs people my whole life and I was really offended by it."
Read: Barack, Michelle Obama Enjoy French Polynesia With Oprah, Tom Hanks, Bruce Springsteen
Before the duo, many singers have voiced their opposition against the president. Katy Perry, who was a supporter of Hillary Clinton during the presidential campaign, gave a blatant anti-Trump performance at the Grammy Awards in February.
She wore a white pantsuit, an armband with "persist" written on it and sang "Chained to the Rhythm" during the final moments of which the U.S. Constitution was projected behind her. Just as the song ended, she said, "No hate." The lyrics of the song included, "so comfortable, we're living in a bubble, bubble/so comfortable, we cannot see the trouble, trouble."
Rapper Eminem also does not shy away when it comes to taking a political stand. He slammed Trump in October in his "Campaign Speech" — an eight-minute freestyle where the rapper shared political commentary about the 2016 election and slammed Trump supporters.
In February, Eminem dismissed Trump on Big Sean's new song "No Favors" from the album "I Decided."
Some of its lyrics were: "I'm anti, can't no government handle a commando/ Your man don't want it, Trump's a b---- I'll make his whole brand go under." Eminem's rap touched on issues like police brutality, the Flint water crisis and racism in America.
Singer Fiona Apple released a one-minutelong song "Tiny Hands" before the Women's March protests in Washington in January. The song, composed with Michael Whalen, featured the chant, "we don't want your tiny hands anywhere near our underpants."
Gorillaz, the British virtual band, released the song "Hallelujah Money" the night before Trump's inauguration. The band made a comeback with this song after a six-year break. Band member Murdoc Niccals wrote on his Facebook page, "In these dark times, we all need someone to look up to. Me, that's why I'm giving you this new Gorillaz song."
© Copyright IBTimes 2023. All rights reserved.