Third Stimulus Check: $1,400 Payments Almost Certain As Biden Wants 'Big, Bold Package'
KEY POINTS
Biden wants Democrats to "go big" on another COVID-19 relief bill
The president rejected the GOP's $618 billion relief proposal
The Republicans' stimulus check bill limits the amount of payments to $1,000
A third round of stimulus checks amounting to $1,400 may be possible after President Joe Biden urged Senate Democrats to "go big" on a COVID-19 relief bill.
In a phone call to Democrats Tuesday, Biden signaled that he is rejecting the Republican's $618 billion relief proposal as "too small." He also insisted that he prefers to pass his $1.9 trillion relief proposal, which includes provisions for $1,400 personal checks.
"President Biden spoke about the need for Congress to respond boldly and quickly. He was very strong in emphasizing the need for a big, bold package. He said that he told Senate Republicans that the $600 billion that they proposed was way too small," Senate Majority Leader Chuck Schumer told reporters after the call.
Sen. Tim Kaine, D-Va., who was also in the call, later clarified that Biden was not closing the doors to any possible negotiation with Republicans. However, the president wants Democrats to move a large package as soon as possible.
Sen. Shelley Moore Capito, R-W.Va., later confirmed Biden dismissal of the GOP's $618 billion proposal, and told Republicans they are not spending enough.
"I don't think any of us came out of there with any illusions that we were going to have any big dramatic changes but I think maybe some tweaking and some — maybe a little bit more back and forth but I don't think that's where his staff wants him to go and it doesn't seem like that's where they're going to go," Capito said.
The proposal from a group of 10 Republican lawmakers did not include funding for state and local governments and limited the size of stimulus checks to $1,000 per person.
The full amount of the $1,000 direct payments would be given to individuals earning up to $40,000 a year and would be phased out for people earning $50,000 annually. For married couples, the payments would be capped at $100,000.
The GOP's stimulus proposal would provide children and adult dependents $500, but would deem convicted inmates uneligible to receive the checks, according to a fact sheet provided by the office of Sen. Susan Collins, R-Me.
Senate Democrats are scheduled to proceed on Tuesday with a joint budget resolution that could lead to a reconciliation bill if they manage to get a majority vote.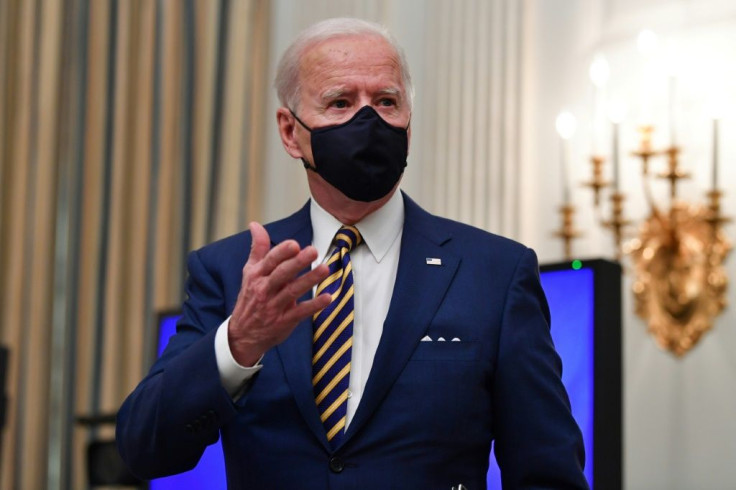 © Copyright IBTimes 2023. All rights reserved.