Third Stimulus Package Update: Top CEOs Meeting With Joe Biden, Janet Yellen
President Joe Biden and Treasury Secretary Janet Yellen will meet Tuesday with chief executives of some of the nation's largest companies to discuss the $1.9 trillion stimulus package.
No agenda for the meeting has been disclosed by the White House. Expected to attend are Jamie Dimon of JPMorgan, Doug McMillon of Walmart, Sonia Syngal of Gap, Marvin Ellison of Lowe's and U.S. Chamber of Commerce head Tom Donohue.
The meeting is prefaced by a January jobs report published last week. Only 49,000 jobs were added to the economy in January, while the unemployment rate fell from 6.7% in December to 6.3%. That rate includes 406,000 people who left the labor force.
Business leaders are reportedly supportive of the Biden plan and are not in favor of efforts by Republican lawmakers to reduce the size of the package.
"What our members are saying is they are supporting what the Biden administration is saying about the urgency of providing the rescue that's needed," Josh Bolten, president and CEO of Business Roundtable, said Wednesday. "First get the pandemic under control and second, support the most vulnerable through tough economic times. We are for whittling up on those elements of it."
House Democrats on Tuesday settled the debate over income thresholds for what would be the third round of direct stimulus payments, keeping the limits where they had been for the previous payments: $75,000 for individuals and $150,000 for married couples.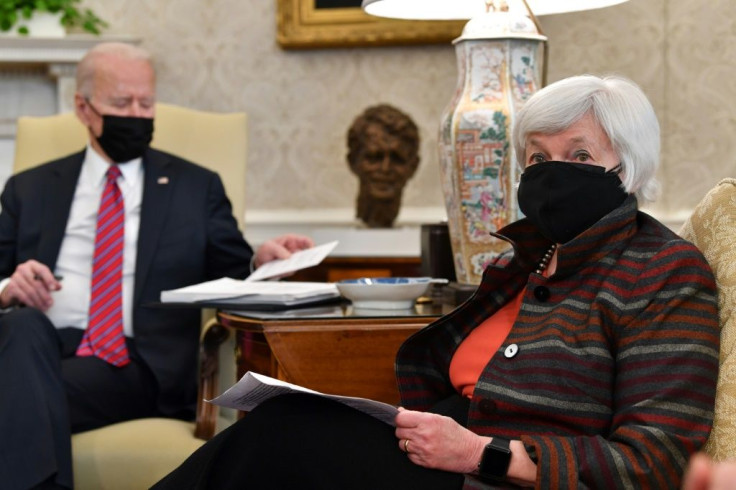 © Copyright IBTimes 2023. All rights reserved.